Pronunciation: [bal-SAH-mihk]

Derived from the French vin aigre ("sour wine"), vinegar is made by bacterial activity that converts fermented liquids such as wine, beer or cider into a weak solution of acetic acid (the constituent that makes it sour). Vinegar has been used for centuries for everything from beverages (like shrubs) to an odor diminisher for strong foods such as cabbage and onions to a hair rinse and softener. There are myriad vinegar varieties found in markets today. From Italy comes the exquisite Italian balsamic vinegar made in and around the areas of Modena and Reggio Emilia. It's produced from white Trebbiano grapes, the must of which is cooked and concentrated until deep, dark and rich. The vinegar continues to gain its dark color and pungent sweetness from a lengthy period of aging in barrels of various woods (such as chestnut, juniper and mulberry) and in graduating sizes, from larger to smaller, as the vinegar ages over a period of years. It should be noted that many balsamic vinegars contain sulfites, which are primarily added to inhibit the growth of unfavorable, flavor-detracting bacteria. Balsamic vinegars range in age from young (three to five years) to middle-aged (six to 12 years) to the noble older versions, which can range from 12 to more than 100 years old. By law a vinegar labeled aceto balsamico tradizionale di Modena must have been wood-aged for a minimum of 12 years. The word stravecchio on the label tells you the balsamic's been aged at least 25 years. Older, high-quality balsamics are sometimes used as an aperitif or digestif after a meal. White balsamic vinegar also comes from Modena, Italy, but is made by an entirely different process than classic balsamic vinegar. The grape undergoes pressurized cooking, which prevents the caramelization of both flavor and color. White balsamic vinegar is aged only one year in uncharred barrels, further assuring both color and flavor will remain light. It's used in food preparations where additional color is not desired.

From The Food Lover's Companion, Fourth edition by Sharon Tyler Herbst and Ron Herbst. Copyright © 2007, 2001, 1995, 1990 by Barron's Educational Series, Inc.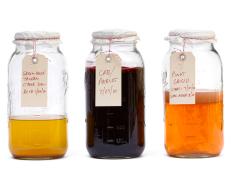 Chopped host Ted Allen has the perfect solution for all that leftover holiday wine: Make your own vinegar. He shared his vinegar-making secrets with Food Network Magazine.