Distinctly trumpet-shaped, this mushroom ranges from 2 to 5 inches high. Its flesh is thin and brittle and can range in color from grayish brown to very dark brown or almost black. Black trumpets are distinctively aromatic and have an elegant buttery flavor. They're available midsummer through midfall in specialty produce markets. See also mushroom.

From The Food Lover's Companion, Fourth edition by Sharon Tyler Herbst and Ron Herbst. Copyright © 2007, 2001, 1995, 1990 by Barron's Educational Series, Inc.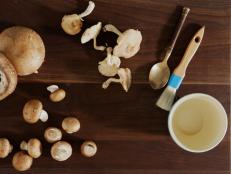 Use these tips to add earthy richness to your favorite dishes.