n. A mixture of two or more flavors combined to obtain a particular character and quality, as in wines, teas and blended whiskey. blend v. To mix two or more ingredients together with a spoon, beater or electric blender until combined.

From The Food Lover's Companion, Fourth edition by Sharon Tyler Herbst and Ron Herbst. Copyright © 2007, 2001, 1995, 1990 by Barron's Educational Series, Inc.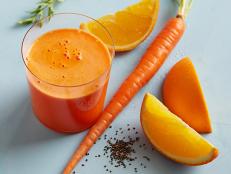 From using a juicer to picking the best ingredients, here's the everything guide to fresh fruit and vegetable drinks.