Pronunciation: [juh-MAY-kuh]

This member of the hibiscus family isn't officially a flower at all, but the flower's calyx, the portion that covers and protects the bloom before it opens. Dried Jamaica flowers are used to make beverages and produce a sour-sweet flavor and shimmering crimson color. One such drink is the Spanish favorite agua de Jamaica—a tisane made with the flowers, water and sugar. The petals can be found in natural food stores (labeled "Jamaica flowers," "hibiscus flowers" or "Roselle") and in Latin markets (as flores de Jamaica or simply Jamaica). When selecting flowers, look for those that are brightly colored—dull or dark flowers indicate age and less flavor. Store airtight in a cool, dry place for up to 1 year. Because the flowers have a high acid content, it's necessary to use a non-reactive container, such as glass or stainless steel, when adding them to a recipe.

From The Food Lover's Companion, Fourth edition by Sharon Tyler Herbst and Ron Herbst. Copyright © 2007, 2001, 1995, 1990 by Barron's Educational Series, Inc.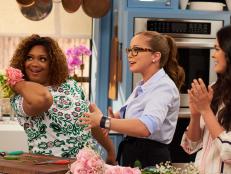 On Mother's Day, Americans spend BILLIONS--with a "B"--of dollars on flowers each year. The Kitchen has come up with 3 beautiful DIY flower techniques that are perfectly pleasing for every mom and will cost you less than pricey bouquets.