Malt vinegar is a mellow-flavored favorite in Britain, particularly with fish and chips. It's based on malted barley and sometimes colored with caramel.

From The Food Lover's Companion, Fourth edition by Sharon Tyler Herbst and Ron Herbst. Copyright © 2007, 2001, 1995, 1990 by Barron's Educational Series, Inc.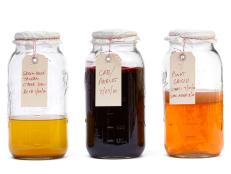 Chopped host Ted Allen has the perfect solution for all that leftover holiday wine: Make your own vinegar. He shared his vinegar-making secrets with Food Network Magazine.