A special cooking pot with a locking, airtight lid and a valve system to regulate internal pressure. Pressure cookers operate on a principle whereby the steam that builds up inside the pressurized pot cooks food at a very high temperature. This reduces the cooking time by as much as two-thirds without destroying the food's nutritional value. Newer pressure cooker designs feature built-in valves and indicator rods that indicate the pressure. Traditional models are equipped with detachable pressure regulators that can adjust the pressure for low (5 pounds), medium (10 pounds) or high (15 pounds). The more pounds of pressure, the higher the internal temperature and the quicker the food cooks. Pressure cookers have a safety valve, which will automatically vent the steam should there be a malfunction. There are many styles of pressure cookers on the market today, most of which are made for stovetop cooking. But there are also small pressure cookers that can be used in a microwave oven. Some of the newer pressure cookers have built-in pressure regulators. Pressure cookers are useful for foods that would normally be cooked with moist heat such as soups, stews, steamed puddings, tough cuts of meat, artichokes, etc. They can also be used for canning, and there are special pressure canners made specifically for this purpose.

From The Food Lover's Companion, Fourth edition by Sharon Tyler Herbst and Ron Herbst. Copyright © 2007, 2001, 1995, 1990 by Barron's Educational Series, Inc.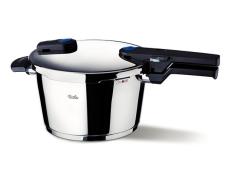 We're giving away one Vitaquick pressure cooker to one randomly-selected commenter.