This—the original chocolate-chip cookie—was created in the 1930s by Ruth Wakefield, who ran the Toll House Restaurant outside of Whitman, Massachusetts. Mrs. Wakefield, in a moment of brilliant inspiration, cut up bars of chocolate to add to a basic butter-cookie dough. History was made. Today, the chocolate-chip cookie is the most popular in the United States.

From The Food Lover's Companion, Fourth edition by Sharon Tyler Herbst and Ron Herbst. Copyright © 2007, 2001, 1995, 1990 by Barron's Educational Series, Inc.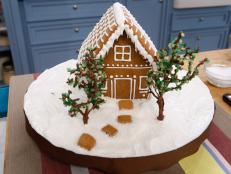 Some clever tips for creating the best gingerbread house on the block, courtesy of The Kitchen.