Diners, Drive-Ins and Dives Like Mama Made Highlights
Guy Fieri Tries Sweetie Pie's Mac and Cheese 02:11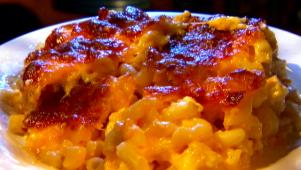 Now Playing
Guy Fieri Tries Sweetie Pie's Mac and Cheese 02:11
Guy Fieri visits Sweetie Pie's in St. Louis to try out the diner's famous macaroni and cheese. Owner Robbie Montgomery, who opened Sweetie Pie's in 1997, shares her mac and cheese recipe with Guy. She starts by adding two pounds of Velveeta cheese to elbow macaroni. She then adds one pound each of shredded cheddar cheese and shredded Colby jack cheese. Robbie adds two huge spoons of sour cream to the mix. Guy helps her add butter, margarine, salt, pepper, sugar, five eggs and milk. Robbie whisks everything together and bakes it until the top is melted and brown. Guy digs in and claims that if they got him a stool and a bib, he'd stay there all day.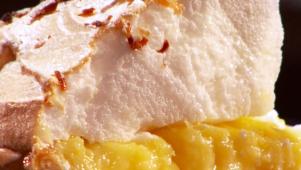 Now Playing
Guy Tries a Smokey Valley Pie 02:21
Guy learns all about making down-home coconut cream pie at a KY truck stop.