Three Ways to Use: Apple Juice
Every month, Food Network Magazine puts chefs from Food Network Kitchens to the test: Put a new spin on common supermarket ingredients like hummus and root beer in recipes the whole family will love.
This month, don't just drink your apple juice -- turn it into a glaze, caramel and more. Jacob Schiffman, Claudia Sidoti and Danielle Larosa show just how versatile the fruity drink really is. The sweet, crisp flavor pairs perfectly with honey-coated drumsticks, reduces down to a light caramel that literally pops and even brightens an American classic.
Jacob says: "These drumsticks are inspired by the tradition of eating apples and honey during Rosh Hashanah, the Jewish new year."
Claudia says: "I thought it would be fun to combine apple and cheese in an American favorite."
Danielle says: "I reduced apple juice to make the perfect, not-too-sweet caramel."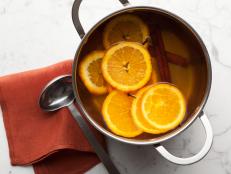 We just can't get enough of this seasonal treat. Scoop some apple cider up at the farmers' market or apple orchard and make these inspired recipes.