see agemono-nabe; brazier; double boiler; fish poacher; fondue pot; frying pan; griddle; grill; grill pan; hibachi; loaf pan; omelet pan; paella pan; pizza pan; saucepan; sauté pan; steamed pudding mold; steamer; stovetop smoker. See also cookware and bakeware materials.

From The Food Lover's Companion, Fourth edition by Sharon Tyler Herbst and Ron Herbst. Copyright © 2007, 2001, 1995, 1990 by Barron's Educational Series, Inc.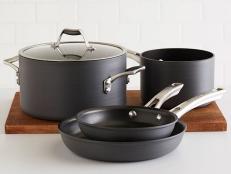 Using coated pans means having a different set of cooking rules and expectations.