10 Mother's Day Gift Baskets to Send Your Mom Some Love
Load her up on sweets and snacks for Mother's Day this year.
Keep in mind: Price and stock could change after publish date, and we may make money from these links.
This Mother's Day, make sure you show your mom how much you care, even if you can't actually be there to celebrate in person. By sending a festive gift basket, you can gift her a decadent brunch, wine and cheese night or a week's worth of her favorite dessert delivered straight to her door. We've rounded up a few of our favorite gift baskets that we think are perfect for celebrating this Mother's Day.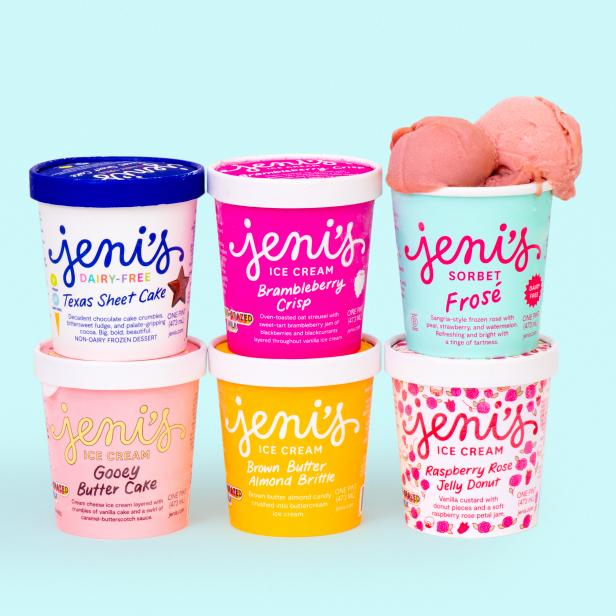 Surprise mom with something a little out of the box this Mother's Day. This six-pack of Jeni's ice cream, which includes Brambleberry Crisp, Brown Butter Almond Brittle, Gooey Butter Cake and Frosé Sorbet will make sure she's set with her favorite flavors. It's a thoughtful gift that, if you're lucky, she just might return the favor.
Buy It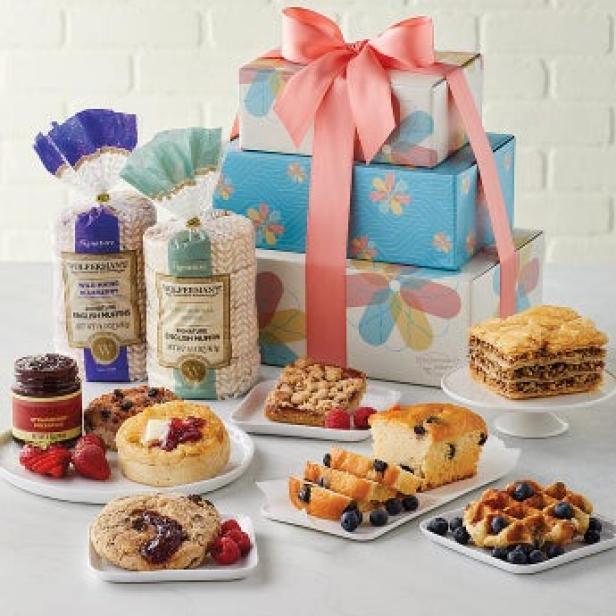 Brunch is on you this Mother's Day, even if you're not able to take mom out to her favorite restaurant. Send her this goodie basket instead, stocked up with original and Wild Maine blueberry English muffins, blueberry Belgian waffles, baklava, a raspberry crumb bar, chocolate scones with raspberry jam filling, a lemon vanilla blueberry loaf cake and strawberry preserves. It's a full spread that will be sure to put a smile on her face and keep her snacking on delicious baked goods for days.
Buy It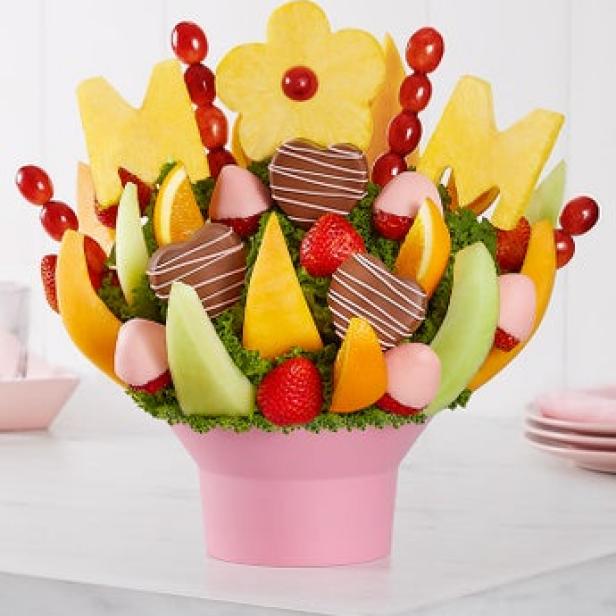 If the sweetness of a fresh piece of fruit beats out any other dessert in your mom's book, this arrangement of chocolate-dipped strawberries, pineapples and more is perfect for a Mother's Day surprise. The pineapple letters that spell out "MOM" give this arrangement a personal touch, and you can also add on a festive Mother's Day balloon.
Buy It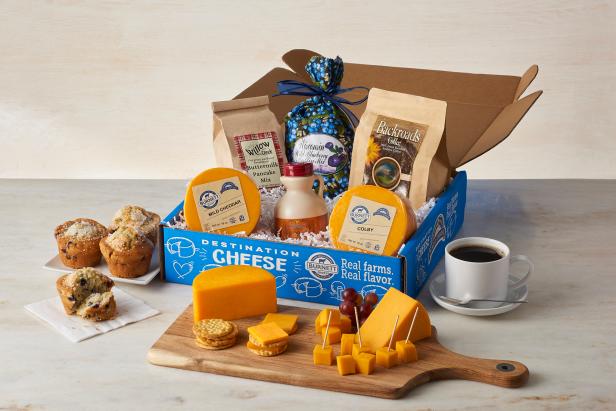 For a breakfast surprise that leans on the savory side, opt for this gift basket filled with goodies straight from Wisconsin — and yes, that includes lots of cheese! You'll get Wisconsin Colby and mild Cheddar cheese, Wisconsin maple syrup, muffin and pancake mix and coffee, which means everything from your beverage to your main course is covered for Mother's Day brunch.
Buy It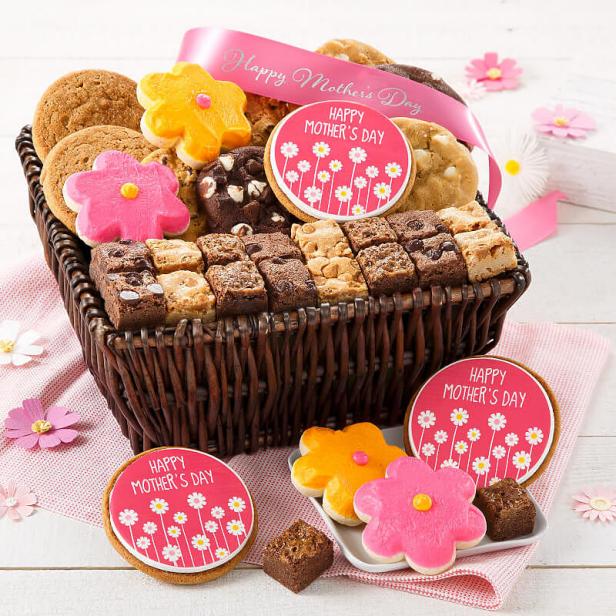 Does your mom have a major sweet tooth? Surprise her with cookies from the iconic Mrs. Field's. This basket comes with brownie bites, original cookies, frosted cookies and special "Happy Mother's Day" daisy cookies.
Buy It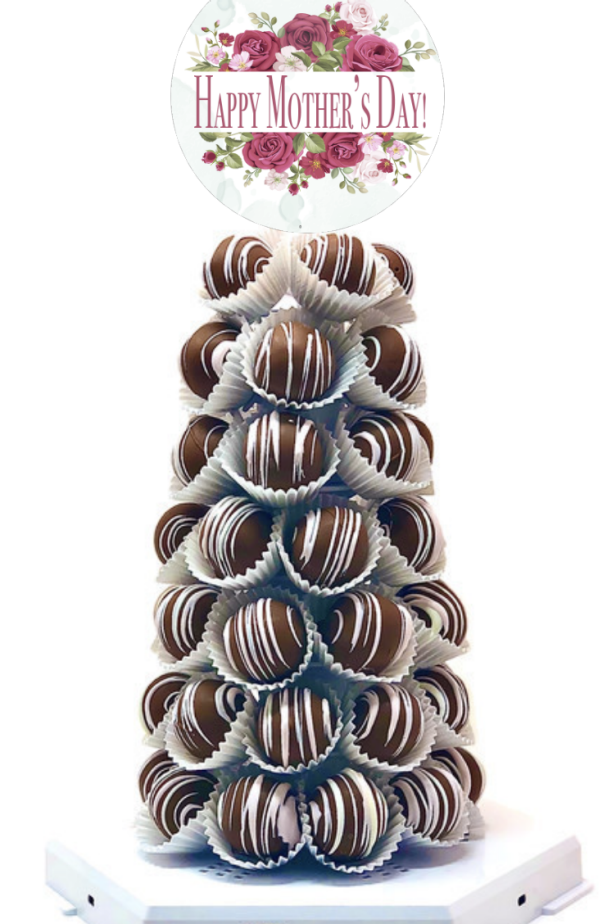 Shower your mom with love this Mother's Day in the form of this beautiful chocolate tower. It will double as a centerpiece for her holiday brunch but is too delicious to not devour the moment your main course is done. This chocolate tower is filled with 50 chocolate cake truffles, which come in your choice of milk, dark or white chocolate.
Buy It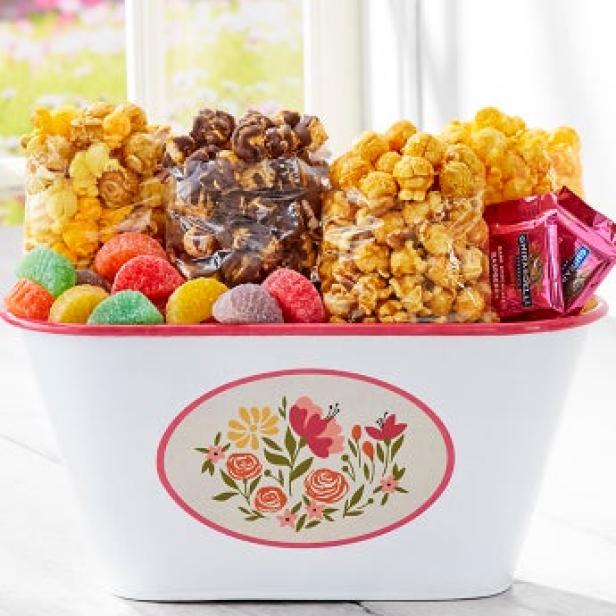 This popcorn sampler comes with a delicious variety of popcorn including caramel, cheese, dark chocolate raspberry and more. Plus, there is a side of fruity gummies to balance out this delicious basket.
Buy It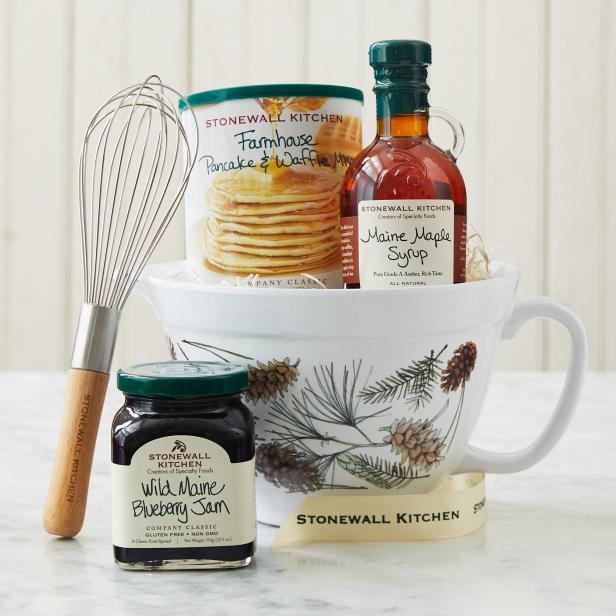 If what your mom wants more than anything is to get everyone together for a delicious family breakfast, this gift basket is perfect. It comes with everything you need to whip up a tall stack of pancakes, including the decorative mixing bowl and whisk. Plus, you get your choice of Maine Maple Syrup or Wild Maine Blueberry Jam to top your cakes with.
Buy It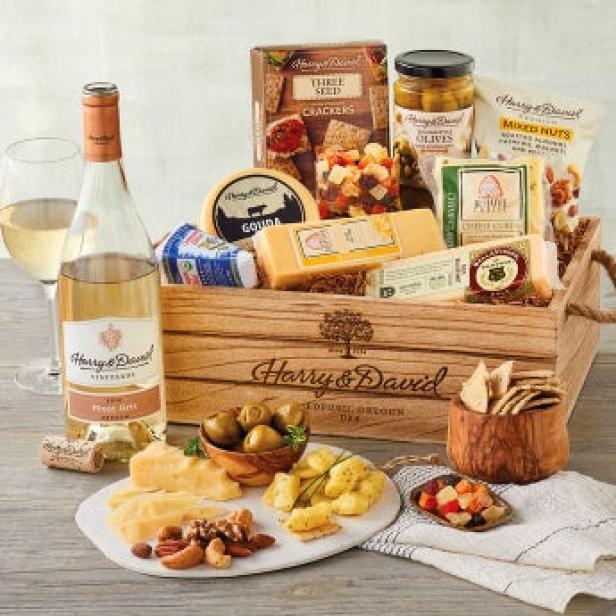 A night in doesn't have to be boring. Treat your mom to a special treat of wine, cheese and snacks that she would normally get at a wine tasting in the comfort of her own home. Set up a picnic in the backyard or enjoy these cozied up watching a movie. Either way, this basket provides enough goodies to make your day or night extra-special.
Buy It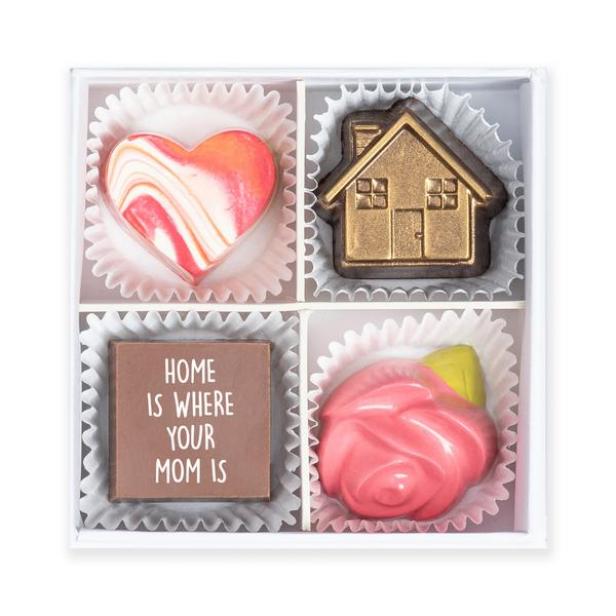 These hand-painted chocolates come with a sweet message on an even sweeter treat. She'll marvel at how intricate and delicate they are, but she will be even more impressed by how delicious these chocolate confections taste.
Buy It