5 Best Food Processors, Tested by Food Network Kitchen
We sliced, diced, shredded and blended to find the best one to suit your needs.
Keep in mind: Price and stock could change after publish date, and we may make money from these links.
Our Top Food Processor Picks
Like so many kitchen appliances these days, there are tons of food processors on the market, ranging widely in price, size and level of bells and whistles. And while Cuisinart can claim the original food processor — it's probably the brand your mom has and told you to buy — there are several other brands that are worth a look, depending on your needs. Here are our favorites, whether you need a simple model for basic chopping and blending or you're a kitchen pro shopping for a serious upgrade.
We updated this guide in February 2021 with a new Best Compact Model. Our original picks, the Cuisinart Prep 9 9-Cup Food Processor, was discontinued. The product has since been removed from the story which was originally published in September 2019. We still love many picks from our original test. Read on for our list of current favorites.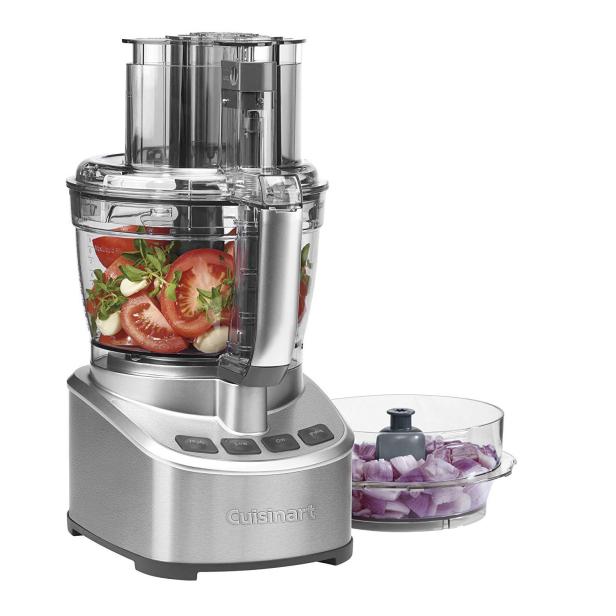 Cuisinart is to food processors what Kleenex is to tissues — the brand has become a descriptor for the item itself. No wonder this model is our choice for most home cooks. The design is smart and straightforward; clearly a lot of thought went into pre-troubleshooting.
The 13-cup bowl is on the larger side, so you can go ahead and double that pie crust recipe — and the processor also comes with a 4.5-cup bowl to tackle smaller jobs. The slicing blade adjusts to 7 different thicknesses and the reversible shredding blade allows for fine or coarse grating. Even the manual is spiral bound to make it easier to use.
Buy It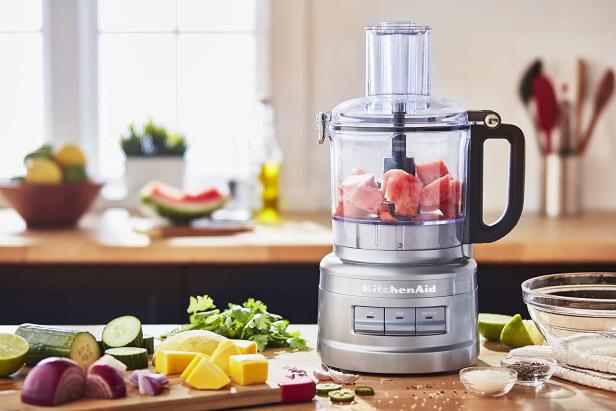 This processor has three speeds — high, low and pulse — and we found that these functions allowed for even control depending on the task. We found that it easily and uniformly diced an onion, made short work of grinding Parmesan, and pulled together pie crust in a few pulses. However, if you're making emulsions or need to incorporate ingredients fully, like with pesto, it may take a longer to process on the high setting than more powerful models. The reversible slicing and shredding disc was easy to install thanks to the manual's clear directions. It easily sliced half a zucchini with the help of the plastic food pusher. One thing to note: the feed tube isn't very wide, so if you're processing a lot of vegetables or fruit at one time, be sure to cut them accordingly and perhaps allow for a little extra time.
We appreciated the twist-free design on this processor, which was intuitive to use and allowed the work bowl to easily click into the base. The flip-up lid easily latches over the work bowl, but we found that the food pusher that nests inside the feed tube often fell out, so either remove it or take extra care opening the lid after processing.
Buy It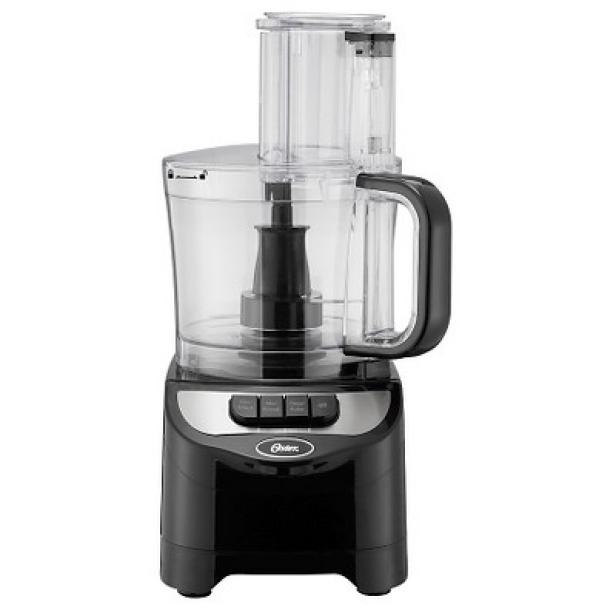 If you want a food processor but you're on a tight budget, or not sure you're ready to invest a lot of cash for another kitchen gadget, this model is a solid option. It has some of the smart design advantages of pricier models (the shredding and slicing functions are combined on one blade, for example), and its 10-cup capacity makes it large enough for most jobs but not so giant that it's a nuisance.
There are some disadvantages — locking the bowl into place was clumsier than we wanted, and a relatively long, slow pulse mechanism makes things like cutting butter into flour for pie dough a bit less efficient. But in general, this model works well and can do what you need a processor for.
Buy It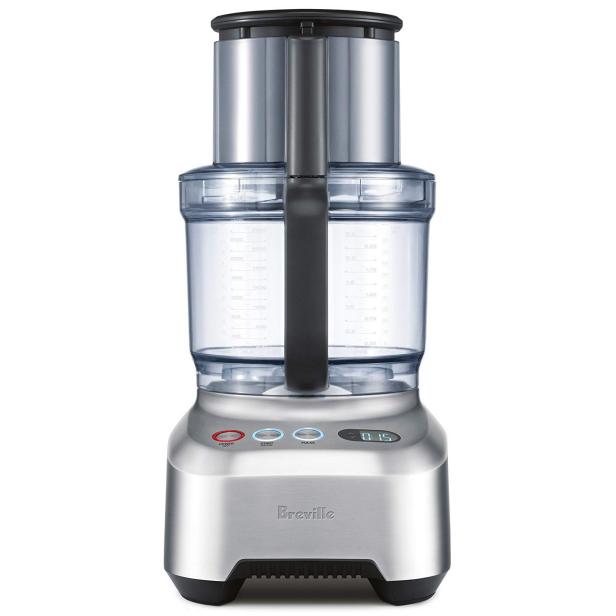 Best if money and space are no object: Breville Sous Chef 16 Pro, $319.95 This is the Ferrari of food processors, almost as good as having an actual human sous chef in your kitchen. They thought of everything for this one—different-sized feed chutes so you can slice or shred thick or thin items easily, 24 slicing thickness options, 5 cutting disks so you can make anything from French fries to julienne vegetables, a timing function—even the caddy that holds all the accessories is thoughtfully labeled, so you know what everything is at a glance. If the 16-cup-capacity bowl is too much for the job at hand, grab the 2.5-cup mini-processing bowl. The one thing to note is that it takes up nearly as much space as an actual Ferrari—this is not the model for small kitchens or anyone without a lot of counter space.
Buy It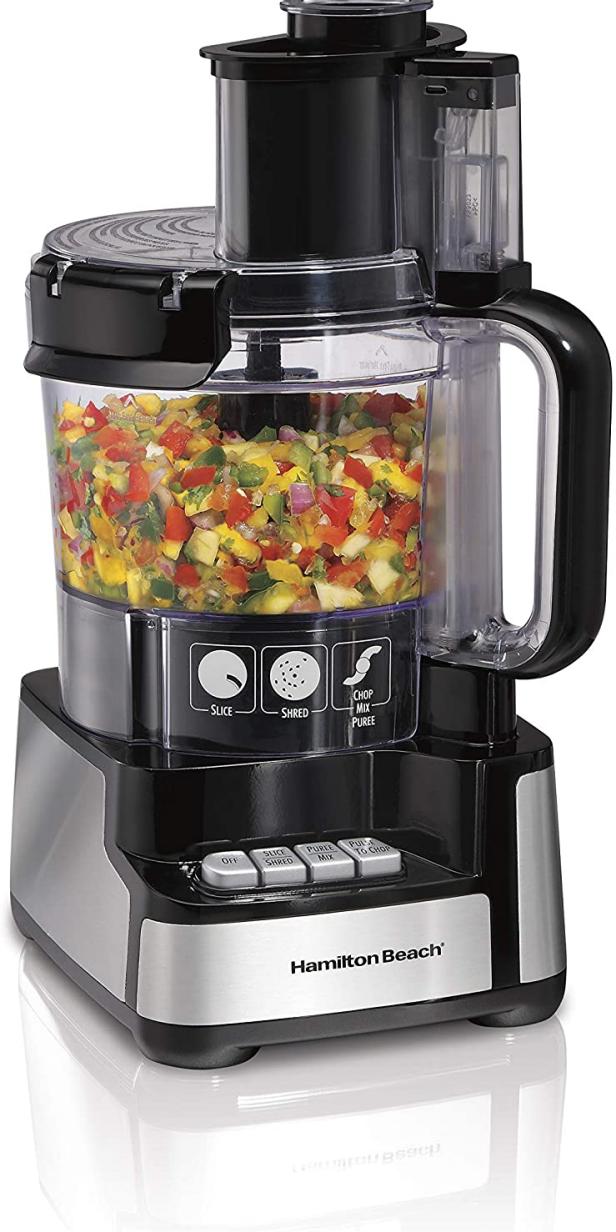 Let's say you're moving into your first adult apartment, or registering for your wedding, or upgrading your hand-me-down appliances to newer ones: This is a fantastic choice. It's thoughtfully designed (we love that the shredding and slicing blade is one unit, and the bowl has a pour spout — so smart!), and the 12-cup size means it can handle a wide range of jobs.
You only have one option for slicing thickness, but it works very well; it made quick work of a zucchini with nearly no waste. The same is true of the shredding blade — only one thickness, but very efficient. The buttons (one for slice/shred, one for puree/mix and one to pulse) offer different levels of power so each job gets done the way you want it to.
Buy It
After careful research from reputable consumer buying guides, we purchased 10 food processors. We began by evaluating how easy the processors were to set up, how accessible the manuals were and how simple (or not) it was to navigate the processors' attachments. From there, we put each processor through a series of tests: Chopping an onion, slicing zucchini, shredding carrots and Parmesan cheese, chopping basil, making pie dough and emulsifying a salad dressing.
We looked at how well the bowls, blades and lids clicked into place, how the buttons were designed, how many speeds each one had, whether it was easy to clean and how much storage space each one requires. We ruled out any processors that couldn't complete all of the tasks, and factored in cost.
More Products Tested by Food Network Kitchen