2 Best Pie Dishes, Tested by Food Network Kitchen
We've only got eyes for pie, which is why we're highlighting the very best pie dishes.
Keep in mind: Price and stock could change after publish date, and we may make money from these links.
When it comes to pie plates, the main choice you'll need to make is between materials. Glass and ceramic both conduct heat slowly, meaning they tend to cook more evenly and consistently, and they are good for long bakes like custard pies. (Plus, they tend to look more attractive on your table.) Metal, on the other hand, is a superior heat conductor and excels at blind-baking shells.*
You'll also want to consider measurements. While a 9-inch wide, 1.25-inch deep plate is standard for single crust pies like pecan and pumpkin (and make it easy to fish out a clean slice), you'll want something more substantial — around 2 inches deep — if you regularly bake double crust pies. Fluted edges can assist you in forming a beautifully crimped pie, and raised lips can facilitate transferring pie dishes containing delicate crusts and liquid fillings into and out of a hot oven more easily.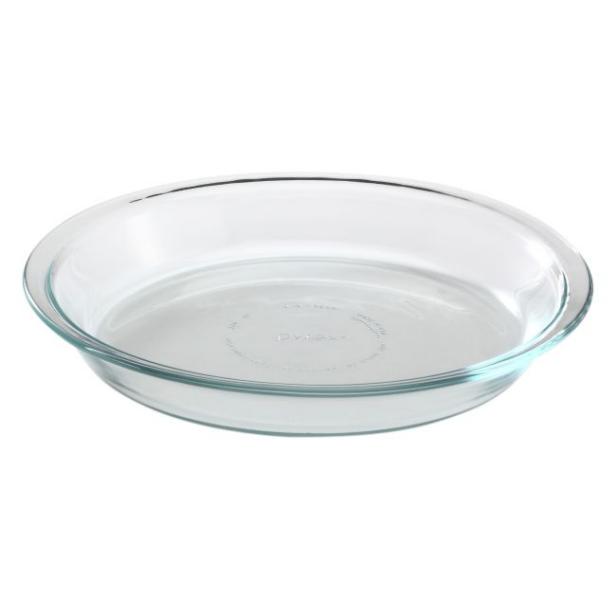 Amazon, $12.95 and Pyrex.com, $6
Products tend to become classics for a reason, and that's definitely the case with Pyrex's traditional glass pie plate. At 9 inches across, it's perfectly sized for a single crust pie. And not only is the patented glass dishwasher, freezer and microwave safe, but it's thermal shock-proof to resist extreme temperature fluctuations. Plus, it's tempered, meaning it's very difficult to break. The plate is odor- and stain-resistant, making it super simple to clean, and the slow-conducting glass produces crusts that are universally golden brown and cooked through, from the exposed edges to the filling laden-bottoms (which often remain pale and soggy on other models and render the pie gummy and difficult to slice).
The biggest benefit of glass when it comes to pie-making, however, is that you can actually see the bottom and sides of the crust. This isn't the case with metal and ceramic dishes, where it's generally all guesswork — having to determine the pie is done from the suggested bake time on the recipe, the color of the edges and the consistency of filling, with no actual insight as to its structural integrity.
And at $6, the Pyrex is the cheapest pie crust we tested by a longshot! Looking to make a double-crust pie? The Pyrex Grip Rite 9.5-inch Glass Pie Plate offers extra depth for exactly the same price. Although it didn't perform nearly as well on our slim pumpkin pie.
Buy It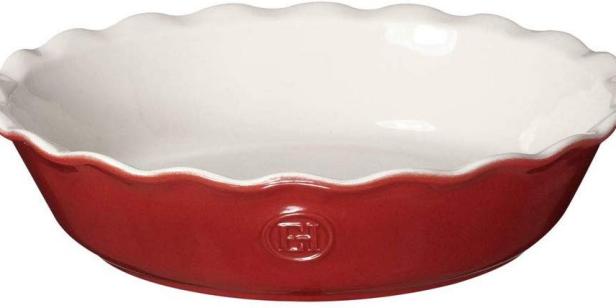 You can't hold a candle to ceramic when it comes to aesthetics; most are pretty enough to travel straight from your oven to the center of your Thanksgiving table. But the Emile Henry isn't only about looks. It also produces a picture-perfect bake, due to superior heat diffusion and retention. It's resistant to temperature change (not shattering when we attempted to quick-cool a pie by placing it in the fridge), and can even be placed under a broiler (a plus if you want to singe the top of a pillowy lemon meringue pie). The extra depth (2.6 inches) allows you to use it for double-crust pies, yet unlike some of the deeper dishes we tried, it performed perfectly well for single crusts. We didn't need to awkwardly dig around for a slice, and it browned thoroughly within the baking times prescribed by our recipe.
The Emile Henry is less expensive than comparable ceramics like Le Creuset, and it comes with a 10-year warranty, making it a veritable steal at $40 for a presentation-worthy pie dish.
Buy It
First, we checked to see if each dish had a manual advising on care, before washing the dishes with soap and water before first use. We noted the measurements of each dish (9 inches being the standard), as well as how high the sides were, and how comfortable and/or heavy the dishes were to hold and maneuver in and out of the oven. We took stock of the primary materials (whether the dish was made of metal, ceramic or glass), if the dish came with a warranty, and if the company made any special claims — such as "designed for impeccable release!" — to see if they bore out during testing.
When it came to cooking, we blind baked a crust in each dish, following the instructions on a commercial package of refrigerated pie dough. We noted how evenly the edges browned (or if they burned), before turning out the crusts to see how consistently the bottoms baked. We then baked pumpkin pie in each dish, following the instructions on a 15-ounce can of pumpkin pie filling. We registered whether the unbaked pies comfortably fit each dish without overflow, and whether they baked through completely in the time suggested by a classic recipe. We again noted how evenly the edges browned (or if they burned), and if the crusts cooked consistently and completely on the bottoms and sides. We determined how easily slices could be cut and removed from each dish, and how straightforward they were to clean by hand, before running them through the dishwasher.
*A Note About Metal Pie Dishes: It should be noted that we generally don't advocate for using metal dishes to make pie. For one thing, they're not necessarily less expensive, and they can scorch your crusts. Plus, you shouldn't use abrasive cutting, serving or cleaning implements on them, as you could scratch into the nonstick coating. If, even after all this, you're still determinted to go the metal route, we appreciated the performance of the USA Bakeware Aluminized Pie Pan in our tests.
More Products Tested by Food Network Kitchen