3 Best Casserole Dishes, Tested by Food Network Kitchen
These dishes can make more than, well, casseroles. Find out why we love them.
Keep in mind: Price and stock could change after publish date, and we may make money from these links.
Our Top Casserole Dish Picks
A good casserole dish is essential for any serious home cook. Not only can you make those namesake casseroles in it, you'll also reach for it when making cobblers and crisps, bread pudding, baked pasta dishes and more. As with so many kitchen musts, casserole dishes come in a variety of materials, colors and styles. Though it may seem like they're all fairly similar, after baking in a variety of them, we found a few that stand out, whether you want a standard get-it-done dish or one you can show off at dinner parties.
All the pans we tested yielded evenly cooked mac and cheese with lightly browned edges, and all were easy to clean with just soap and water. The best ones came down to design and ease of use. Read on to find our favorites.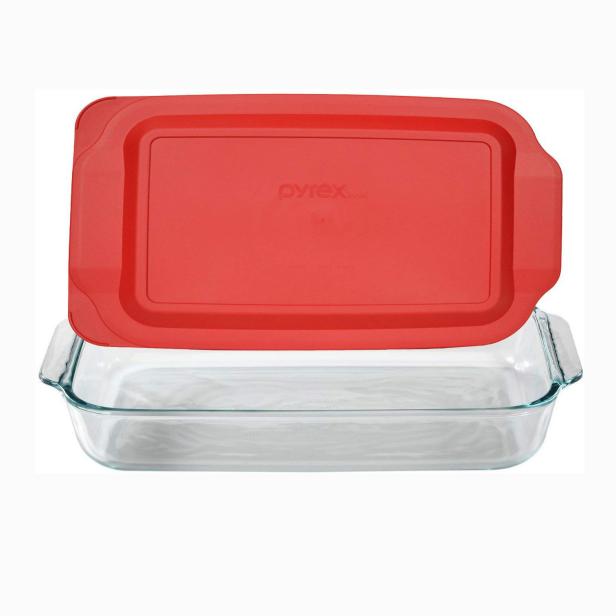 Pyrex has basically become synonymous with glass baking dishes, and it's easy to see why: This is a no-frills, gets-the-job-done pan that just works really well. It's not the heaviest or lightest one we tried; it's just right. We found it to be sturdy, but not hard to lift out of the oven, even with a bubbling batch of mac and cheese inside. The two-inch-high sides are enough for most applications, and the handles are just wide enough to make them easy to grip with kitchen towels or oven mitts. It's freezer-, microwave- and dishwasher-safe (though it cleaned up so easily with just soap and water, it won't need to take up dishwasher space). Made from non-porous glass, it won't absorb odors or stains, so you can go ahead and bake your grandma's lasagna in it and then a batch of brownies. This dish isn't the prettiest, but it's solid, reliable and unfussy. Bottom line: It's a pan you'll use again and again without thinking about it. It comes with a lid, which is helpful when taking side dishes, desserts and casseroles to potlucks and holiday dinners.
Buy It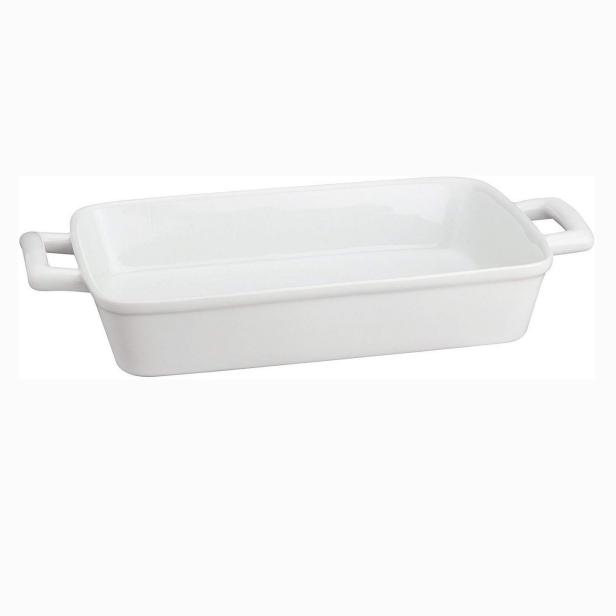 If you prefer a ceramic dish, but you still want that workhorse quality, this baking dish is for you. With a two-and-a-half-inch depth, it's slightly more generous than a typical casserole, but not so deep that your regular recipes won't fill it nicely. Plus, it has generous handles that are especially easy to grasp, which is useful since you have that extra bit of depth. Though this pan is durable enough to withstand freezer, oven, microwave and even broiler (up to 500ºF), it felt lighter than some others we tested (though it's no lightweight, to be sure). Its simple design makes it table-worthy if not showy, and it cleans up like a champ with just soap and water. With a 10-year warranty, you can't go wrong.
Buy It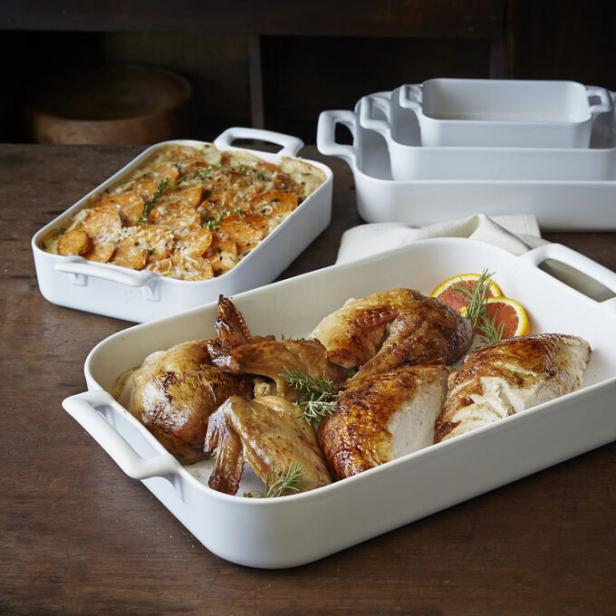 This dish is similar to the HIC in that it's made from porcelain, has generous easy-to-grasp handles, and boasts a two-and-a-half-inch depth. The upgrades here are subtle: It's more elegant looking, it's safe up to 572ºF, and it's made in one mold, so the handles are carved into the dish, which the company claims makes them sturdier. This is a beautiful pan that's durable enough to use for everyday cooking, but pretty enough to be featured at your dressiest holiday dinners. Afterwards, it cleans up easily with soap and water. And we love that it comes with a lifetime warranty.
Buy It
We purchased seven well-reviewed casserole dishes, in both glass and ceramic models. We weighed each one, since these dishes can get heavy as you hoist them into and out of the fridge, freezer and oven. Then we baked a batch of homemade macaroni and cheese in each one (making us very popular with our neighbors, indeed). We turned out each one onto a cutting board to see how evenly the casserole baked. Then we washed each dish with soap and water to see if it cleaned up easily. We also considered any claims about durability or quality, any special features (such as included lids) and length of warranty.
More Product Reviews from Food Network Kitchen