5 Best Slow Cookers, Tested by Food Network Kitchen
We cooked all day long to find the slow cooker that will be the perfect fit for you!
Keep in mind: Price and stock could change after publish date, and we may make money from these links.
Our Top Slow Cooker Picks
Slow cookers have come a long way since their heyday in the early '70s. No longer just for cooking stews and tough cuts of meat, slow cookers are used to make everything from overnight oats to authentic Indian curries. In fact, there are dedicated slow-cooker cookbooks for all kinds of popular cuisines and diets: Mexican, Thai and Indian, as well as paleo and keto diets.
Slow cookers have also stepped it up when it comes to special features. In the past, your only cooking options were High, Low and Warm. Now, you can steam meat and vegetables, make rice, saute — some even stir the food for you! With all of the options out there, we're sure we found a slow cooker that suits your needs.
The idea is to "set it and forget it," but there are some basic guidelines that will ensure you get the best results.
Don't under- or over-fill a slow cooker. Most machines advise to fill at least halfway to make sure the food isn't over- or under-cooked. When crocks are filled below the halfway point, food can be done as much as one to two hours earlier than the recipe states.
Add dairy at the end. If your recipe calls for dairy products, add them toward the end of the cooking time; they can curdle if cooked for too long.
Remember, liquid doesn't evaporate. If you're converting a recipe like stew, soup or chili to a slow-cooker method, you will not need the same amount of liquid as the stovetop version. Slow cookers do not allow for the liquid to evaporate, as the crock is closed throughout the cooking process. If the end result is too thick, you can always add more liquid at the end.
Veggies are meat's best friend. When cooking fatty cuts of meat, make a bed of root vegetables or onions on the bottom of the crock so the meat does not cook in the fat that will be released. Keep in mind, using this method will put the vegetables super close to the heat source, located at the bottom of the machine, so you'll want to choose something hearty (or firm) that can withstand the heat over a longer period of time.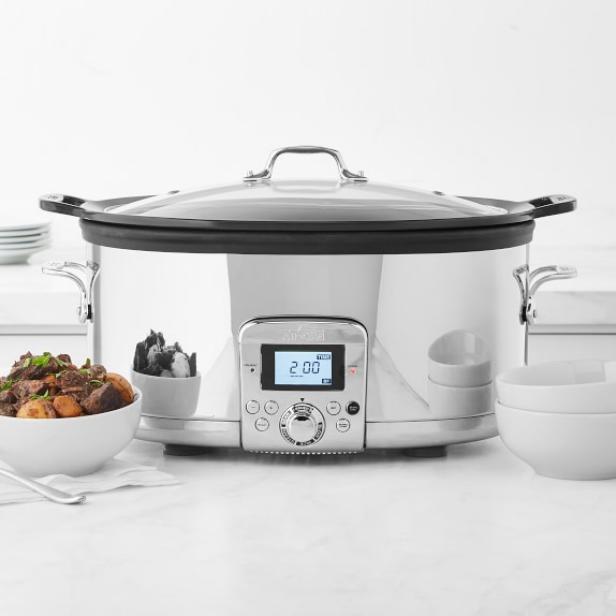 This is so much more than a slow cooker. The All-Clad Gourmet Slow Cooker can saute, brown meat, simmer stews and cook rice! But having all these bells and whistles doesn't take away from the quality of the slow-cooking feature. This model never got overly hot on the exterior, produced the most-tender meat overall, came up to simmer in the least amount of time and maintained a steady temp throughout the cook process.
It was also the most beautiful of all the slow cookers we tested and would be a welcome addition to the kitchen countertop. There is a steep price tag, but considering its versatility, you're virtually getting multiple pieces of cookware in one!
Buy It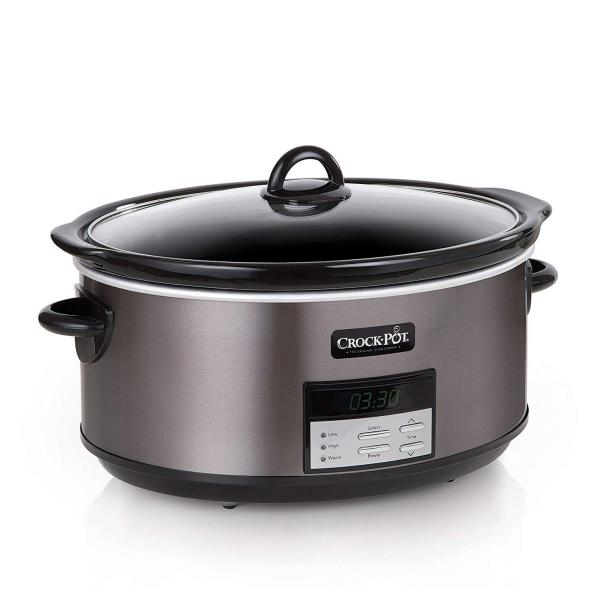 Many slow cookers can feed a group, but this model can make enough for crowds of more than 10 people. So, whether you're throwing a birthday party or taking chili to the annual tailgate, this slow cooker can meet your needs.
The digital timer makes it easy to program and it automatically switches to the warm setting when the cooking time is up. Need to cook a recipe for less than 10 people? Don't worry, this slow cooker did a fantastic job cooking the same recipe as the smaller cookers at 6- to 7-quart capacities.
Buy It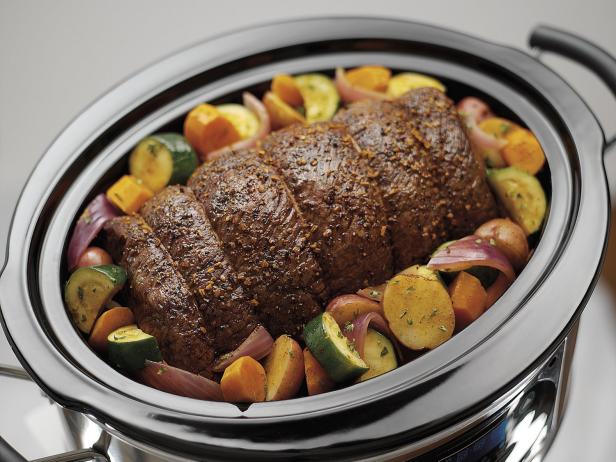 Do you want a roast to be ready when you get home from work without being overcooked? The Hamilton Beach Set & Forget slow cooker has a thermometer probe that can be programmed to switch your cooker to warm once the meat has reached your desired temperature. Just insert the probe into the meat and the temperature reading will show on the outside of the slow cooker. An added bonus is the clip-top lid, which can help prevent spills if you're taking your cooker on the road.
Buy It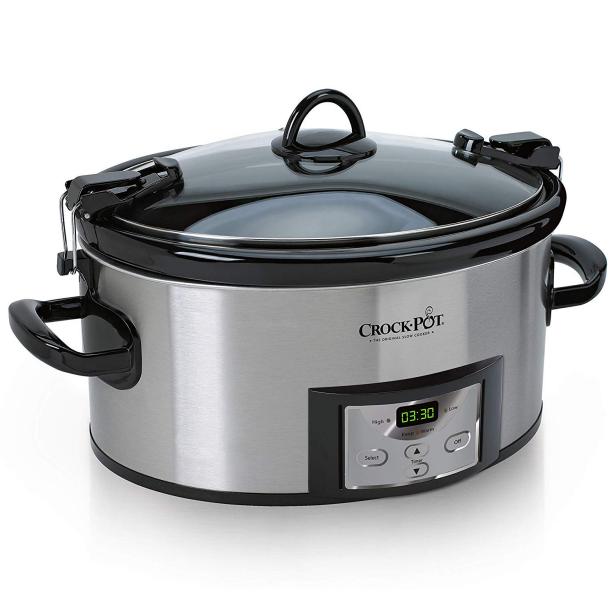 Holidays and celebrations are nothing without great food. If you're helping family or friends throw a party and need to travel to share your favorite meal, this is a great option. The locking lid has a gasket and an extra seal to provide extra insurance that your car interior will be safe from spills.
The convenient lid is just the starting point. This was our runner-up overall when it came to the tenderness of the meat and safety — the outside never got above 87 degrees (some of our other nominees reached an outer temp of over 125 degrees!), making it an ideal crock to take along with you.
Buy It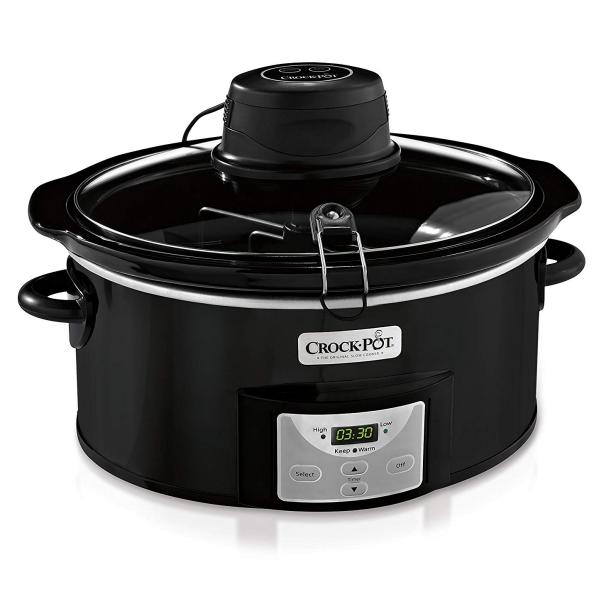 Some slow-cooker recipes you really can't just "set and forget." Dips and stews often need to be stirred at intervals throughout the cooking time. This Crock Pot® has a removable stirring paddle system that will take care of the mixing for you. There is a wider paddle for most recipes and a thinner paddle for stews. After two hours of cooking time, the stirring system automatically starts and continues at 30-minute intervals until the cook time is complete.
Our stew had the best overall look and most-homogenous results without fat separation in this cooker. The downside is that there are two cords — one for the crock itself and one for the stirring attachment — making it a bit clunky.
Buy It
We tested 10 popular, well-reviewed slow cookers. One of the most-important aspects of a slow cooker is the temperature. You need it to heat high enough that the food will cook safely but not too high to scorch or overcook over a long stretch of time.
We made stew and checked both the exterior temperature (with an infrared thermometer) and the interior temp of the food at one-hour intervals throughout the cooking time. We then checked to see how quickly the slow cookers dropped the heat once switched to Warm — a good indicator of the likelihood of overcooked food.
We also checked how easy they were to clean and how user-friendly their controls (interfaces) were. We eliminated four models based on poor cooking results, chemical smells, poorly sealing lids and basic programming.
More Products Tested by Food Network Kitchen