3 Best Popcorn Machines, Tested by Food Network Kitchen
We air-popped pounds of kernels to find the best popcorn makers!
Keep in mind: Price and stock could change after publish date, and we may make money from these links.
It's nearly impossible to beat a big bag of butter-laden popcorn when watching a movie. And now that home theaters are becoming a bigger trend, according to a Pinterest 2020 Trend Report, this practice of popcorn and a movie is becoming a more regular occurance at home. But if you're not a fan of microwave popcorn for health or taste reasons, you can still have your favorite snack without settling for calorie- and fat-filled microwave popcorn bags. Enter: air-popped popcorn! We tested out 10 different air-pop popcorn machines that fit neatly and inconspicuously in your kitchen to see which one is worth setting up at home.
While there are a bunch of different options for at-home popcorn machines, we decided to stick with smaller-scale countertop and microwave air-poppers for this test.
When selecting popcorn machines for this test, we only tested models that require no oil for cooking. When tested, we noted the amount of kernels added to each model and how many kernels were left after the recommended amount of cooking time. We also noted how long the popcorn could be popped before it started to burn. We evaluated any claims made by the company about the models.
We also looked at how easy each model was to clean, noting whether or not pieces were dishwasher-safe or if the machine has a self-cleaning function. Kitchen storage can be limited, so we took into account the size of each countertop model and how easily the microwave models store.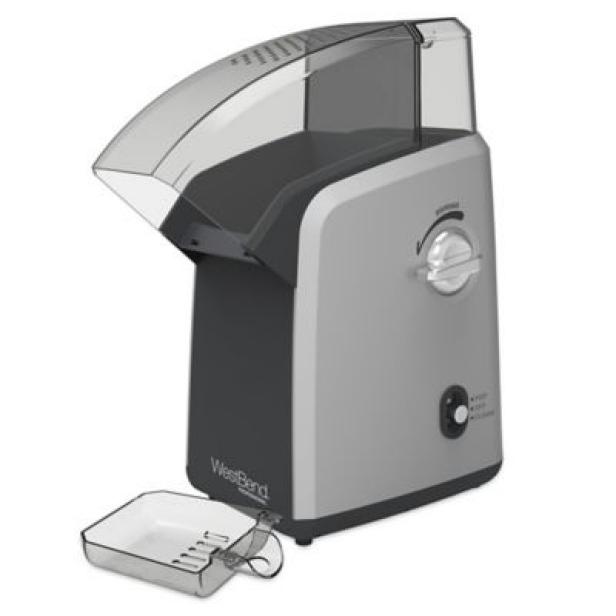 During testing, we found the most annoying part of making popcorn at home is messing with the kernels. Measuring popcorn in a separate cup and pouring into the machine each time might not sound like a huge inconvenience, but once we found a machine that was no-measuring-required we were hooked. An attachment on the back of the machine holds up to 16 ounces of kernels, giving you the option to dispense one to four servings without having to do the work of measuring yourself. In testing, it was equally as easy to make popcorn for one person as it was for a group. All extra additions aside, this popcorn machine simply works. It left minimal kernels when popping, and, since the kernels are pushed out and into the bowl once popped, you never have to worry about them burning. Cleanup is simple with a "Clean" function on the nozzle that sends a quick jolt of air through the machine, pushing out any leftover kernels or scraps. With this machine, you'll have a big bowl of air popped popcorn in under two minutes. The only thing you have to worry about is what you'll top it with!
Buy It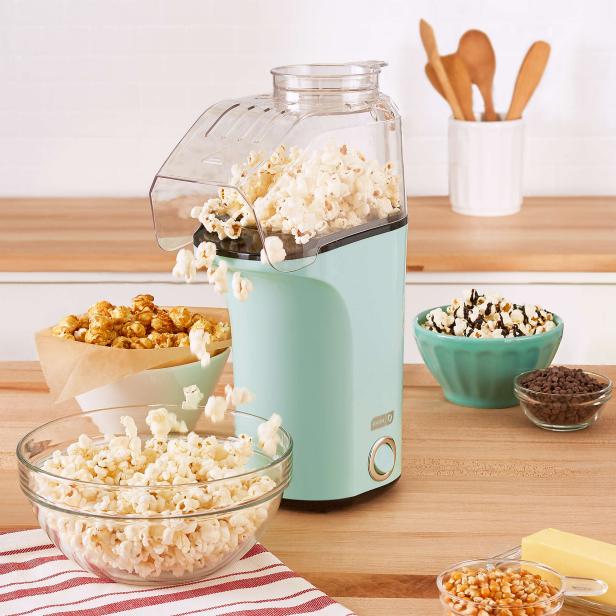 If you're looking for a more affordable countertop popper, we recommend the Dash Fresh Pop. When adding kernels to this machine, we found it was difficult to do so without spilling at least a few, but we cared less about that when we realized how well this machine worked. The narrower spout helped guide the popcorn kernels directly into the bowl beneath, and the butter tray on top actually got hot enough to give us a decent amount of topping. Once we got to the bottom of the bowl, we were shocked to find just two lone kernels left, which was drastically fewer than most machines we tested. The size also stood out, being just slightly smaller and more compact than other countertop models.
Buy It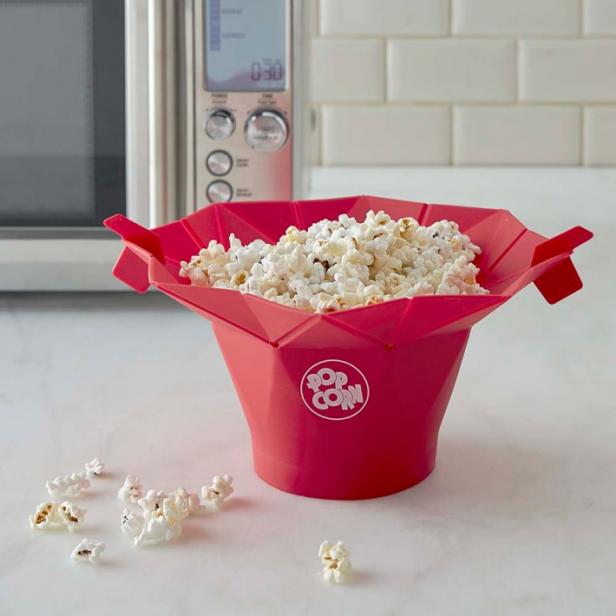 Overall, all microwave popcorn makers produced less popped kernels (without the risk of burning!) than the electric countertop machines. But, not all kitchen spaces can accommodate another appliance. If your kitchen space is limited or you would rather stick with an easily storable option, we suggest this Chef'n popcorn popper. It was the only microwave popper that didn't produce at least a few burnt kernels. Plus, the silicone material is dishwasher-safe, making for easy cleanup. We do caution anyone grabbing this from the microwave right after use. The silicone gets pretty hot, but two small tabs on top give you something relatively cool to grip. We found the design a little cumbersome to fold together each time we made popcorn, but it did seem to keep a decent amount of kernels in the bowl while popping. (Some did escape, though!). Overall, we liked the ease of throwing it in the dishwasher after use and being able to fold it up and store in a cabinet.
Buy It
More Products Tested by Food Network Kitchen