3 Best Roasting Pans, Tested by Food Network Kitchen
We roasted our way through multiple pans to find which will guarantee you success Thanksgiving Day and beyond!
Keep in mind: Price and stock could change after publish date, and we may make money from these links.
Our Top Roasting Pan Picks
With so many roasting pan designs out there, picking one with the right material, size, and height or sloped sides can be the difference between crispy turkey skin or a rubbery bird. Our three favorite pans were all made of three-ply construction (stainless steel with an aluminum interior core), which allows for even heat distribution. Overall, we found that our favorite roasters were on the larger side, so they could hold turkeys big enough to feed a crowd and fit over two burners for easy gravy-making and searing. All of our favorite pans also came with a rack, which we found was essential to making a roasting pan truly versatile.
In addition to how the roasting pan cooks, we also considered how much the pans weigh. Roasting pans are most commonly used to cook large quantities of food, so we wanted a pan that was not too heavy to begin with, since it would become unwieldy with the added weight of food. Size and height of the handles also came into play when choosing our favorites. We found handles that were taller in height made it easier to maneuver with a gloved or towel-covered hand.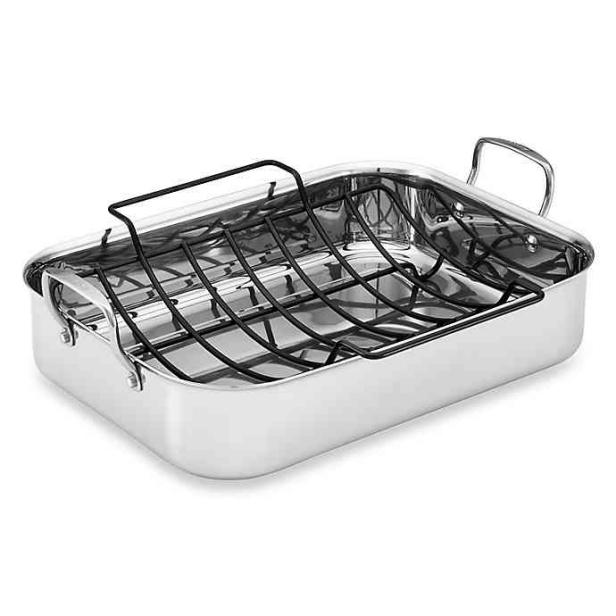 This pan is as pretty as it is functional. Its exterior is a beautiful, shiny stainless steel, and it comes with a nonstick rack. The rack is what put this pan on the top of our list. You get the fantastic cooking capacity with triple-ply construction, and you benefit from a nonstick rack that makes it easy to cleanly remove roasted meats without tearing skin. Plus, it makes for easier cleanup. The inside of the pan contains a channel along the edge that helps to keep excess fat from pooling under the meat while cooking. The channel may require a bit more stirring if making a sauce on the stove, but we felt this was a small consolation since most of the cooking would take place in an oven. The handles were comfortable and the cleanup was a breeze. This pan is also dishwasher safe and comes with a lifetime limited warranty.
Buy It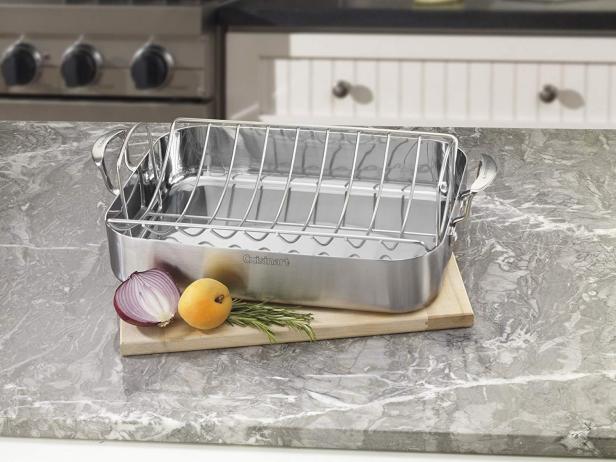 This pan was a very close runner-up to the Anolon. It's made with the triple-ply construction as well, and our chicken and vegetables were cooked evenly, and cleanup was a cinch. The surface of the pan is completely flat, so it would be ideal for making pan sauces, as it provides for an even cooking surface. Based on aesthetics, you wouldn't know this pan was among the lower-priced pans on our list. This was also one of the larger pans we had, making it ideal for those serving larger crowds.
Buy It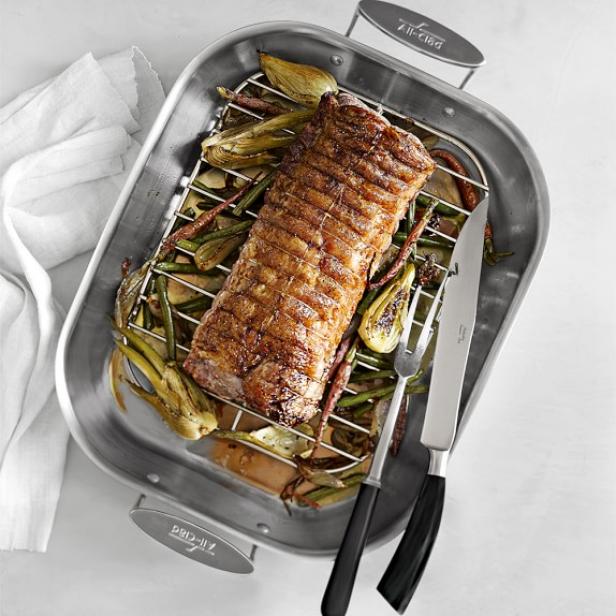 If you want to treat yourself to a little luxury, the All-Clad pan is for you. The pan was the priciest on our list, but it also produced the crispiest, most even chicken skin of all the pans we tested. The flared sides of the pan allow for more steam to escape and for a larger surface area of the food to be exposed to oven heat. The pan comes equipped with a rack and can hold up to a 20-pound turkey. It was also a lighter pan of the group, weighing only 5 pounds, 4 ounces. The pan can withstand heat up to 600 degrees and comes with a lifetime warranty.
Buy It
We roasted 5- to 6-pound chickens with root vegetables to see which pan produced crispy, evenly browned chicken along with succulent, caramelized vegetables. The nonstick pans we tested made the veggies too brown (verging on burnt), so we eliminated those from our choices. We then determined which pans were easiest to pull in and out from the oven using kitchen towels. Next, we boiled water in the pans over two burners to see how evenly pans heated and how evenly the heat was distributed. We poured the water from the pans to see how comfortable it felt to drain the pan, as well as how cleanly the liquid poured from the pan. Lastly, we cleaned each pan by hand to see how easy or difficult it was to remove cooked-on food.
More Product Tests by Food Network Kitchen