5 Best Sheet Pans, Tested by Food Network Kitchen
We piled our pans with pizza and covered them with cookies to find our top tool for baking!
Keep in mind: Price and stock could change after publish date, and we may make money from these links.
Whether you're working in a restaurant, looking to feed a family of four or regularly whipping up dinner for one, sheet pans are a kitchen must-have. For noncommercial uses, a so-called half-sheet pan (measuring 18x13 inches on average) will generally do the trick: made of aluminum or stainless steel, surrounded with a rim to prevent spills, and purchased either with or without a nonstick coating. Of course, there are other factors that make certain pans stand out from the crowd. Read on to find the very best vessel for your cookies, focaccia or sheet pan suppers!
We updated this guide in April 2020 after one of our original picks, the Sur La Table Classic Half Sheet Pan, was redesigned. The previous product has since been removed from the story which was originally published in June 2019. We updated this guide again in February 2021, adding two additional favorites. We still love many picks from our original test. Read on for our list of current favorites.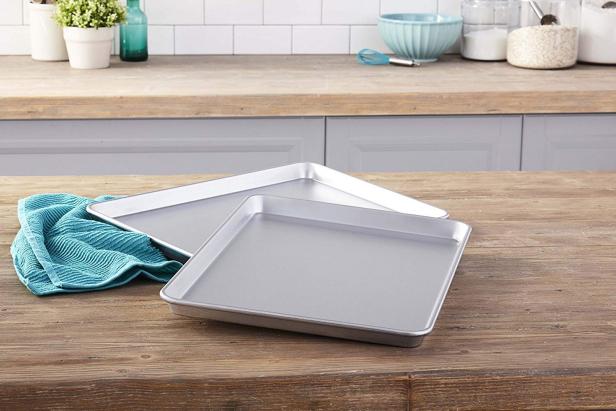 Consider this your workhorse pan. Most similar to the kind used in our test kitchen, these lightweight, warp-resistant aluminized steel pans have an uncoated surface, which means you can really use and abuse them, without worrying about disturbing the finish. During testing, we found that they conducted heat evenly, browning — not burning — the bottoms of our cookies and pizzas, while still thoroughly cooking the tops. And while inexpensive enough to replace as needed, Chicago Metallic Commercial II pans come with an impressive limited lifetime warranty.
Buy It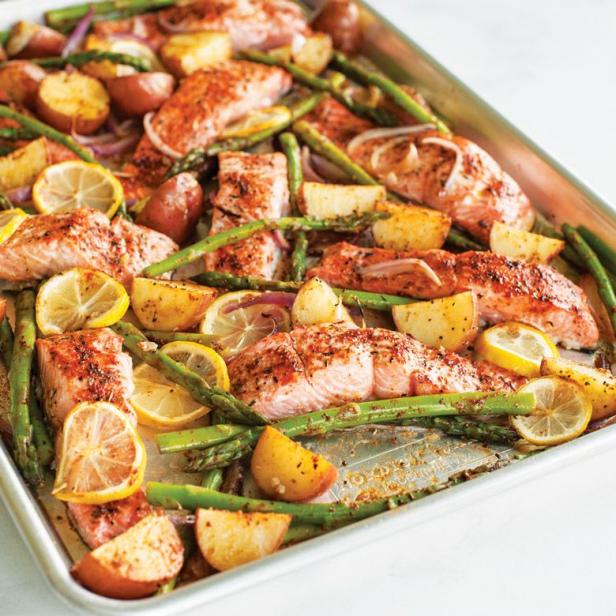 The weight of this baking sheet immediately signals that it means business. An encapsulated galvanized steel rim adds reinforcement and prevents warping while an aluminum base ensures even heat conductivity, which was apparent in all of our tests — cookies and pizza had golden-brown bottoms, and Brussels sprouts were crispy and evenly cooked. It's a sheet pan that doesn't mind scratches and scrapes and will be around for the long haul, especially since it's backed by a lifetime warranty.
Buy It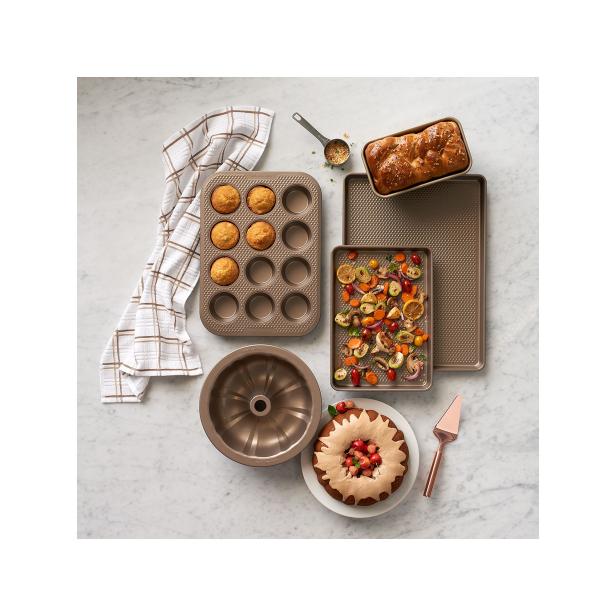 We're not biased about Food Network branded cooking equipment in our testing — this non-stick, carbon-steel baking sheet went through the same process as the others and did quite well. Thanks to its textured bottom, which allows for more air flow, the Brussels sprouts were wonderfully crispy, while the pizza and cookies all had bottoms that were evenly golden-brown. Those raised ridges also make cleaning a breeze — crusted on cheese and cookie crumbs were washed away without much effort. It's the perfect sheet pan for the cook who resents clean-up. Choose between a bronze and gray finish.
Buy It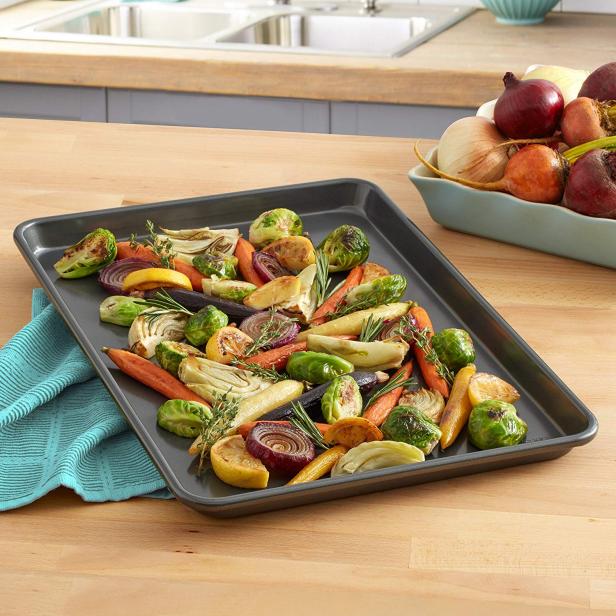 Ideal for your messiest, stickiest cooking projects, a silicone-based coating allows everything from jam-filled bar cookies to cheese-caked pizza slide seamlessly from the pan. And while that means you won't need to pick at congealed drips with sharp implements, it's also the only pan we tested that's safe with metal tools. Additional points in its favor: The Chicago Metallic Professional Half Sheet conducts heat evenly, a wire rod-reinforced lip prevents warping, and it's even dishwasher safe, although hand-washing is generally preferable, to extend the life of the product. That said, at this price, you won't have to break the bank replacing it.
Buy It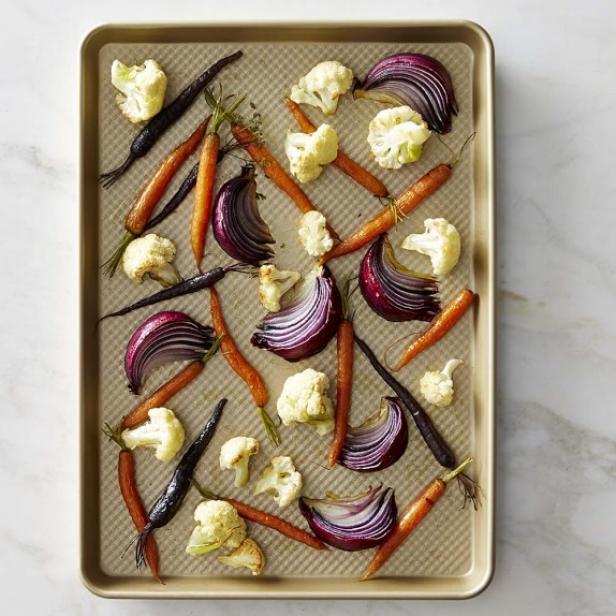 Pretty enough to go from oven-to-table, this gold-tinted, heavy-duty diamond-textured pan has what it takes to both cook and serve your roasted chicken dinner — or give your Christmas cookies the Instagram moment they deserve. Yet its appeal isn't only skin deep. It's not too precious to withstand the dishwasher, and the ceramic coating serves as extra defense against dents, scratches and stuck-on food.
Buy It
We consulted consumer buying guides to find 13 well-regarded sheet pans. After evaluating their materials and build, to see how much they weighed and how sturdy they were, we checked out any specific instructions regarding care, such as whether or not the pans needed to be pre-cleaned, what kind of utensils could be used on the surfaces, and how high a heat they were able to withstand. Then we put them to work in the oven! We made sheet pan favorites such as cookies, pizza and Brussels sprouts, to see how evenly they cooked and browned on the bottom, if anything stuck, and if the pans warped during the baking process. We also noted if any of the brand's special claims bore out, in regard to being warp-free, quick-release, scratch-resistant and/or dishwasher-safe. Afterward, we hand-washed all the pans first, to see how easy they were to scrub, before giving them a pass through the dishwasher.
More Products Tested by Food Network Kitchen