3 Best Meat Thermometers, Tested by Food Network Kitchen
No more poking or cutting into the meat to find out if it is cooked through ever again.
Keep in mind: Price and stock could change after publish date, and we may make money from these links.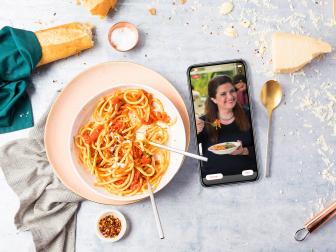 Download Food Network Kitchen now to take advantage of a 90-day free trial and get like 25+ live classes a week, hundreds of on-demand cooking classes, in-app grocery ordering and so much more.
Our Top Meat Thermometers
The instant read thermometers are used to test the temperature of meat very quickly and can be used when grilling or cooking on the stovetop, as well as checking the temperature of meat cooked in the oven. They can also be used to test the temperature of cooking water or cooking oil, which gives them a wider range of use cases than a digital probe thermometer.
Take the guesswork out of knowing if your chicken, roasts or pork chops are cooked with a digital instant read thermometer. No more poking or cutting into the meat to find out if it is cooked through. These thermometers can guarantee you an accurate reading without damaging your meat in the process.
We tested two kinds of thermometers: digital probe and instant read.
The benefit of a digital probe thermometer is that it can stay in the meat in the oven from the moment you start cooking, so you know exactly when it comes to the correct temperature. The probe is ideal for larger pieces of meat that cook for extended hours like a turkey or a larger roast. Most come with digital displays that are visible outside the oven. They are usually equipped with alarms you can set to alert you when they reach a desired temperature, so you are always aware of the cooking progress.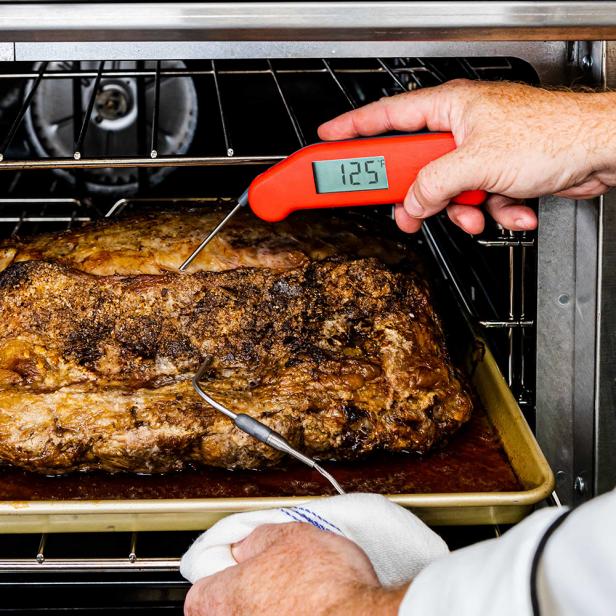 The Thermapen comes with a great reputation for good reason. Handmade in England, it gives accurate readings in two to three seconds and has a temperature range of -58 to 572 degrees F. The battery should last you 1,500 hours (basically, years) and it automatically turns off after 10 seconds, so you don't have to worry about wasting any of the battery life. It comes with a very thorough guide, which offers an explanation on how to use the thermometer, tips for resting meat, information on food safety and temperatures, as well as troubleshooting. We found this thermometer accurate and fast when testing the temperature of our chickens and one of the fastest readers when we did our ice water test. It comes with a higher price tag, but the extended battery life and high quality of the product make it worth it.
Buy It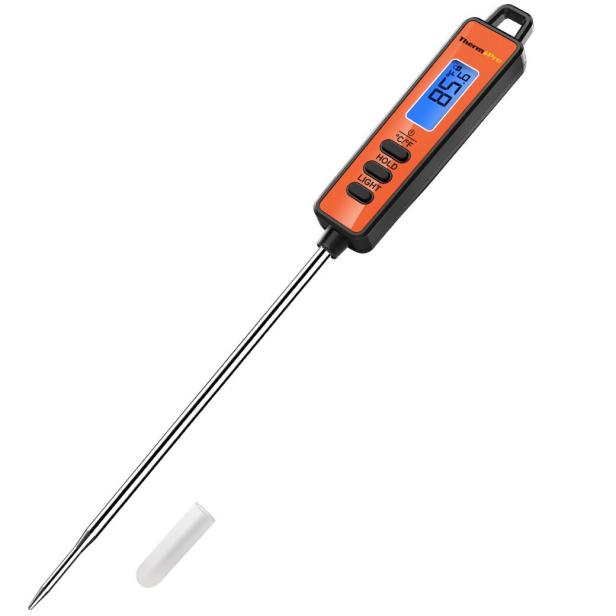 This thermometer costs just under $10, making it a steal. We found that it took readings in just a few seconds that were just as accurate as its more expensive counterparts. It has a longer probe than some of the others we tested, helping to keep your hands away from hot flames when grilling or cooking on the stove. The thermometer also has a very simple design with just three buttons, making it easy to navigate. It comes with a backlight, which would be very useful for grilling outdoors in the dark, as well as a "hold" button that keeps the temperature displayed instead of clearing it or immediately dropping it when removed from the meat.
Buy It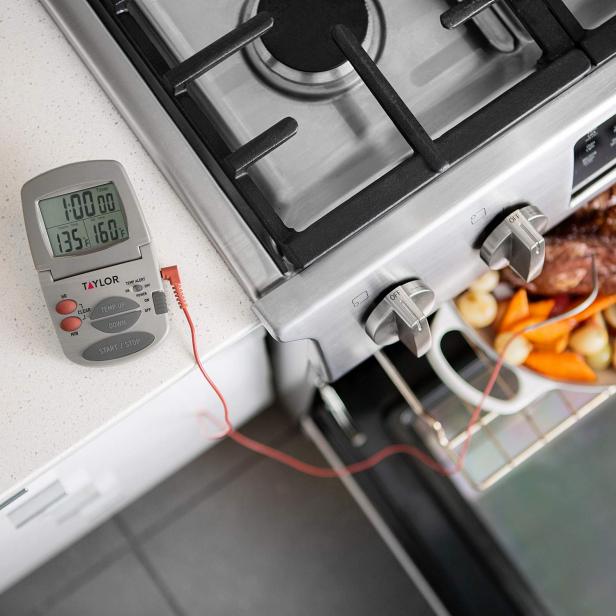 If you're looking for an oven-safe thermometer, this digital probe thermometer is for you. At under $10, this affordable thermometer measures temperatures from 32 to 392 degrees F. We found this very helpful, as some of the other thermometers we tested only had a range of general meat temperatures up to 170 degrees. This model comes with a magnet on the back, so you can tack it on your oven door for easy readings while cooking. It also comes with a temperature alert feature, so you can be notified when your meat reaches the desired temperature. The probe is nice and long, with an insulated wire making it easy to handle no matter what your meat size.
Buy It
We roasted chickens and checked the temperature throughout the cooking process to see how quickly the thermometers registered the temperature of the meat. We also tested for accuracy by placing each thermometer in a glass of ice water to see how quickly and precisely they measured the freezing temperature.
More Products Tested by Food Network Kitchen