5 Best Vacuum Sealers, Tested by Food Network Kitchen
We found the best vacuum sealers for every kind of food storage, plus sous vide cooking.
Price and stock could change after publish date, and we may make money from these links.
We're sorry, there seems to be an issue playing this video. Please refresh the page or try again in a moment. If you continue to have issues, please contact us here.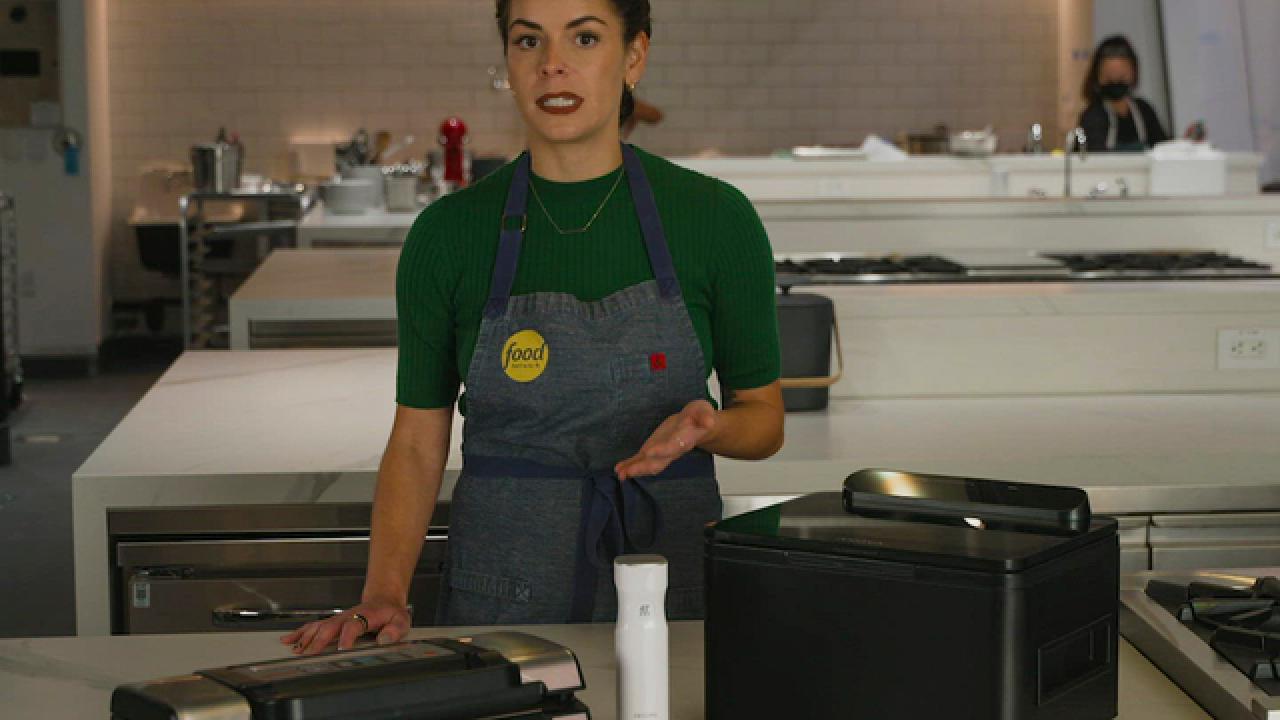 Vacuum sealers are great for food storage, sous vide and more. Sarah Holden, culinary producer for Food Network Kitchen, walks you through three of our favorites, above.
Our Top Vacuum Sealer Picks:
Tested by Stevie Stewart and Amanda Neal for Food Network Kitchen
Whether you're looking to use a sous vide or make the most of your storage space, a vacuum sealer can come in handy. The best vacuum sealers are simple to use and keep food fresh in your freezer, so it doesn't suffer from freezer burn. You can use a vacuum sealer to store cooked leftovers like chili and pasta, raw meats that you buy in bulk, and even produce. If you're interested in sous vide cooking, you may need to purchase sous vide bags for your vacuum sealer in order to cook using that method. Read on to find out what the best vacuum sealers on the market are and which one is right for you.
This article has been reviewed since its original publish date for accuracy, pricing and availability. We stand by our list of top vacuum sealer picks.
What Is a Vacuum Sealer and Do I Need One?
A vacuum sealer is a machine that removes the air from either a plastic bag or another storage container, and then seals the container to prevent any air from coming in. Vacuum sealing keeps food fresh by removing the oxygen, which bacteria and mold need to grow. It also prevents freezer burn, allowing for frozen items to last longer than if frozen without being vacuum sealed.
Another great use for vacuum sealing is sous vide. Sous vide is a cooking process in which food is vacuum sealed in a bag and then cooked in a water bath to a precise temperature. Sealed completely, the bags do not allow for anything to go in or out of the bags making it the perfect vehicle for this cooking method.
If you are someone looking to prepare meals in advance, cook sous vide or to extend the shelf and frozen life of your food then you may want to consider investing in a vacuum sealer.
Things to Know About Vacuum Sealers
How much space should you be prepared for them to take up? You should be prepared for a vacuum sealer to be about 12 to 14 inches x 4 inches (unless you choose the hand-held Zwilling which is significantly smaller).
What foods do vacuum sealers work best on? Vacuum sealers are great for most foods. Some to avoid would be: garlic, raw mushrooms and soft cheeses which spoil faster when sealed. Brassicae foods like broccoli and cauliflower emit less gas when they are blanched prior to vacuum sealing.
Does wattage matter? The wattage correlates to the suction power of the machine. The Nesco has the most powerful wattage which means the best suction power.
What do vacuum sealers come with? All of the machines we tested provided bags with the vacuum sealer.
Battery operated or electric? Vacuum sealers can be battery-operated or electric. All the vacuum sealers we tested are electric except the Zwilling.
We took into account the size, weight, and price of all the sealers we tested. We also considered the wattage of each machine which indicates the suction power of the vacuum (the machines we tested ranged from 80 to 130 watts). We noted how well the machines functioned and how easy they were to operate. We vacuum sealed blueberries to see how gentle the machines could be when sealing and to test the variety of controls on each model. We vacuum sealed cooked spaghetti and raw chicken breasts and froze them for 3 weeks to check for freezer burn. We thawed the frozen items and checked them for any loss in quality or taste. We also took into account the accessories that were included with each sealer such as bags, rolls and hoses. Every machine came with bags, sealed well and prevented freezer burn so it really came down to ease of use, size, functionality and cost.
Here are the best vacuum sealer models that topped our list.
More Products Tested by Food Network Kitchen