5 Best Cutting Boards, Tested by Food Network Kitchen
We chopped beets, parsley, garlic and potatoes for days to find the best cutting boards and butcher block.
Keep in mind: Price and stock could change after publish date, and we may make money from these links.
Our Top Cutting Board Picks
Cutting boards are a must-have in any kitchen prep arsenal, but finding the right cutting board can be as tricky as finding the right pair of pants — you need it to be an ideal size, the right material and it must look and feel good, too.
When it comes to cutting board materials, plastic ones are a workhorse for chopping and slicing produce, mincing garlic and herbs, and cutting meat, and have the added benefit of being dishwasher safe. On the downside, they tend to be harder on your knives (and the grooves they create can harbor bacteria) and aren't known for being particularly beautiful. Wooden boards are aesthetically impressive, extra durable and less hard on your knives over time, though they do require a little extra TLC by way of a mineral oil rub. Wooden ones often double as serving boards too, going from kitchen counter to dining room table to serve everything from crudité to charcuterie, roasts to party platters.
Other cutting board features to consider include a groove around the board for catching juices, tapered sides or handles for ease of carrying, plus weight and size for both ease of manipulation and storage. Then there are all-important factors like stability, stain resistance and odor resistance. To help you find your best board, we chopped beets, diced potatoes, minced garlic and rough-chopped parsley for days to bring you our top picks for best in class cutting boards.
Made of paper composite, this board is technically neither plastic nor wood. The manufacturer describes the material as a preferred cutting surface in commercial kitchens and is the same material used on skateboard ramps, watercraft components and home siding. We found the material to be as durable as advertised, which helped earn this board top marks across all categories, especially surface, stain resistance and smell resistance. The smooth surface made it easy to chop parsley and there were no beet stains, and there was only a faint smell of garlic after handwashing which disappeared after a run through the dishwasher. We noticed that the board slid around a little bit while dicing but was fully stabilized with a wet paper towel underneath. We tested the 8-inch by 6-inch size, which made it very easy to hand wash and store (plus there's a thumb hole for hanging it from a hook). We felt that this board offers great value for the $12.99 price tag. (If you're looking for a little bit larger surface area, the manufacturer also offers a 9 inch by 11.5-inch board that retails for $21.99.) It's also worth noting that we tested the "nutmeg" colored board (it comes in other, lighter finishes as well, so we can't vouch for stain-resistance on those). The board also claimed to be heat-resistant up to 350 degrees F, so we tested that by resting a 350-degree F cast iron skillet on top of it for 30 minutes. Afterward, the board was warm to the touch without markings or warping, making this board a great utility board, too.
Buy It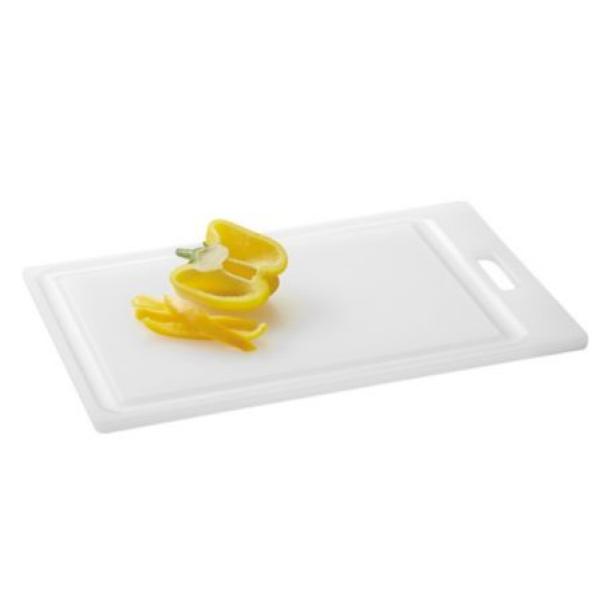 This board won out overall among the plastic boards we tested by scoring high marks for size, stability and stain removal. It's also a great value, retailing for $17.99. We felt its size — 12 inches by 18 inches and 3/8 inch-thick — offered ample cutting surface area even with a juice groove around the edge (which also caught a few errant pieces of parsley during chopping). Compared to the other plastic boards we tested, this one slid around minimally while dicing a potato and it was completely stabilized with a wet paper towel underneath. The sleek surface made chopping parsley a cinch and made washing it by hand easy. And the board's non-porous surface means we didn't see any staining after chopping beets. We did notice a moderate smell of parsley and garlic after hand-washing the board, but the odors were completely gone after the board took a spin through the dishwasher. And while plastic boards aren't typically renowned for their aesthetic — it's a piece of plastic after all — we found this one to have a simple, clean design. Its slim profile also makes it easy to find storage in a large kitchen drawer or stash it propped up in a cupboard.
Buy It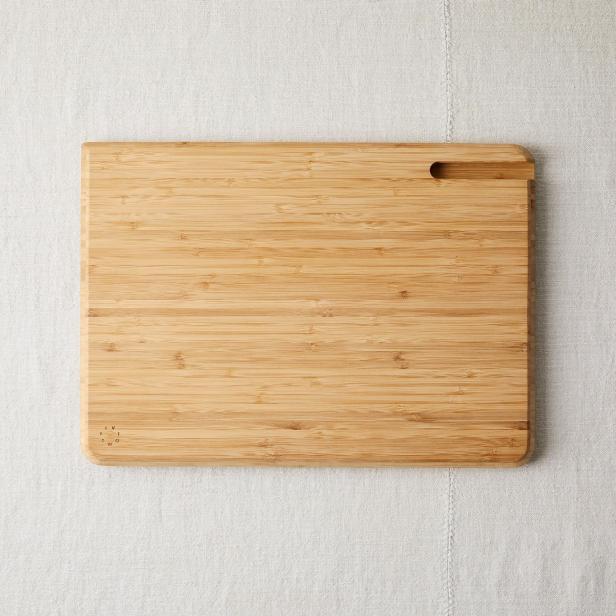 This bamboo cutting board by the folks at Food52 hits all the marks: it passed our stability test when dicing so we didn't need to add a wet paper towel to stabilize it; it aced the smell test; and though the chopped beets left a trace stain, it was the least noticeable of the light-colored wooden boards. It's made of bamboo, a durable, eco-friendly (read: sustainable) material that offers a smooth surface that our knives glided across when chopping parsley. The board measures 18 inches by 13 inches and is 1 inch thick, so you've got plenty of surface area to work with, but not so much that it's impossible to find storage for it. But the design, equal parts beautiful and functional, means you just might want to leave it out on your counter anyway. The board clocks in at 5.5 pounds so it's got some heft, but the tapered edges made it easier to pick up and maneuver to wash in the sink or transport to the table for serving. This dual-sided board also boasts notable design features: on one side there's a groove to prop up your smart phone for reading recipes, watching a live class on the Food Network Kitchen app or adjusting your kitchen soundtrack, and on the other, an extra-deep juice groove for carving roasts or slicing juicy citrus. Wooden boards tend to be more expensive and while this one has a $59 price tag, we feel it offers great value for the size, stability, durability and design. It was shipped with protective cardboard corners and inside a plastic sleeve, which indicated that we had something worth protecting on our hands. Protect your investment further by following the manufacturer's recommendation to apply mineral oil after every few washes, especially to start with or when the wood fees dry.
Buy It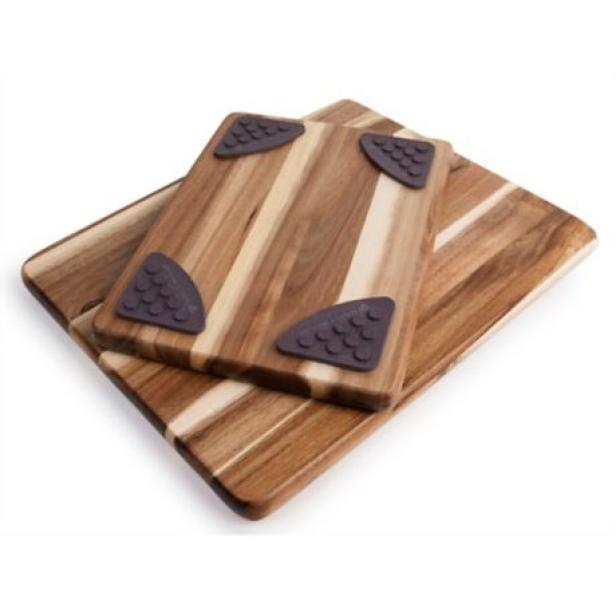 If you're hunting for a great wooden cutting board but on a budget, we liked the Grip Acacia which retails for $29.99 and comes with two boards, one 8 inches by 11 inches and an 11 inches by 14 inches board (we tested the larger of the two). We loved that this board delivered big on its main promise: Never loses its footing. The patented gripper feet did indeed hold steady on the counter, so no wet paper towel is needed for stabilizing. We also liked that the gripper feet gave the board a little bit of added height, but not so much that we had to adjust how we chopped. The board also scored high marks for stain resistance and a smooth, easy-to-cut-on surface, and we loved the beautiful finish and mix of wood tones. (The smaller size board would double nicely as a cheese board.) The board's smooth surface made it very easy to wipe clean and hand wash in the sink. The only down-side was that we didn't find the board to be particularly odor-resistant and the board still smelled of garlic the day after we made a paste and hand washed it, so we'd recommend washing your board right away after using it for particularly pungent foods.
Buy It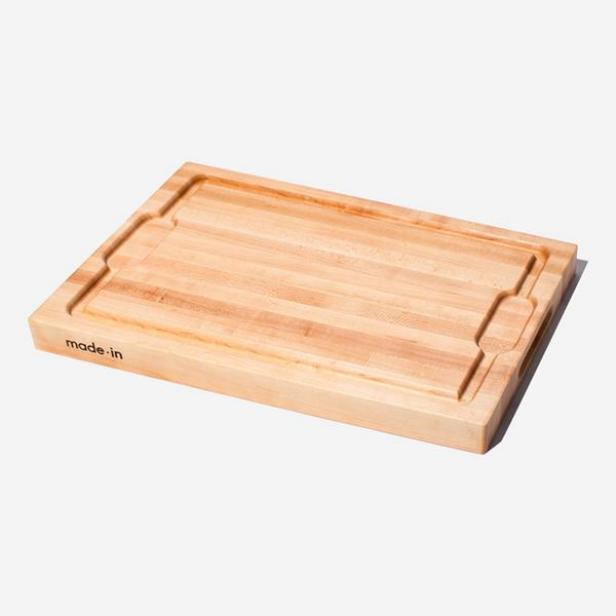 If you're in the market for a butcher block, the Made In Butcher Block wins out. You've probably seen a lot of legacy butcher block brands that tend to run more expensive, but we found that this more budget-friendly board (it retails for $99), works just as well, if not better. Because of its size—it measures 12 inches by 18 inches and is 1.5 inches tall—it offered plenty of surface area along with a generous juice groove. But it's not-too-huge size, plus convenient carrying handles, also means it's easier to clean and easier to transport and maneuver when hand washing. Wooden boards tend to stain easily, and we liked that this brand acknowledged that up front, giving us a helpful remedy for using baking soda to clean and remove stains. (Though the stain removal tip was helpful, we wouldn't recommend chopping beets on this block.) We were also big fans of the fact that this board is made in the U.S.A. using repurposed American maple, recycled dressers, chairs and other wood products. And with its beautiful finish and design, we can totally envision using it to serve a centerpiece-worthy roast or party-ready charcuterie board. Plus, if you're going to leave it out on your counter, it better be nice to look at, right?
Buy It
We purchased 5 top-rated plastic cutting boards and 6 top-rated wood/bamboo cutting boards according to various online sites, reviews and bestseller rankings. Within those two categories, we purchased cutting boards at various price points and sizes. For each board, we diced potatoes to test stability, rough chopped parsley to test the board's surface, made a garlic paste to test for smell resistance and diced beets to test stain resistance.
Stability We tested the stability of the board by dicing a russet potato and observing how much the board moved around. We then added a wet paper towel underneath the board to stabilize it further, then continued dicing the potato and observed if the wet paper towel made a difference in the stability level.
Surface: We tested the surface of the board by roughly chopping parsley to see how easily the knife glided along the surface, whether it made clean cuts and whether parsley got stuck in any grooves on the board's surface. We also observed if the chopped parsley stained the board before and after washing.
Smell Resistance: We made a garlic paste on each board (finely mincing garlic, sprinkling with salt, and dragging the flat blade of the knife over and over to form a paste) and left it on the board for 30 minutes. After 30 minutes elapsed, we washed the board and noted how pungent the board smelled (mild, moderate or severe). We then smelled the board again the next day to see if the pungency level had changed. If the board was dishwasher safe, we ran it through the dishwasher that same day and assessed the pungency level the next day.
Stain Resistance: We chopped beets and spread the flesh over one half of the board, left it for 20 minutes, removed the beets and observed if the board was stained before and after hand washing, and if so, how severely. If the board was dishwasher safe, we ran it through the dishwasher that same day and assessed the stain level the next day and noted any visible difference.
We hand washed each board and observed how easy it was to wash, considering factors such as size, weight and how much power was required to clean the board. We used the dishwasher to wash any boards that claimed to be dishwasher safe and found that all five plastic boards with this claim lived up to the promise: there was no warping, no discoloration, or any other changes in the board's appearance or functionality. We also tested any additional claims on packaging or accompanying printed materials, such as if the board was slip-resistant, heat-resistant or suggested remedies for stain removal.