Everyday Italian Wedding Shower Highlights 
Giada De Laurentiis Creates Fruit Purees for a Bellini Bar 03:13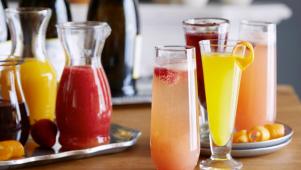 Now Playing
Giada De Laurentiis Creates Fruit Purees for a Bellini Bar 03:13
Giada De Laurentiis talks about creating a Bellini bar for a wedding shower. She talks about how the secret to her Bellinis is simple syrup, which is made of two parts sugar to one part water. She heats the simple syrup until the sugar dissolves, lets it cool completely, then adds it to the fruit. She uses completely defrosted frozen peaches for her first puree. She adds the bag of peaches to a blender and adds half a cup of simple syrup. She adds orange zest to give the peaches a little kick of tart citrus flavor. She blends until smooth and strains out all the pulp. Giada repeats the process to make strawberry puree and blueberry puree. She refrigerates all three purees and bottles of Prosecco until it's time for the shower. The chilled Prosecco will then be added to the purees to make Bellinis.
Get the Recipe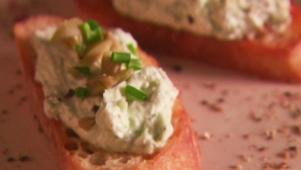 Now Playing
Giada's Goat Cheese Toasts 03:25
Lemon zest and herbs brighten the flavor of Giada's Goat Cheese Toasts.