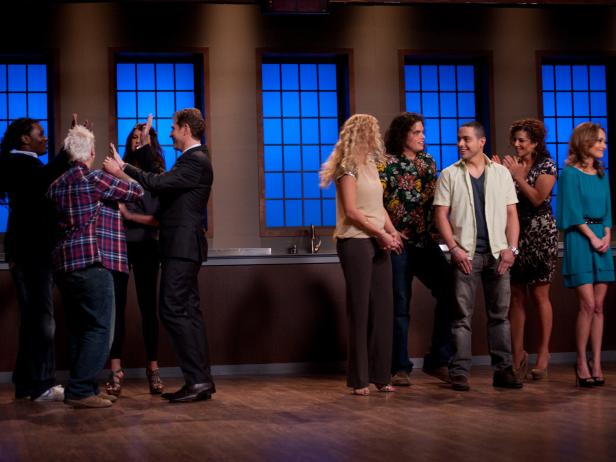 Next Food Netowrk Star Season 8, Episode 5
Contestants Malcolm Mitchell, Michelle Ragussis and Nikki Martin with their Producer Bobby Flay and Contestants Linkie Marais, Philip Ippy Aiona, Yvan Lemoine and Martita Jara with their Producer Giada De Laurentiis both annouced winning teams at the Winner Reveal for The Star Challenge "Live Demos" as seen on Food Network's Star, Season 8.
Edward Chen/Creel Films, 2012, Television Food Network, G.P.
Week after week Star hopefuls are sent to the pitch room, and one by one they are eliminated while others remain. The pardoned finalists have survived to cook another day, but how long will they remain safe? Whether it's because the clock has been on their side, their teammates have brought them success or they've enjoyed simple luck, some lasting finalists may be just barely hanging on as the competition reaches its halfway point.
Of the remaining 10 finalists, who's on thin ice?
Who's your favorite finalist still in the running? Don't forget to cast your Fan Vote up to 10 times per day.