Sarah Penrod , 30, is a born-and-bred Texan who comes from a family of entertainers. She's been performing for her whole life and also has serious culinary chops, as she now owns her own business. This feisty chef has worked with celebrities and athletes, and she always keeps things entertaining in the kitchen. Read on below to hear from Sarah, and learn about her style of cooking and thoughts on the competition.
Describe your cooking style or culinary point of view — in one sentence, if you can.
Sarah: The concept is that we're all so busy, and we're losing the source of love and joy and passion in our lives, and that's our relationship with our partner. And I want to bring that back to you by teaching you how to do these awesome date nights, and I'm the perfect person to 'cause I've been a private chef to celebrities and professional athletes. I have to do some really cool stuff visually, and I think that I'm the perfect person to do date night 'cause I'm madly in love with my husband.
How did you prepare for the competition?
Sarah: I auditioned [for Season 8] and I didn't make it, and I was heartbroken 'cause I've been watching Bobby Flay since I was 10. And it felt like a personal rejection, but I knew it wasn't, and I knew I had major camera issues, so I went and trained with a communications trainer, and I self-produced my own show, called Let's Eat Houston, which is a Web series, and it's also on our Houston public access [which] is pretty huge, and it's pretty significant. ... So I did that, and that is how I prepared to do this. I literally prepared.
Which mentor do you find to be the most intimidating?
Sarah: Bobby. We've got issues.
What is one thing you most want to convey to the judges about you, your food or your would-be show on Food Network?
Sarah: I know who I am, and it is authentic. ... It's very authentic to me. I don't have to stretch and think of ideas, 'cause I just pull from what I actually do in my life. Everything that I'm bringing ... it already has a story because it really does come from my life.
What's your Achilles' heel ingredient, one that you hate to work with?
Sarah: If I had to, like, take something apart, and we got real technical, I would just faint right there on the floor. I'm, like, terrified of that. ... I didn't learn it, and I feel bad that I should know that and I don't.
What's your guilty pleasure food?
Sarah: French onion dip ... because it's so oniony. That's not OK for date night. ... I make a pan-roasted onion dip with balsamic and caramelized onions, and it's killer. And I make my own chips.
What's your favorite late-night snack?
Sarah: Candy. Any kind of candy.
What's one must-have at your last supper?
Sarah: Champagne, 'cause if I'm going out, I'm going out with a bang.
Ketchup, mustard or mayonnaise? Mayonnaise
Chocolate or vanilla? Chocolate
Bagels or doughnuts? Bagels
Cream cheese or butter? Butter
French fries or onion rings? French fries
Burgers or hot dogs? Burgers
Beer or wine? Wine, I guess.
Waffles or pancakes? Pancakes.
We're sorry, there seems to be an issue playing this video. Please refresh the page or try again in a moment. If you continue to have issues, please contact us here.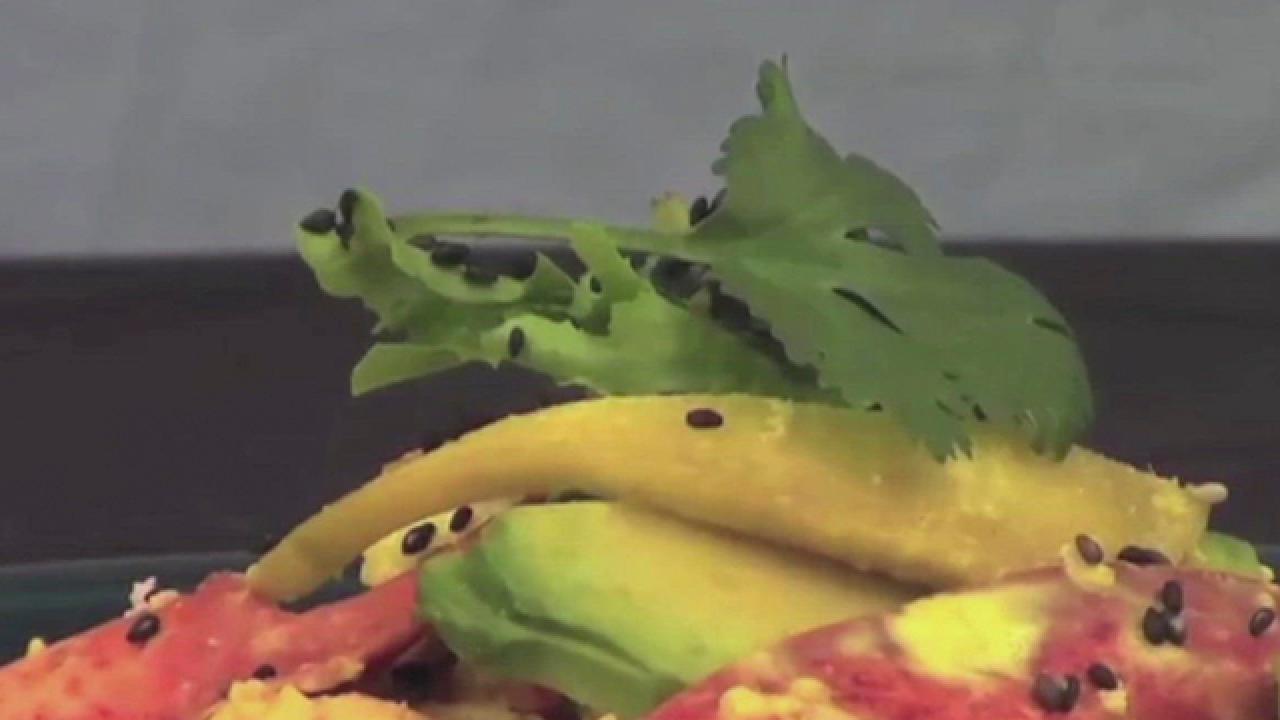 It's going to be a summer of heated competition as Food Network Star gears up for its most-explosive season yet, a 10th year of putting hopeful rivals through the job interview of their lives. To make it to August and ultimately land a sought-after television career — Food Network show host — finalists will have to impress mentor-judges Alton Brown, Bobby Flay and Giada De Laurentiis with the coveted combination of cooking chops and on-camera charm. Season 10 kicks off Sunday, June 1 at 9|8c, but before then, FN Dish is introducing fans to all of the contestants. This year's crop of competitors boasts business owners, executive chefs, world travelers and farm-to-table enthusiasts — not to mention fiery personalities, over-the-top entertainers and undeniable competitive spirits. Check back every day to meet another finalist, then learn more about each of them by checking out their casting videos.