A cross between Kidd's Orange Red and golden delicious, this is red mottled with yellow. It has a perfumy flesh that's sweet, slightly spicy, crisp and juicy. See also apple.

From The Food Lover's Companion, Fourth edition by Sharon Tyler Herbst and Ron Herbst. Copyright © 2007, 2001, 1995, 1990 by Barron's Educational Series, Inc.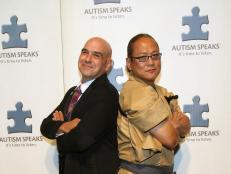 Iron Chef Michael Symon got his chance to give back by serving as the host of this year's Autism Speaks Celebrity Chef Gala, which took place Tuesday in New York.