Down Home with the Neelys Highlights
Spinach Salad & Spiced Pecans 03:26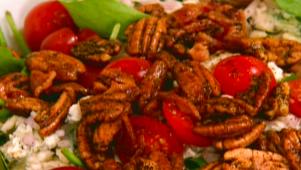 Now Playing
Spinach Salad & Spiced Pecans 03:26
This spinach salad has spiced pecans, blue cheese and balsamic vinaigrette.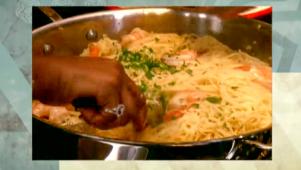 Now Playing
The Neelys Make Shrimp Scampi 03:27
Pat and Gina Neely work together to make Shrimp Scampi With Angel Hair Pasta. Pat starts by adding one pound of peeled and deveined large shrimp to a preheated pan with oil. Gina chops garlic while Pat chops up a quarter cup of parsley. Gina removes the cooked shrimp from the pan, to which Pat adds the garlic into the reserved oil to saute it. Pat adds a half teaspoon of red pepper flakes to the garlic along with dry white wine and fresh-squeezed lemon juice. They let the garlic reduce for about two to three minutes. Next Pat adds five tablespoons of butter to the garlic. Pat drains the pasta while Gina adds the shrimp back to the sauce. They add the pasta to the shrimp and sauce and Gina stirs it all together. Pat sprinkles on a quarter cup of parsley and the zest from half a lemon.
Get the Recipe