What to Watch This Weekend
Settle in for a cozy few days on the couch, because we've got all your favorite shows on deck.
Download Food Network Kitchen to sign up and get access to live and on-demand cooking classes, in-app grocery ordering, meal planning, an organized place to save all your recipes and much more.
Friday, March 27: Diners, Drive-Ins and Dives All-Day Marathon
Guy's crisscrossing the country in back-to-back (-to-back-to-back…) episodes and checking out some of the most-popular hotspots from coast to coast. We've got everything lined up, and it's all airing NOW until 9|8c.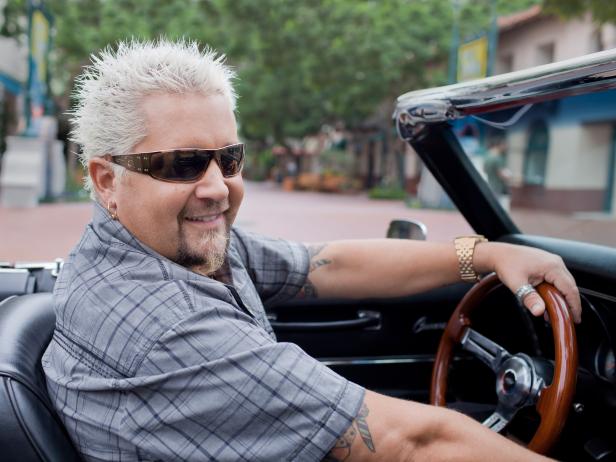 Host Guy Fieri driving his convertible down State Street in Santa Barbara, California, takes a cross-country road trip to visit some of America's classic "greasy spoon" restaurants - diners, drive-ins and dives - that have been doing it right for decades as seen on Food Network's Diners, Drive-Ins, and Dives.
John Lee, 2011, Television Food Network, G.P.
Friday, March 27: DDD Nation PREMIERE at 9|8c
When it comes to Italian food, Guy likes it handmade, homemade and real-deal authentic. On tonight's new episode, he's heading to a red-sauce joint in Boston that will leave you speechless.
Saturday, March 28: The Pioneer Woman PREMIERE at 10a|9c
Who's a fan of chicken dinners?! Ree Drummond is switching up the usual picks and sharing flavorful ideas for comfort food, including an easy sheet-pan chicken supper, on this morning's episode.
Saturday, March 28: The Kitchen PREMIERE at 11a|10c
Take it from The Kitchen crew: Soup isn't just for winter. Geoffrey Zakarian's Spring Green Minestrone is light, flavorful and full of fresh seasonal herbs.
Saturday, March 28: Trisha's Southern Kitchen PREMIERE at 12|11c
You don't want to miss this! The one and only Kristin Chenoweth is stopping by Trisha's place today for laughs, snacks and some wine. And, YES, they're also taking the stage in Nashville for a special Southern Broadway performance you have to see.
Saturday, March 28: Guy's Grocery Games Marathon at 1|12c
Your favorite chefs seen on Diners, Drive-Ins and Dives are going head-to-head in Flavortown Market for a game-changing tournament that's anything but predictable.
Saturday, March 28: Diners, Drive-Ins and Dives Marathon at 6|5c
Warning: Episodes may cause hunger! Guy's setting off on a droolworthy road trip tonight. Settle in for hours of off-the-hook eats — and bring a snack.
Sunday, March 29: Delicious Miss Brown PREMIERE at 12|11c
Other nanas need not apply because Kardea's grandma makes THE BEST Banana Pudding ever. Learn all the secrets on today's new episode.
Sunday, March 29: Giada Entertains PREMIERE at 12:30|11:30c
Giada's daughter, Jade, and her daughter's pals are stopping by the kitchen for a kid-friendly lunch. Even little ones will love broccoli when it's stuffed with cheddar cheese.
Sunday, March 29: Diners, Drive-Ins and Dives Marathon at 2|1c
Guy's packing up the red Camaro and hitting the road for an epic feast in these back-to-back episodes.
Sunday, March 29: Guy's Grocery Games Marathon at 6|5c
No one does grocery-store hijinks quite like the Mayor of Flavortown, and true to form, tonight's episodes are packed with hilarious games, fun-loving judges and tons of top-notch food.
Sunday, March 29: Buddy vs. Duff PREMIERE at 9|8c
These two titans of baking are taking to the jousting arena to see who makes the most-incredible medieval cake displays.
Sunday, March 29: Beat Bobby Flay PREMIERE at 10|9c
You know anything can happen in the Beat Bobby Flay kitchen — the judges make sure of that! See what happens when Marcela Valladolid and Buddy Valastro come together to try to slay the Flay.
Six bakers brave bees, rain and extreme heat to bake for Martha and win a $25,000 prize.