What to Watch This Weekend: Guy's Triple D Road Trips and New Ideas for Quarantine Cooking
Settle in for a cozy weekend, because we've got marathons of your favorite shows, plus brand-new recipes ideal for family dinners.
Friday, May 15: Diners, Drive-Ins and Dives Marathon at 1|12c
Just because we're staying at home these days doesn't mean we can't experience Guy Fieri's tasty travels. He's bringing you the best comfort foods from coast to coast.
Friday, May 15: Diners, Drive-Ins and Dives Premiere at 9|8c
Guy is combining his love of cooking at home and great restaurant eats for some Triple D-style takeout on Friday's new episode. Four DDD alums will send ingredients for their most off-the-hook recipes, then they'll join Guy and his son Hunter via video chat to guide them through cooking.
Saturday, May 16: The Pioneer Woman Premiere at 10a|9c
While Ree Drummond is handling the cooking, her kids become her camera crew as they take over production duties while staying home during quarantine. She's sharing a menu of family-friendly favorites, including this creamy Broccoli Cheese Orzotto.
Saturday, May 16: The Kitchen Premiere at 11a|10c
Get ready to see some new faces on The Kitchen this Saturday! A few fans will be calling in from their homes to join the virtual party and ask the co-hosts their top cooking questions.
Saturday, May 16: Trisha's Southern Kitchen Premiere at 12|11c
Inspired by the flavors of Florida, Trisha Yearwood is cooking up a cool new collection of recipes, including iced coffee, succulent grilled shrimp and fruity citrus bars.
Saturday, May 16: Barefoot Contessa: Back to Basics Premiere at 12:30|11:30c
When Ina Garten says these dishes are the "best in class," you KNOW you can trust her. Wait until you see her new take on ricotta pancakes, plus her simple, satisfying fish dish.
Saturday, May 16: Guy's Grocery Games Marathon at 2|1c
Anything can happen in the aisles of Flavortown Market when Guy brings together four fun-loving chefs and an arsenal of hilarious challenges.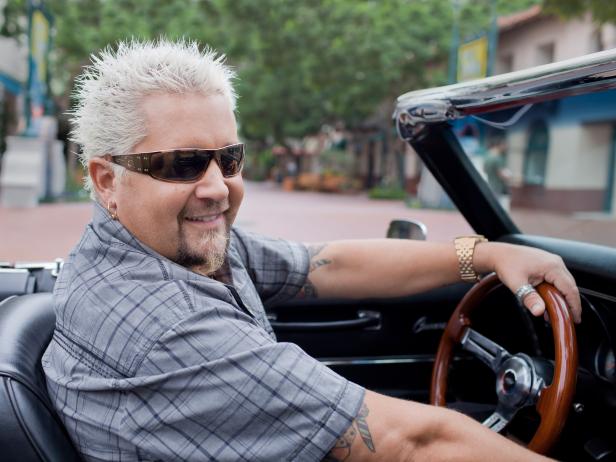 Host Guy Fieri driving his convertible down State Street in Santa Barbara, California, takes a cross-country road trip to visit some of America's classic "greasy spoon" restaurants - diners, drive-ins and dives - that have been doing it right for decades as seen on Food Network's Diners, Drive-Ins, and Dives.
John Lee, 2011, Television Food Network, G.P.
Saturday, May 16: Diners, Drive-Ins and Dives Marathon at 7|6c
Spend Saturday chilling with Guy as he sets off on another righteous adventure complete with over-the-top bites you have to see.
Sunday, May 17: Girl Meets Farm Premiere at 11a|10c
No one does desserts quite like Molly Yeh, and today's she's rounding up her best-ever collection of sweet-tooth-satisfying treats. We're already drooling over these Peanut Butter Krispy Rice Squares.
Sunday, May 17: Valerie's Home Cooking Premiere at 11:30a|10:30c
Meal prep is the name of the game for Valerie Bertinelli this week. She's working on an Instant Pot French Toast Casserole that will transform your morning breakfast game.
John Lee, 2011, Television Food Network, G.P.
Sunday, May 17: Diners, Drive-Ins and Dives Marathon at 2|1c
Take it from Guy: The little-known spots featured on these episodes are full of good food and good people.
Sunday, May 17: Worst Cooks in America Premiere at 9|8c
Boot Camp is officially underway as Tyler's and Anne's teams of celeb recruits get a taste of fine dining as they're challenged to make fancy steak dinners.