What to Watch This Weekend
Settle in for a cozy weekend of comfort food and the first-ever A-Z marathon Triple D.
John Lee, 2011, Television Food Network, G.P.
Another weekend, another Saturday and Sunday spent binge-watching TV on the couch… We get it. But the good news is that we're cooking up a huge lineup of shows the whole family will want to watch. Read on below for what's on the schedule this weekend — and whip up a few snacks to munch on too.
Friday, April 17: Diners, Drive-Ins and Dives All-Day Marathon RIGHT NOW!
Friday = DDD Day around here. Get ready for a jam-packed evening of some of Guy Fieri's favorite hot spots across the country. We're dishing out hearty favorites from now until 9|8c.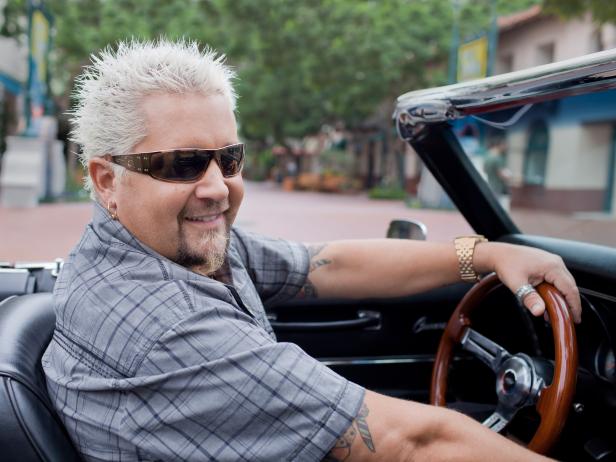 Host Guy Fieri driving his convertible down State Street in Santa Barbara, California, takes a cross-country road trip to visit some of America's classic "greasy spoon" restaurants - diners, drive-ins and dives - that have been doing it right for decades as seen on Food Network's Diners, Drive-Ins, and Dives.
John Lee, 2011, Television Food Network, G.P.
Friday, April 17: DDD PREMIERE at 9|8c
We're all spending more time at home these days, and that's exactly the focus of the food at tonight's restaurants. Each of the chefs is putting their spin on dishes inspired by their hometown roots. Get ready for Louisiana-style pasta, Detroit's take on pizza — in Denver! — and plenty of crispy fries.
Saturday, April 18: The Pioneer Woman at 10a|9c
Ree Drummond is helping to outfit her daughter Alex with the essential kitchen tools she needs while working away from home. Think basic best bets like a quarter sheet pan to make a quick chicken dinner and an immersion blender to for super-creamy smoothies.
Saturday, April 18: The Kitchen at 11a|10c
It's finally (!) starting to feel a bit more like spring outside, which means The Kitchen crew is shifting their focus to lighter flavors. Sunny Anderson's Easy Baked Lemon Sole is on the menu today, and it's a quick-fix meal that's just as easy to prep as everyday chicken or steak. Even those who say they "don't like fish" will take to the mild taste of flaky sole.
Saturday, April 18: Trisha's Southern Kitchen at 12|11c
Trisha Yearwood is giving her Nashville kitchen a little Italian flair when she shows how simple it is to make gnocchi and GIANT meatballs from scratch. If you're looking for a fun and flavorful weekend project with your family, break out the potatoes to make these pillowy gnocchi for dinner.
Saturday, April 18: A-Z Marathon of DDD at 1|12c
This is the * MAIN EVENT * of the weekend! Starting at 1 p.m. EDT, Guy is kicking off a 26-episode Triple D road trip through the flavor alphabet. First up, it's authentic Asian cuisine you'll crave, then it's top-notch breakfasts, followed by crowd-pleasing comfort foods. Finally, late at night, the journey ends with some quality 'za — pizza, of course! Follow along on Twitter all day at @FoodNetwork using #DDD.
Sunday, April 19: Girl Meets Farm at 11a|10c
Homemade doughnuts?! Molly Yeh knows just what we need. See how she makes these matcha-laced beauties on Sunday's new episode, featuring her dad who's visiting from out of town.
Sunday, April 19: Giada Entertains at 12:30|11:30c
Just in time for Earth Day, Giada De Laurentiis is throwing a veggie-focused garden party complete with these golden sweet potatoes, colorful risotto and a hearty salad.
Sunday, April 19: GGG Marathon at 2|1c
3-2-1-Go! It's time to kick off a HUGE marathon of Guy's Grocery Games Sunday afternoon. Flavortown Market will never be the same after chefs scour the aisles in a series of quick-shop contests for a panel of hungry judges.
Sunday, April 19: Buddy vs. Duff at 9|8c
Don't let the episode title — Mini-Golf Cake — fool ya. The creations that Buddy Valastro and Duff Goldman are whipping up tonight are anything but teeny.
Sunday, April 19: Beat Bobby Flay at 10|9c
After watching Bobby face off in a brand-new battle with Marc Murphy and Anne Burrell at the judges' table, settle in for more epic showdowns in the Beat Bobby Flay arena in a mini marathon of classic episodes.