Originally from the Mediterranean region, fennel has long been prized in French and Italian cooking. In this country…not so much. Though it's widely available at grocery stores, American cooks tend to overlook this slightly unfamiliar member of the carrot family. That's a shame, because fennel's mild licorice flavor and celery-like crunch can perk up everything from salads to stews. You'll find it in markets from winter through early spring.
Fennel is almost like three vegetables in one: it has a fat white bulb, straight, green stalks, and feathery green fronds, all of which can be put to good use. In the market, choose firm bulbs with no brown spots. If the fronds are still attached, they should be bright green and show no signs of wilting. Fennel will keep up to five days in the refrigerator.
Fennel is very low in calories: one cup is only 27 calories. It's a good source of vitamin C, potassium, and folate. And like all veggies, fennel is an excellent source of dietary fiber. Fennel seeds are used medicinally in many cultures, most commonly for mild stomach upset.
Remove any tough outer layers from the bulb and discard. Trim off stalks to where they meet the bulb. Though flavorful, the stalks are too tough to eat raw. Either set them aside to use in soups or stews, or discard. Snip off the feathery fronds to use as you would a fresh herb, like dill. Then, halve bulbs lengthwise and trim the base. Some recipes will call for removing the core, though this is not strictly necessary. Use a sharp paring knife for the task. Cut the bulb into slices or dice it.
Served raw, fennel is crunchy and sweet with a distinctive anise flavor. To make a refreshing winter salad, thinly slice the bulb (preferably with a mandolin), and combine with sliced oranges and red onion. Dress lightly with olive oil and lemon juice and serve sprinkled with fennel fronds. If you like, scatter with oil-cured olives, shaved Parmesan, or pomegranate seeds. Unlike a green salad, this one won't wilt if kept chilled overnight.
Sliced into wedges or sticks, fennel makes a more elegant statement on a crudités platter than plain old celery. It's also a welcome addition to a sandwich, especially when paired with spicy cured meats like salami or prosciutto.
Roasted, fennel's flavor mellows and it becomes a perfect match for chicken, fish, or pork. Next time you roast a chicken, toss in some fennel wedges, along with other sliced veggies like carrots, to the pan. Its delicate flavor also pairs well with mild white-fleshed fish like cod or flounder.
Often, fennel is matched with ingredients containing fennel seeds, like pork sausage. To make a hearty pasta dish, combine cooked penne with crumbled sausage and sautéed fennel slices and top with Parmesan and fennel fronds. Or combine diced fennel with shellfish, such as clams or shrimp, in a seafood stew.
For a tasty vegetarian main or side dish, substitute sliced fennel for half the potatoes in your favorite gratin recipe, or bake fennel wedges topped with herbs and breadcrumbs until tender.
Here are some more ideas that will get you on the road to using fennel in your cooking: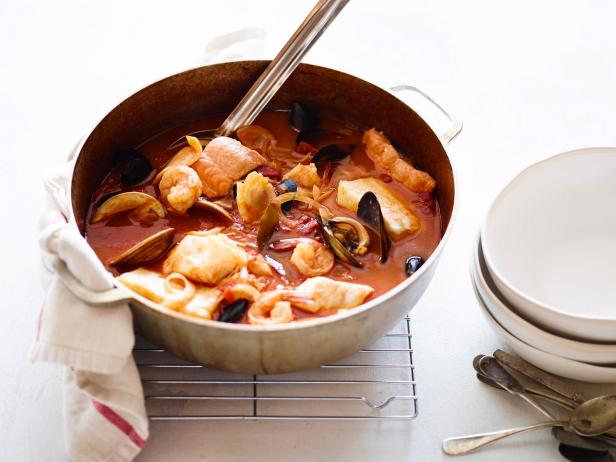 CIOPPINO, Giada De Laurentiis, Everyday Italian/Tree Trimming Party, Food Network, OliveOil, Fennel Bulb, Onion, Shallots, Garlic, Crushed Red Pepper Flakes, Tomato Paste, DicedTomatoes, Dry White Wine, Fish Stock, Manila Clams, Shrimp, Halibut or Salmon,CIOPPINO, Giada De Laurentiis, Everyday Italian/Tree Trimming Party, Food Network, Olive Oil, Fennel Bulb, Onion, Shallots, Garlic, Crushed Red Pepper Flakes, Tomato Paste, Diced Tomatoes, Dry White Wine, Fish Stock, Manila Clams, Shrimp, Halibut or Salmon
Matt Armendariz, 2014, Television Food Network, G.P. All Rights Reserved