Fennel Is the Vegetable Your Kitchen's Missing
We're feeling "frond" of fennel, thanks to Food Network Kitchen.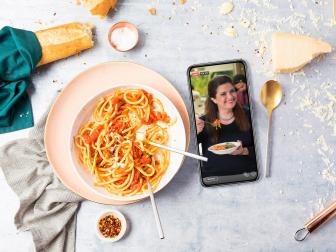 Download Food Network Kitchen to sign up and get access to live and on-demand cooking classes, in-app grocery ordering, meal planning, an organized place to save all your recipes and much more.
Sure, there's nothing like a fresh-from-the-earth vegetable, eaten within hours and at the prime of its ripeness. But real life necessitates being able to stock up and have produce on hand that'll still be good in a day or a week. Hardiness and durability are part of why cabbage has risen to almost pantry-staple status in the vegetable world. But there's another pantry-equivalent stalwart vegetable that's more often overlooked. Fennel is one of the most-underrated vegetables. A good fennel bulb will last over a week in the vegetable drawer of your fridge, and it can yield great flavor raw or roasted. In his Food Network Kitchen live class on Chicken Paillard with Shaved Fennel Salad, Michael Symon had tons of tips on how to maximize use and enjoyment of the root vegetable.
For those who don't know, fennel is a flowering plant, in the same family as carrots, celery, parsley and coriander. It's most often sold as a white bulb, with feathery fronds that look like — and can sometimes be mistaken for — dill.
Crisp and snappy, with a pronounced anise flavor, fennel is juicy enough to be great served raw in thin slices, as in the salad Michael makes to accompany his chicken paillard. In winter months, it's lovely roasted alongside other root vegetables. As he prepared the salad, Michael fielded numerous questions about fennel, including helping clarify how the anise flavor changes when roasted. "The difference between raw fennel and cooked fennel is, when you roast a vegetable, it's gonna get a bit more natural sweetness," Michael explains, citing pleasant texture changes as that crispness melts away. "But it still has that licorice-y black licorice/anise flavor, so if you're not a fan of that flavor, it's not gonna go away roasted. So yes, the flavor does change, but the bigger change is in texture, as opposed to flavor."

In his class, Michael shares that, though the fronds aren't used as widely as the bulbs, vividly green ones can be a great indicator of freshness. "Most of the time at the grocery store, they will leave the fronds of the fennel on. It's good because I cut them up and add 'em right to the salad, and it's also a perfect way to see if it's fresh" he explains. "If they're beaten up and browned, chances are what's underneath them isn't great either." The bulb is a great tell, too. He advises that you choose one that is firm, and uniformly ivory in color, without browning, with the texture of an onion. If you don't plan to use the fronds right away, perhaps in a fresh salad or as a garnish, Michael advises wrapping them in a zip-top bag and freezing them to save for stock.
And if you don't like anise, Michael has an easy swap: "I think celery would work beautifully here," he shares. "It's gonna give you that crunch; it's gonna give you that texture. And it doesn't have that slightly anise flavor."