What to Watch This Weekend
Settle into the first days of May with fresh springtime recipes and marathons of your favorite shows.
Rise and shine, everyone! We've officially made it through April, and that is no small feat. Today we're kicking off a month of new seasonal recipes, intense competitions featuring your favorite chefs, and back-to-back episodes of shows you know and love. Take a look at what's on deck for this first weekend of the month.
Friday, May 1: Supermarket Stakeout Marathon Starting at 10a|9c
Host Alex Guarnaschelli brings together savvy chefs in local grocery store parking lots for the ultimate think-on-your-feet face-off. See how they do when forced to prep judge-worthy meals — with other people's ingredients!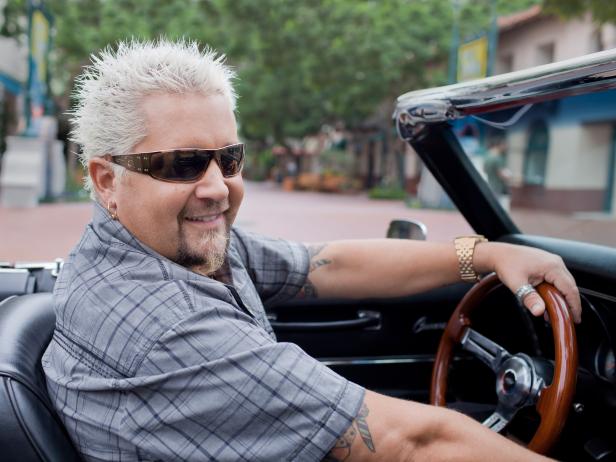 Host Guy Fieri driving his convertible down State Street in Santa Barbara, California, takes a cross-country road trip to visit some of America's classic "greasy spoon" restaurants - diners, drive-ins and dives - that have been doing it right for decades as seen on Food Network's Diners, Drive-Ins, and Dives.
John Lee, 2011, Television Food Network, G.P.
Friday, May 1: Diners, Drive-Ins and Dives Marathon Starting at 1|12c
Guy Fieri is taking over the TV all afternoon, starting with an internationally inspired road trip. His first visit is to a Los Angeles joint famous for its Filipino take on comfort foods. Make some snacks for this, because you won't want to watch hungry!
Friday, May 1: Diners, Drive-Ins and Dives Premiere at 9|8c
Given the global pandemic currently impacting our world, Guy is hosting a *new* virtual Triple D reunion with past chefs featured on the show. He's able to bring a taste of Flavortown to his own kitchen when the chefs ship him ingredients to make their signature dishes, and Guy and his sons cook them up on the spot at home.
Saturday, May 2: The Pioneer Woman Premiere at 10a|9c
As Ree Drummond and her kids are staying put on the ranch these days, her family has become her TV crew, filming her as she makes new quarantine recipes with ingredients you likely have on hand already. Today's menu includes a Grilled PB&J that will change your lunch game.
Saturday, May 2: The Kitchen Premiere at 11a|10c
Facing a fridge full of leftovers and unsure what to do? The Kitchen crew is here to help. Saturday's new episode is all about sharing strategies for infusing new life into day-old odds and ends. Ready-to-go rice and simple deli ham star in Jeff Mauro's Crispy Hawaiian Fried Rice.
Saturday, May 2: Trisha's Southern Kitchen Premiere at 12|11c
Trisha Yearwood is welcoming two special guests to her kitchen this week! It's Jason Isbell and Amanda Shires, a husband-and-wife team of singer-songwriters. The heat will be ON as Trisha brings pops of spice to each dish, even a decadent chocolate tart for dessert.
Saturday, May 2: Guy's Grocery Games Marathon at 1|12c
All bets are off when Guy opens up Flavortown Market to a crew of feisty chefs and fun-loving judges for the ultimate Supermarket Masters Tournament. See what antics he has in store when he unveils challenging (and hilarious!) games in the aisles.
Saturday, May 2: Diners, Drive-Ins and Dives Marathon at 6|5c
Comfort food is the name of the game on Saturday evening as Guy rolls out to tried-and-true neighborhood spots known for soul-satisfying flavors.
Sunday, May 3: Girl Meets Farm Premiere at 11a|10c
Churro. Pancakes. Yep, you read that correctly. Molly Yeh is putting a Mexican-inspired twist on her brunch menu, complete with these decadent flapjacks topped with a sweet milk glaze.
Sunday, May 3: Buddy vs. Duff Season 2 Marathon at 2|1c
Miss a past episode of the new season? You're in luck, because we're replaying EVERY SINGLE ONE this afternoon, just in time for the finale on Sunday night.
Sunday, May 3: Buddy vs. Duff Season Finale at 9|8c
This is it. The ultimately baking battles comes to a head tonight as Buddy Valastro and Duff Goldman face off in one last showdown for the sweetest prize ever.