Good Eats Gills Gone Wild Highlights 
Broiled Citrus-Glazed Salmon 02:56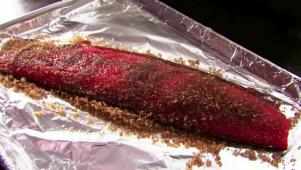 Now Playing
Broiled Citrus-Glazed Salmon 02:56
Salmon angst? Watch as Alton demystifies glazing and broiling techniques.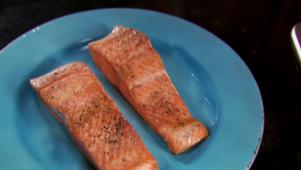 Now Playing
Alton Brown Shares How to Pan-Sear Salmon 02:43
Alton Brown teaches his simple method for perfectly pan-searing wild salmon. He uses a nonstick pan to reduce the amount of fat and places it over medium heat. He prepares two six-ounce coho salmon filets by showing how to safely remove the pin bones using needle-nose pliers. He drizzles two teaspoons of vegetable oil on the filet and adds a good amount of salt and fresh ground black pepper. He places the filets skin-side-up in the pan. For salmon filets this size, they should be cooked a total of four minutes on each side, in this case four sides since they're "blocky" pieces. When the salmon is cooked, Alton puts the filets on a plate, loosely covers them with foil and lets them rest for five minutes before eating.