Poll: Which Food-Court Kiosk Would You Line Up For?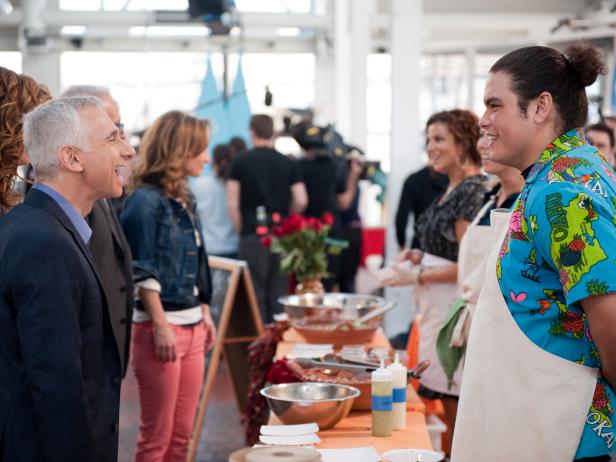 Next Food Network Star Season 8, Episode 6
Contestants Martita Jara, Linkie Marais and Phillip "ippy" Aiona of Team Giada serving their dishes from their kiosk "Besa Me" to Star Producer Giada De Laurentiis, The Network's Susie Fogelson and Bob Tuschman and Guest Star Iron Chef Geoffrey Zakarian at the Star Challenge "Themed Food Court Kiosk-Mexican" as seen on Food Network's Star, Season 8.
Edward Chen/Creel Films, 2012, Television Food Network, G.P.
Food courts: Love 'em or hate 'em, we've all been there. Some stands are more inviting than others, offering fresh, cooked-on-site dishes served by friendly clerks, while many leave something — OK, plenty — to be desired.
On last Sunday's episode, Star finalists on Team Alton, Team Bobby and Team Giada opened their own versions of food-court kiosks at Lower Manhattan's South Street Seaport. Challenging them to cook for and serve hundreds of passersby, the remaining contestants were forced to bring their culinary and social A games.
Team Giada's Martita, Yvan, Ippy and Linkie opened Besa Me (pictured above), a Mexican-inspired pop-up serving tortilla soup, carne asada tacos, chipotle chili and churros. Yvan incorporated the secret-ingredient chicken livers into his dish and they won rave reviews from the judges. Bob Tuschman exclaimed, "I could never imagine myself saying 'I can't wait for my next chicken-liver taco,' but I can't wait for my next chicken-liver taco!"
Edward Chen/Creel Films, 2012, Television Food Network, G.P.
Seafood was on the menu at Team Bobby's kiosk, American Sandbar (pictured above). Michele prepared bowls of traditional New England clam chowder, topped with a chicken-liver crouton, and Malcolm and Nikki offered Maryland-style crab cakes and fish tacos, respectively. Susie Fogelson wished that Nikki's tacos had more of a spicy kick, while Bob Tuschman appreciated that Malcolm's crab cake featured more crab than cake.
Team Alton's trio of finalists opened Littler Italy (pictured above), serving Justin's fritto misto with fried chicken livers, Martie's Southern-style arancini and Emily's sweet, fruity panini. Their Italian-style spread wowed the judges and earned each of them immunity from this week's elimination.
Tell us: If you were at South Street Seaport, which of the Star food-court kiosks would you line up for?
Who's your favorite finalist still in the running? Don't forget to cast your Fan Vote up to 10 times per day.