Caption It: A Look Back at the Season's Best Moments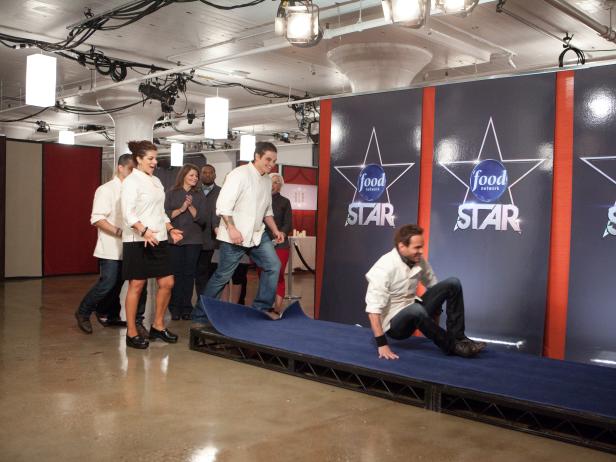 Next Food Network Star Season 8, Episode 1
Contestants Martie Duncan, Judson Allen and Emily Ellyn of Team Alton watch Contestants Yvan Lemoine, Martita Jara, Josh Lyons and Philip Ippy Aiona of Team Giada giving their restaurant "Blu" presentation for their Star Challenge "Restaurant Impossible" as seen on Food Network's Star, Season 8.
Todd Plitt, 2012, Television Food Network, G.P.
Think back to this season's Food Network Star premiere. For the first time, we were introduced to Team Alton's quirky cast of characters, Team's Giada's little family unit and Team Bobby's batch of no-nonsense cooks. Robert Irvine stopped by to present the first challenge, a Restaurant: Impossible-style mission that tasked the teams with opening their own restaurants on a limited budget. There were even on-stage acrobatics in that episode, thanks to Team Giada's Josh, who began his presentation with an over-the-top somersault. It wasn't even long ago, but a whole lot has happened to those initial 15 finalists since then.
Don't forget to check out the final four contenders' pilot videos — on Sunday one of them will become Food Network's newest show.
Before you tune in to the finale this Sunday at 9pm/8c, we're challenging you, Star fans, to write your best captions (tastefully appropriate, please) for this retrospective moment in the comments below.