One-on-One with the Latest Food Network Star Finalist to Go Home
Hear from the third Food Network Star finalist eliminated from the competition in an exclusive interview.
It's the nature of the Food Network Star beast that even though no matter how badly finalists want to achieve their dreams of stardom, ultimately only one can win the coveted title, and with that, 11 finalists will be going home. Every week Star Talk will bring you the first exclusive interview with the most-recently eliminated finalist. From thoughts on mentors' critiques to reflections on past challenges and hopes for the future, be sure to check back every Sunday night for the latest one-on-one chat. We're about to break down the ins and outs of tonight's new episode and reveal who went home, so if you've yet to watch the show, read no further until then.
The name of the game this week was trends, from craveworthy food photos to seemingly unusual yet fashionable flavors creeping up on plates. In the Star Challenge, it was up to the finalists to not just cook impressive foods, but to dress up those dishes as well in an effort to entice Bobby and Giada to taste them. While Rue's and Alex's offerings weren't chosen by the mentors for a sample, those two weren't the only finalists with problems. Sita's chicken and waffles on a stick came out inconsistent and it suffered because of it: While Bobby's dish boasted a drizzle of sauce, Giada's did not.
Come the Star Challenge's dinner party, Sita managed to deliver on the taste of her vegetable pasta, but she missed the mark when it came to stink. It was up to her to present an entree that was appropriately funky, and her ingredient choices, including crab and broccoli, didn't suffice. For the second week in a row, Sita landed among the bottom-three performers; this time, her two challenges' worth of missteps was enough to send her home.
Read on below to hear from Sita as she reflects on her Star journey and shares would-be advice with her week-one self.
What three words best describe how you're feeling right now?
Sita Lewis: Oh, my God. Besides those three words ... I still felt grateful that I had the opportunity. That was one thing that just burst out of my mouth immediately. It's hard for three words, because I felt like they didn't get a chance to really get to know the real me. I just felt a little disappointed and shocked. I wasn't sad.
What do you wish you had had the time to convey to the judges about who you are and what your food is?
SL: I blame myself that I didn't just come out of the gate just really showing who Sita is, who my friends think that I am. And I would have done that differently. I would have tried.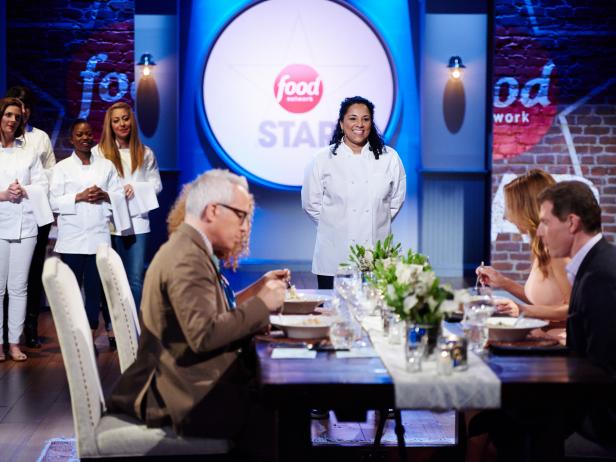 Finalist Sita Lewis talks about her dish to Guest Judges Geoffrey Zakarian, Sunny Anderson and Selection Committee Giada de Laurentiis and Bobby Flay while Finalists Emilia Cirker, Rosa Graziano, Rue Rusike and Michelle Karam watch during the Star Challenge, Trendy Dinner, as seen on Food Network Star, Season 11.
Eddy Chen, 2015, Television Food Network, G.P. All Rights Reserved
Do you stand by your last-cooked dish and presentation, or do you think the judges missed something?
SL: There's something that I could have done. I was given a word to incorporate into my dish and describe: "stinky." I was supposed to present a stinky entree, and I missed the mark on that. I don't usually use certain ingredients that I don't particularly like — so I'm not a blue cheese person, I'm not, like, a Parmesan cheese person. I could have done that. ... So I went with things that are synonymous sometimes with "stinky." But it turns out that they're like: "No, that's not stinky; that's aromatic. You're talking about garlic, red onions, crabmeat and Parmesan cheese." I just couldn't think of anything that I would consider stinky, except for things that have, like, strong smells.
If you could go back to Episode 1 and talk to yourself, what would you tell that person?
SL: I would have said: "Sita, just go out there and be you. If they don't like it, they don't like it."
In your own words, how would you explain to fans at home what this competition is really like?
SL: I want to let them know that this is not as easy as it looks. It's a lot of pressure. First of all, you're coming into an environment with people who you don't know. Like, everybody's a stranger: the finalists, the camera people, the production people. And I don't care how many times you might have done this in your life, or just cooked or done television. Now you're in an environment where sometimes it takes time to break out. But they don't give you that kind of time. You get out here and you get busy.
What one piece of mentor feedback will you always remember and keep with you?
SL: I think when Giada said: "You know, Sita, I can tell that you want to hold onto the memory of your mom ... you want to put her into what you're doing here. You can be you without losing the memory of her." And that just made me say, "OK, it's time to focus." But at that point, it could have been too late.
What were your most-favorite and least-favorite challenges, and why?
SL: My most-favorite challenge was the challenge outdoors, even though I screwed that up a little bit. That first challenge to me, when we had the opportunity to have the grill and the ovens and run around outside, when we had plenty of time to create that thing that would have really impressed the judges and the hundred people. That was the challenging part; it was getting it done for a hundred people. Like, enough little samples. I was just getting into working together when we did the five-course-meal challenge. That was cool, but I wouldn't say that it was one of my favorites, because me and the girls, we didn't really have a plan. The guys had a plan. We just got together, and everybody was like, "I'm cooking this!" And then we went our separate ways. Nobody knew if it went together, if it matched the menu.
Which element of the competition were you least expecting, be it good or bad?
SL: As far as things that I was happy about that I wasn't expecting was all the ingredients that we had to work with. When I would look in the refrigerator, I was like: "Oh, my God! I have all the stuff." But then my brain was still racing, trying to figure out how to get to everything fast enough.
Fill in the blanks with your fellow finalists' names:
_____ is the class clown. Arnold
_____ is the quietest. Me
_____ is the most daring. Eddie
_____ has the best recipes. Dom
Considering Bobby, Giada and all of the special guests, you've worked with quite a few big names in the culinary industry and beyond. Did you find that to be intimidating? And how did you deal with the nerves?
SL: Positive affirmations of different things that would calm me down. It didn't work.
What's the best piece of advice the mentors or Committee members gave you?
SL: Bobby said, "Say who you are, get rid of the nerves, and then make a bullet point list in your mind, and hit those points first, because everybody can go off on a tangent, but if you at least got your points out, you can get cut off in the middle of your tangent." I instead would have paragraphs in my head and then I would draw a blank if I couldn't remember the next sentence.
Which mentor or special guest were you most excited to learn from?
SL: I was just most excited to see Sunny and meet her for the first time, because I've been following her for a while. I've hardly ever missed an episode of hers. I've been following her since back in the day. And then Alex [Guarnaschelli], I always just had a strong admiration for her on the air — her experience. And, of course, Bobby.