Why You Should Be Making Fonio, a Super Grain that Cooks in 5 Minutes
Chef JJ Johnson says: "You can really do anything you want with fonio because it's so versatile."
Fonio
03:01
Learn all about fonio, a supergrain seen all across West Africa.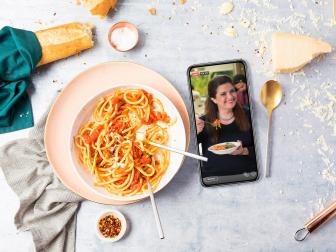 Download Food Network Kitchen to sign up and get access to live and on-demand cooking classes, in-app grocery ordering, meal planning, an organized place to save all your recipes and much more.
It cooks as quickly as couscous, it's a nutritional powerhouse, it's budget-friendly, it's gluten-free, it's good for the environment. We're talking about fonio, an ancient super-grain seen all across West Africa.
In a video with Food Network, James Beard Award-winning chef JJ Johnson (who has a New York City-based restaurant called Fieldtrip and a Food Network Kitchen class on Fonio-Stuffed Acorn Squash) extolls the benefits of fonio — and we thought everyone should hear.
It cooks in five minutes.
Chef JJ walks us through how to cook the grain. The golden ratio is 1 cup of fonio to 2 cups of liquid. You can either soak fonio in boiling water like couscous or cook it on the stove. Once you've cooked it, add in flavorings like sauteed vegetables or turmeric.
Put 1 cup fonio in a large bowl and cover it with 2 cups boiling water.
Cover the bowl with plastic wrap.
Let the fonio soak for 5 minutes.
Uncover and fluff with a fork.
How to Make Stovetop Fonio
Add a little bit of oil to a pan. Olive oil, coconut oil or whatever you like cooking with works.
Add 1 cup fonio and toast it until its nutty.
Add 2 cups water and cook over medium heat, stirring, until the liquid is absorbed, about 5 minutes.
Fonio has a complex flavor.
Fonio has a rich, nutty flavor and a texture that's similar to couscous. The raw granules resemble sand.
It's gluten-free and rich in nutrients you can't find in other grains.
The low-carb grain is rich in fiber and iron. But unlike other cereal grains (i.e. wheat, rice, barley and oats), it has high amounts of the amino acids cystine and methionine, vital to everyday bodily functions.
Fonio is very cost-effective.
According to chef JJ, one cup of dry fonio turns into four cups of cooked grain. Do any other grains you know multiply like that?
It's good for the environment.
Unlike other crops that are sucking our planet dry, fonio doesn't need a lot of water to grow. In fact, it doesn't need rich soil to grow either. That's why you see it growing in a lot of West African countries that don't have a ton of water resources.
You can blend raw fonio into gluten-free fonio flour.
Calling all gluten-free eaters. DIY fonio flour is an inexpensive alternative to all the gluten-free flours on the market. Simply add the raw grain to your blender and whir it up. Chef JJ says bring on all the fonio pancakes, fonio fried chicken and eggplan Parmesan coated in fonio.
It's becoming easier and easier to buy fonio.
You might be able to spot fonio at your local Whole Foods, and you can certainly snag some online (we love the brand Yolélé Foods).