6 No-Fuss Noodle Recipes You Can Make with the Basics
When you need inspiration, look to your pantry.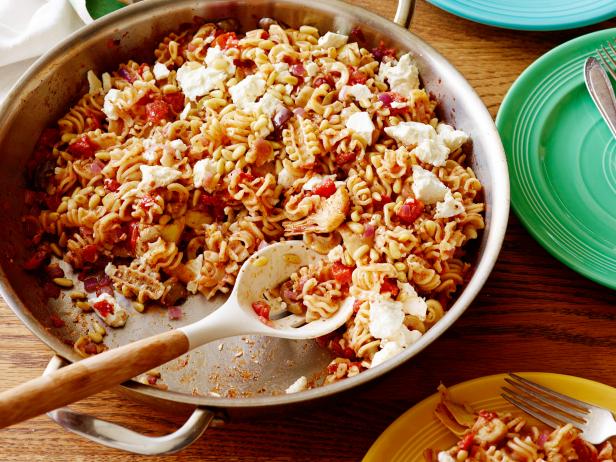 PANTRY PASTARee DrummondThe Pioneer Woman/All Stocked UpFood NetworkRed Onion, Olive Oil, Diced Tomatoes, Chicken Stock, White Wine, Assorted Olives, ArtichokeHearts, Garlic, Salt, Pepper, Pasta, Jarred Pesto, Feta, DrytoastedPine Nuts,PANTRY PASTA Ree Drummond The Pioneer Woman/All Stocked Up Food Network Red Onion, Olive Oil, Diced Tomatoes, Chicken Stock, White Wine, Assorted Olives, Artichoke Hearts, Garlic, Salt, Pepper, Pasta, Jarred Pesto, Feta, Drytoasted Pine Nuts
Matt Armendariz, 2014, Television Food Network, G.P. All Rights Reserved
There's no denying that boxed pastas and noodles save dinner time after time, but did you know that you can dress them up a lot of different ways — using the other ingredients that are stocked in your pantry? Gone are the days of plain pasta and jarred sauce! If you've got canned goods, dried goods and other shelf-stable items, you're never far from a delicious meal. No more last-minute trips to the store — keep these noodle recipes in your back pocket and you'll be all set.
Need something quick and easy for dinner tonight? The Pioneer Woman throws together a dish filled with all sorts of pantry finds like diced tomatoes, artichoke hearts and olives. She cooks everything together and lets the mixture simmer in chicken stock before adding the pasta. Toss in chunks of feta and pine nuts for a restaurant-y final touch!
Roasted almonds, roasted red peppers and paprika transform boxed linguine into a plate of smoky, savory goodness.
Tired of PB&J sandwiches on nights when you don't know what to cook? Put your peanut butter to good use with this noodle recipe instead. Combine the peanut butter, curry paste, vinegar, lime juice and cilantro in the food processor and you'll have the most delicious sauce in no time.
No one will ever guess that most of these ingredients came from your pantry. The flavor is too good! Pro tip: toast breadcrumbs in a hot skillet until they're golden-brown and crispy; they're the perfect topper for pasta.
Ree scrounges up a pantry meal that feeds the whole family with just a handful of ingredients like canned tuna and egg noodles.
You'll never look at ramen the same way again! Instead of a bowl of soup, drain the noodles after cooking and stir fry them with veggies, peanut butter and seasonings for a completely new take on a pantry staple.