Total:

35 min

Active:

35 min
Yield:

4 servings

Nutrition Info

Nutritional Analysis

Per Serving

Calories

388

Total Fat

13 grams

Saturated Fat

5 grams

Cholesterol

75 milligrams

Sodium

763 milligrams

Carbohydrates

46 grams

Dietary Fiber

4 grams

Protein

24 grams
Total:

35 min

Active:

35 min
Yield:

4 servings

Nutrition Info

Nutritional Analysis

Per Serving

Calories

388

Total Fat

13 grams

Saturated Fat

5 grams

Cholesterol

75 milligrams

Sodium

763 milligrams

Carbohydrates

46 grams

Dietary Fiber

4 grams

Protein

24 grams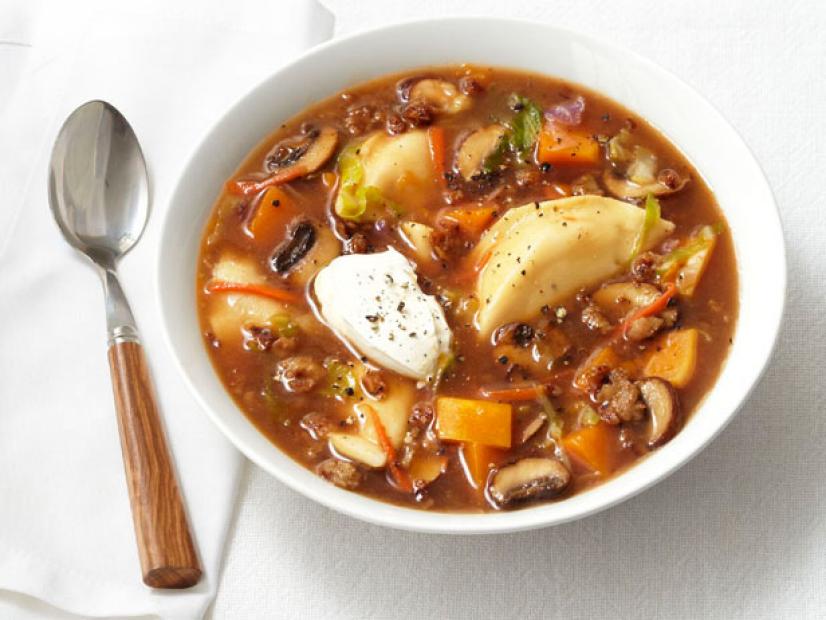 Heat the olive oil in a large pot over medium heat; add the sausage and cook, breaking it up with a wooden spoon, until browned, about 5 minutes. 
Add the tomato paste and cook, stirring, 30 seconds. Add the mushrooms and stir well to coat. Increase the heat to medium high, cover and cook, stirring occasionally, until the mushrooms are tender, about 5 minutes. 
Add the flour and cook, stirring, 1 minute, then stir in the chicken broth and 2 cups water, scraping up any browned bits from the bottom of the pot. Add the coleslaw mix to the pot, cover and bring to a simmer. Reduce the heat to medium and cook until the cabbage is wilted, about 3 minutes. 
Add the squash and pierogies and simmer, uncovered, until the pierogies are cooked through, 5 to 7 minutes. Season with salt. 
Divide among bowls and top with the sour cream, and pepper to taste.