Barefoot Contessa Anniversary Highlights
Chocolate Buttercream Frosting 03:16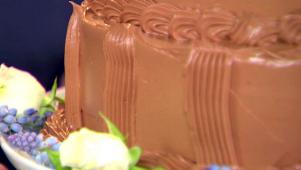 Now Playing
Chocolate Buttercream Frosting 03:16
Ina welcomes you to the wonderful world of chocolate buttercream frosting.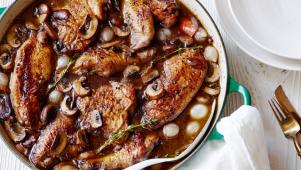 Now Playing
The Barefoot Contessa Makes Coq au Vin 03:41
Ina Garten makes Coq au Vin, a French chicken and wine dish with mushrooms and bacon. She begins by chopping up four ounces of bacon and cooking it until crisp. She had a butcher cut a whole chicken into 10 pieces, which she liberally seasons with salt and pepper. She removes the cooked bacon from the pan using a slotted spoon so she can brown the chicken in the bacon fat remaining. She browns a few pieces at a time, noting that if you overfill the pan, you end up steaming the chicken instead of browning it. Once the chicken is browned, she removes it from the pan. She then adds to the pan half a pound of carrots cut in big pieces, one sliced yellow onion and one minced garlic clove. She adds a quarter cup of cognac to add flavor and help deglaze the pan. She returns the chicken and bacon to the pot. Ina then adds half a bottle of burgundy wine, a cup of chicken stock and a big sprig of fresh thyme to the pot. She covers the pot and cooks it in the oven for one hour at 250 degrees F. She then halves half a pound of cremini mushrooms and sautes them in butter. Ina removes the pot from the oven and begins preparing a roux to thicken the coq au vin. She mixes together one and a half tablespoons of flour with one tablespoon of softened butter and adds the roux to the pot. She adds some frozen baby onions and the cooked mushrooms to the pot, and gives it a stir before dishing it up.
Get the Recipe