Paris in Spring with Barefoot Contessa
Ina is basically living the life we all want to live. If you follow her on Instagram, you know that she is travelling through France. So far, she has stopped in Paris, Provence and Nice, sharing photos of gorgeous flowers, adorable buildings and, of course, amazing food.
Many fans are following her journey and weighing in on her fantastic finds. Actor Jennifer Garner, who has appeared on Barefoot Contessa twice, commented on Ina's photo of a mile-high souffle, "Oh wow, this is spectacular. Yum. ♥️." A fan, following the conversation wrote, "You and Ina should travel to cities together and eat. There's your show!" @Brian_m2, you might be on to something! We'd watch that.
Here's a look at what we're all missing. Have fun Ina!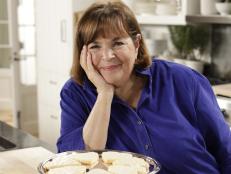 And why you really don't want to know what the imitation stuff is made of.