Louise Roe's Most Insta-Worthy Restaurants & Rooftops in LA
Louise Roe here, bringing you more ways to take a bite out of life in LA! I've lived here for nearly 10 years, but I find that there are always new places to discover. LA is much more of a foodie city than people realize, and it's getting better every day. I remember when I first moved here, great options were not as plentiful. But today, everywhere you look there's amazing coffee, delicious healthy food options, and plenty of cheat-day worthy places to chow down at. Something LA also does really well? Beautifully designed spaces, whether it be an adorable sidewalk café or a stunning rooftop with panoramic views. Make sure to check out my favorite Insta-worthy (and yummy!) hotspots next time you're in town.
By Louise Roe
Sponsor content courtesy of Capital One®
This super chic café in Venice is great for brunch, and home to the infamous blue smoothie bowl. It's also just steps away from the famous Venice street sign, so there are Instagrammable moments all around.
For a romantic date night with great food and cocktails, head to Eveleigh on Sunset in WeHo - and make sure to try a few of their delicious apps (especially the oysters!).
This brand-new Mediterranean-style lounge has the chicest decor and a stunning ocean view. The food is light and great for sharing, and the Italian-inspired cocktails are not to be missed.
Scopa: A Pasta-Lover's Dream
For absolutely out-of-this-world Italian food and a fun vibe, head to Scopa for dinner (but make a reservation - you'll be lucky to even get a seat at the bar without one!).
Get a taste of Downtown life on this fab rooftop, which features picturesque views of the LA skyline and delicious craft cocktails.
Whether you're in the mood for brunch, lunch, dinner or drinks - Rose Café does it all, and is packed with chic LA locals day or night.
Gracias Madre: Come For The Vegan Food, Stay For The Spicy Margs!
Vegans rejoice! Gracias Madre makes delicious vegan Mexican food that even a diehard meat eater will love. Pro tip: do not miss out on their spicy margaritas.
EP & LP: Where Celebs Go To Sip Rosé
For great people watching and fun music, head to this chic rooftop on a night out. I love their rosé and late-night nibbles. And pssst, you may even see a celebrity or two.
Gjelina: Trendy Venice Comfort Food
Come for the food, and stay for the ambiance. You can't visit Venice without popping into Gjelina for delectable pizza and small bites.
Another famous celebrity haunt, this Italian restaurant is one of my favorite places for pasta in all of LA. Snap an epic food pic here and be on the lookout for some Hollywood A-listers!
This article was originally publishing on Capital One's blog.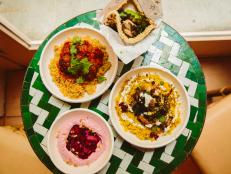 The best food I've eaten in my life is scattered across this special island I get to call home. From the place on the corner where you can grab your favorite slice to that fancier spot just down the street that has the ambiance and menu just right, you can find whatever you're craving here in New York City. I moved to Manhattan when I was 18 years old for college and all these years later, it's the food scene that I can't fathom ever saying goodbye to (and I've got a slightly larger waistline to prove it).By Love TazaSponsor content courtesy of Capital One®