Love Taza's Favorite Eats in NYC
The best food I've eaten in my life is scattered across this special island I get to call home. From the place on the corner where you can grab your favorite slice to that fancier spot just down the street that has the ambiance and menu just right, you can find whatever you're craving here in New York City. I moved to Manhattan when I was 18 years old for college and all these years later, it's the food scene that I can't fathom ever saying goodbye to (and I've got a slightly larger waistline to prove it).
By Love Taza
Sponsor content courtesy of Capital One®
Narrowing down the list to just a handful of favorites almost feels cruel (I mean, how can you?!), but here are a few of my favorites, from bagels to ramen to pizza all from different neighborhoods in the city. I hope if you try them...you'll enjoy them as much as I do!
Hands down, my favorite place in the city for pancakes (and I've eaten a lot of pancakes!) Their James Beard recipe makes for the most fluffy and filling pancakes, with seasonal toppings that can't be beat. Our family also loves their biscuits, sausage, and plenty of other items from their menu. Another plus-- their TriBeCa location has an old photobooth in the basement, and the High Line location means you can walk off your pancakes afterwards on the beautiful old elevated railway path that's over a mile long.
There are so many great spots in the city to grab a fresh warm NYC bagel, but we are willing to find excuses to travel to midtown for the bagels at Best Bagel and Coffee. They have an extensive menu of breakfast and lunch sandwiches, and while you can't beat the regular bacon, egg and cheese situation, their cinnamon raisin bagel (with plain cream cheese, please!) is my favorite in all the city.
This Middle Eastern restaurant (the name means "desert") opened up in Nolita over the summer and we can't stop making our way downtown with friends and family to enjoy it. I can't get enough of the Moroccan lamb meatballs served over the fluffiest couscous, their pink beet hummus, and pita sandwiches. Their rotating soft serve flavors (like Creamy Tahini with Tahini Chocolate Walnut Cookie Crumbles) each month are out of this world.
I'm not usually one for pepperoni on my pizza, but the spicey pepperoni square pizza here is everything. The dough is thick and soft and the Sicilian style pepperoni slices are baked to the perfect crispness. Get your own, don't split it. The space is very small and doesn't offer tables or chairs, but since it's located in one of the best neighborhoods for wandering, it makes eating your slice while standing on a street corner feel pretty magical. I mean, welcome to New York!
Yes, it's true. You no longer have to head out west to get your taco fix. ;) We finally have great Mexican food in NYC thanks to Los Tacos No1. I love ordering the Adobada tacos with their warm corn tortillas "con todo" - with everything. Be sure to try the Agua Fresca and the Quesadilla Especial, too! Bascially, all of it. It's worth it.
Minetta Tavern, an iconic restaurant opened in 1937, offers food that is dependably delicious. It's always jam packed, so make sure to get a reservation ahead of time to avoid a long wait. This is a spot where my husband and I love to go for a nicer sit down meal where we try to not talk about work or the kids (which is hard!) to make it feel very much like a date. Everything we've tried on the menu is delicious (the pasta zaza is my personal favorite), and we can never say no to their chocolate soufflé for two! It takes an additional twenty minutes in their kitchen so be sure to let your server know ahead of time if you're wanting to order it so it can make it to the table with everyone else's desserts.
This article was originally publishing on Capital One's blog.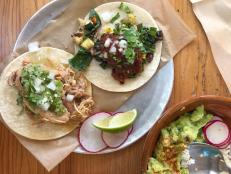 I've been spending a fair amount of time in Seattle the past year as my husband is starting a company up there, which means I have had PLENTY of time to explore the food scene. It's wildly different than my hometown of LA in that the food is a little more hearty (I mean it does actually rain in Seattle) and there are only a few Mexican food places worth visiting. BUT… it does have plenty of other incredible restaurants that will keep you full and happy. The seafood - yes!! Vegan ice cream - absolutely. Pizza - you bet.By Gaby Dalkin, What's Gaby CookingSponsor content courtesy of Capital One®