What's Gaby Cooking's Seattle Top 10
I've been spending a fair amount of time in Seattle the past year as my husband is starting a company up there, which means I have had PLENTY of time to explore the food scene. It's wildly different than my hometown of LA in that the food is a little more hearty (I mean it does actually rain in Seattle) and there are only a few Mexican food places worth visiting. BUT… it does have plenty of other incredible restaurants that will keep you full and happy. The seafood - yes!! Vegan ice cream - absolutely. Pizza - you bet.
By Gaby Dalkin, What's Gaby Cooking
Sponsor content courtesy of Capital One®
So let's just dive right into it and round up my 10 most favorite places to eat in Seattle. There's a little something for everyone and no matter which restaurants you choose to visit on your trip up to the pacific northwest, you can be guaranteed you won't go hungry.
For the best ever Crispy Duck Rolls - it's one of our go-to's! It lives somewhere in the French & Vietnamese fusion world and it's fantastic. The Crispy Duck Fresh rolls are mandatory to start and then from there, DIY your own adventure. Their menu changes seasonally so don't be afraid to try to latest and greatest veggie sides!
Homemade Tortillas to order! - I mean, it's not quite Mexican, more Latin, but there are tortillas and fire-roasted meats, smoked vegetables and I am HERE FOR IT. Their tacos are small so you can try a few and their aqua frescas make you feel like you're on a beach somewhere sunny… kinda :)

My all-time favorite date night restaurant - located on the top of Queen Anne, How To Cook a Wolf to the perfect place for date night. Their menu is small and changes almost weekly but you can't go wrong with anything there. Their pasta is made in house and it's to die for. If the burrata is on the appetizer menu, promise me you'll order it. And their wine list is fantastic if you're looking for a great bottle. It's one of the best places in Seattle - hands down.
Hands down the best pizza in Seattle! - if you're looking for pizza, look no further. Delancey is home to the most incredible wood fired pizzas I've had on the entire west coast. It's small, so be prepared to wait as they don't take reservations but I promise the pie will be worth the wait. The crust is perfection, their topping assortments are perfectly paired and their Charcuterie to start is everything.
Vegan Ice Cream, eat your heart out! I feel so LA saying that this vegan ice cream shop is one of my favorites, but hey, I'm from LA and it is!! I LOVE the ice cream at Frankie and Jo's. So often vegan ice cream has a tendency to be heavy but the stuff their churning out over at Frankie and Jo's is epic. The flavors change with the season so try them all - and then get 2 scoops, one seasonal and one of the Salty Caramel Ash. OMG. Yes please.
Matt's in the Market - your go to stop for lunch downtown - it's not a trip to Seattle without a stop at Pike Place Market - it's mandatory!! There are rows and rows of fresh flowers, incredible produce and artisan crafts… but perhaps my favorite place around this area is Matt's in the Market. Make yourself a reservation for lunch and work up an appetite walking around the market first. Then prepare to go for it. The chips and dip is basically house made salt-pepper chips with a hot bacon-caramelized onion dip. I mean, get ready for your world to be rocked. And then pick your favorite fish and let them do what they do best!
Epic Nachos in Seattle? Heck yes. - you can't have a guide to Seattle without at least one Tom Douglas restaurant. He's basically the godfather of the Seattle food scene and I for one love his Mexican eatery!! Mostly because the nachos are quite possibly the best nachos in the entire city and it's very important to have that sort of intel on hand when you're visiting!
The Pasta of your DREAMS! - another favorite for date night. This Italian restaurant downtown will knock your socks off. Their pasta is literally pillows of perfection and all you need to know is that their Tajarin al Ragu is freshly made hand-cut pasta with a beef and pork meat sauce that you'll dream about for the rest of your life.
Small bites make the best dinner! - if you follow me on any of my social media platforms, you know I have a DEEP love affair with Lebanese food. I'll seek it out anywhere I go. I love all the small plates and salads and vegetable based dishes plus the dips and sauces. Cafe Munir nailed every single one of those. Take it from me, go HUNGRY. Order every single mezze platter and then Shish Taouk and you'll be golden!
My FAVORITE place for sushi! - there is quite a sushi debate in Seattle as many places claim to have the best sushi. I tend to stay away from the places downtown because parking is so brutal and they can be a bit touristy - but up in the Ravenna neighborhood there is a local sushi chef at Wataru who is crafting some incredible bites. You can order from 2 different menus depending on how much sushi you want compared to other Japanese bites. It's quite and calm and the fish is incredible. I promise it will make all your sushi dreams come true!
This article is for educational purposes only, and is not intended to provide medical or legal advice, or to indicate the availability or suitability of any product or service for your unique circumstances.
Capital One does not provide, endorse, or guarantee any third-party product, service, information or recommendation listed above. The third parties listed are solely responsible for their products and services, and all trademarks listed are the property of their respective owners.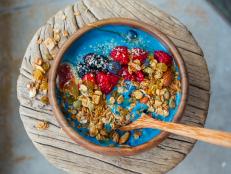 Louise Roe here, bringing you more ways to take a bite out of life in LA! I've lived here for nearly 10 years, but I find that there are always new places to discover. LA is much more of a foodie city than people realize, and it's getting better every day. I remember when I first moved here, great options were not as plentiful. But today, everywhere you look there's amazing coffee, delicious healthy food options, and plenty of cheat-day worthy places to chow down at. Something LA also does really well? Beautifully designed spaces, whether it be an adorable sidewalk café or a stunning rooftop with panoramic views. Make sure to check out my favorite Insta-worthy (and yummy!) hotspots next time you're in town.By Louise RoeSponsor content courtesy of Capital One®