6 Important Pitfalls to Avoid, Plus the Makings of a Mash-Up Pizza — Alex's Star Report
Hear from Alex Guarnaschelli as she recaps the latest episode of Food Network Star.
What a mash-up of an episode! A challenge where our beloved Food Network Star finalists work in pairs? Fun, right? Just hide behind your teammate if your food or presentation is weak. That sounds good, right? Hmmm. Maybe. If you haven't seen the premiere episode yet, we're about to break down each finalist's performance, so don't read any further until you watch.
It turns out that plan wouldn't last for long, as in the Star Challenge, Rev Ren's throwdown pitted formerly paired finalists against either other. Let's accentuate the positive in the face of all this pressure: The contestants can use their cooking to express themselves. They can use a great bite of food and a few moments of "freestyling" in front of a crowd to hone their skills as food stars. Keep in mind that when you shoot a cooking show, there is rarely an audience (other than the TV crew), and there is no immediate feedback for what you are doing. This challenge presents a crowd of hungry, excited people who WANT to be on your side and want you to succeed! The challenge: Take two classic dishes, tacos and clam chowder, for example, and whip up a hybrid dish and use your presentation to compel the audience to eat yours and not your teammate's offering. I don't know what's scarier: a disappointed look from Giada De Laurentiis or Bobby Flay; overcooked, underseasoned or dry food; or an audience of eaters that might not eat your dish. With the fun and playful Rev Run as guest judge, this challenge gets right to the core of each contestant. Rev is so relaxed in front of the camera. I wish it were easier to just tear a page from his playbook. I mean, what would you do under pressure? You're holding a signature dish you created, and your every move determines whether you persuade or dissuade the crowd (and judges) to eat it.
Here's what I find interesting: From where I sit, it's generally clear which person in each duo has the stronger mash-up dish. The performance is key to making the crowd want to eat — and like — the weaker dish. If you consider the fact that America does not taste the cooking in any cooking show, the power of persuasion — the gift of gab — becomes critical. Here are six important pitfalls to avoid on the road to becoming a Food Network Star.
1. Giada says the simplest and smartest one to Erin: "Never let 'em see you sweat." Because Erin doesn't get the sauce on her dish before the clock runs out, she is also unable to hide her disappointment when selling her dish. Forgot the sauce? Left the beans out of your bean soup? Left the chocolate out of your chocolate cake? Keep calm and carry on. The recipe, and the dish, can be fixed later. People changing the channel on you? That can't be fixed. While Erin's partner, Martita, didn't actually achieve what the judges call a successful meatloaf-pad thai mash-up, she did win for tasty food and a stronger presentation.
2. While the expression "we eat with our eyes first" is a true statement, we also eat with our mouths and taste buds. Make sure your food tastes as good as it looks! All the ladies flock to Damiano's table to taste his pasta-inspired clam chowder taco, and the flavor was there. Joy knocked it out of the park with her rap and dance moves, but Damiano edged her out with great taste. This is a competitive field! Taste is always the game changer.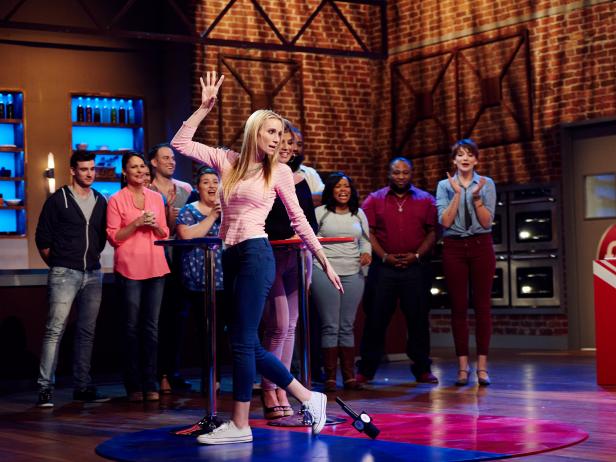 Guest Judge Rev Run with finalists Damiano Carrara, Joy Thompson, Ana Quincoces, Melissa Pfeister, Monterey Salka, Jernard Wells, Yaku Moton-Spruill, Tregaye Fraser, Martita Jara, Erin Campbell, Aaron Crumbaugh and Rob Burmeister during evaluations for the Star Challenge, as seen on Food Network Star, Season 12.
Eddy Chen, 2016, Television Food Network, G.P. All Rights Reserved.
3. If you want to make people hungry, make sure you describe your food. Ana makes a beautiful chicken burger with prosciutto and a side of paella for her mash-up. This woman can cook, no doubt about it. On the other end of the spectrum, Melissa makes a brown rice burger with tomatoes (though the tomatoes never happened). These dishes could not be more different interpretations of the mash-up! Melissa comes out of the gate gangbusters with a rap and a rhyme about her burger, but watery tomatoes make her "album" sales weak. Ana didn't connect on her food description, but her solid cooking earned her the victory.
4. Define who you are, but don't put all your eggs in too small a basket. "It has been over 30 seconds since I talked about meat," frets Aaron as he chats up the crowd with his tasty-looking bacon Pho and Asian fried chicken. Aaron hesitates when he talks to the crowd. And that hurts when Rob steps to the mic and delivers an exciting description of his dish. I wanted to eat Rob's fried chicken with sweet and spicy pho sauce. (How can you really go wrong if you make fried chicken for a crowd?) Rob finishes with a playful "pho you!" to Aaron. A little humor always gives a competitor the edge — so does a tasty dish. Both looked great, but Rob edged Aaron out.
5. Don't undervalue your passion for cooking, and have the courage to share it. Monterey makes an interesting mash-up of macaroni and cheese and gyros with her mac and cheese spaghetti with lamb. And she runs her presentation like a high-school pep rally. She uses questions to engage the crowd and get everyone revved up with somewhat mixed results. The energy is there, but the passion she has to share just doesn't seem to shine through. Jernard arrives with his lamb (and yogurt) macaroni and cheese with dill, and he gets right to describing his food. It sounds like a seduction dinner with an R-rated description of his ingredients. He slows down to describe every component in his food. Guess what? It's Food Network and food talk works! What do you think happened? The crowd flocked to Jernard, who ran away with the win.
6. Have fun with it! If you're not having fun, your viewers probably aren't having fun either. Chef Yaku says he's "fighting the fleek" of his tough teammate, Tregaye. This duo is strong. Yaku and Tregaye get along really well, so it's difficult to imagine them competing against each other. Yaku vows that Tregaye's "Fleekettes" will soon be changed to Yaku's "Beardettes" (wha?) with his chili cheese dog sushi roll. Yes, I just said chili cheese dog sushi roll (and apparently the crowd thought it was really tasty). Yaku achieved the near impossible by making a deep-fried dish that reminded people of sushi — impressive. Tregaye's strong presentation was underscored by her tasty chili cheese hand roll. While I'm sure both tasted great, hers seemed to remind the judges less of sushi. In essence, this was a photo finish and both emerged successful. These two are tough to beat.
After the smoke clears at the "street-battle" tasting, two of the finalists in the mash-up duos have cooked their last dish. The unfortunate losers are Aaron, who exited by saying "mentors, suck it," and Melissa. Please find my pizza slices and suggested "toppings" for each contestant as they continue on the road to Food Network Stardom. Pizza and a topping need to be a great mash-up, and this field is getting narrower and tougher each week. It's time for some humble (pizza) pie all around and the next challenge.
Food Network Star, Season 7 winner Jeff offers been-there-done-that commentary on last night's all-new episode.