Exclusive: One-on-One with the Winner of Food Network Star
Hear from Food Network's newest Star in an exclusive on-set interview.
We're sorry, there seems to be an issue playing this video. Please refresh the page or try again in a moment. If you continue to have issues, please contact us here.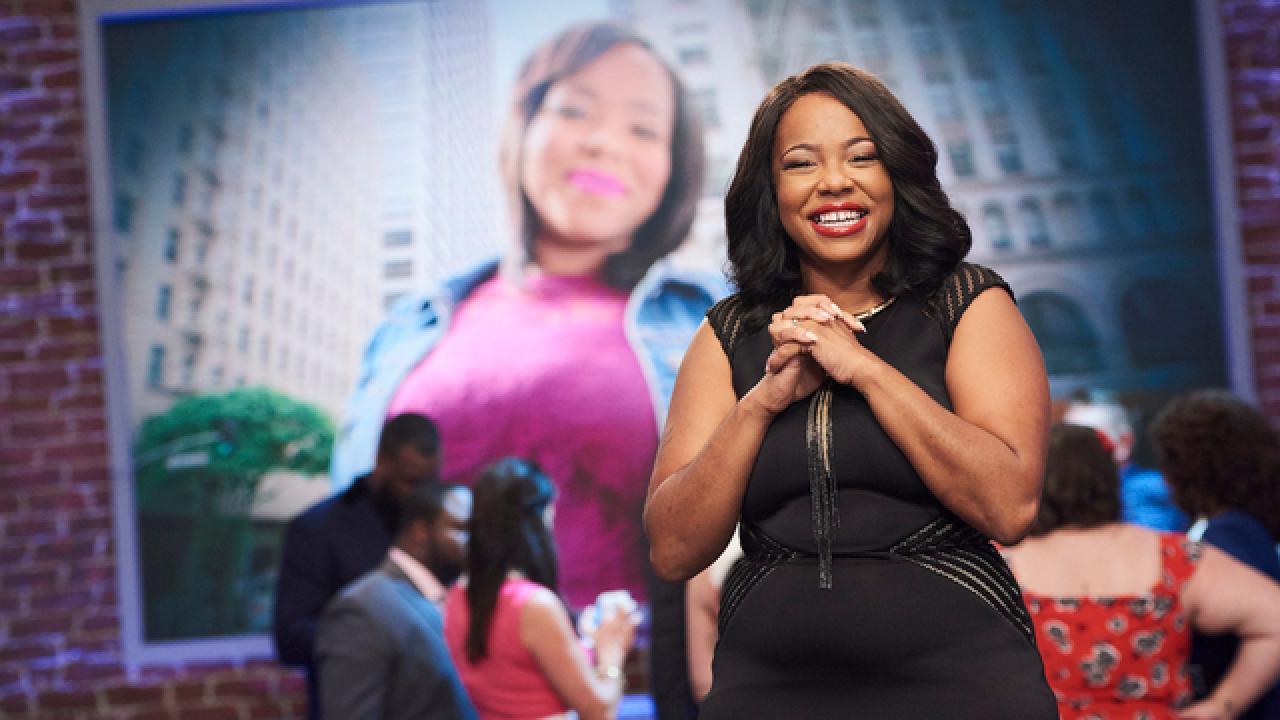 There's no doubt that all three of the top Food Network Star finalists brought their everything to the months-long competition, but ultimately Tregaye Fraser, a chef and a mom of two, earned the coveted title of Food Network Star in an emotional (and appropriately on-fleek) reveal. We were on the set of the finale and caught up with Tregaye just moments after her victory. Read on below for an exclusive interview with her, then click the play button on the video above to go on set with her and the mentors.
In Week 8, Bobby told you, "This is yours to lose." What did it mean to hear that from him at that time?
Tregaye Fraser: Oh, my goodness. When Bobby said that — "This is yours to lose" — at that point I was like, "OK, so you might be doing something right." ... I just told myself: "I'm just going to be myself. I'm just going to take this thing all the way to the end. I'm not going to think about it. I'm just going to let it flow smoothly. It seems that Bobby believes in me, so I have to believe in me first and foremost."
What was your proudest moment of the competition?
TF: I think it's the day that we did the holiday where I did New Year's Eve. It was because at that moment, I kind of saw everything coming together, that I was being taught by Bobby and Giada all at one time, and it was just — I was so full of emotion, and it was crazy. I think that was my best moment.
What do you know now, 11 weeks after this all started, that you wish you'd known on day one?
TF: Man, I wish I knew how difficult the presentation part would be. I wish I knew how quick a minute goes by, because it really goes by very fast, and so just trying to keep up with that and, you know, just a little more on-camera experience I think would have been good.
Is there one piece of mentor feedback that really struck a chord with you and is something that you're going to carry with you?
TF: It was when they said: "Be yourself. You being who you are is what got you here, so don't change who you are because you're here now." And that was the changing point. That was the turning point. That's all you had to say. Drops the mic. Let's go. Let's do what we have to do. And keep it cute.
You seem to really excel with the social media challenges. Your Snapchat video was especially fun. Is that something you bring to your everyday life?
TF: Oh, I'm the Snapchat queen — @cheftregayes Snapchat. Follow me. I mean, I love Snapchat because it's just fun. I love all my social media. It's really a way for you to connect with your fans, or, I don't even like to call them "fans." I almost feel like it's weird to say "fans," but just, like, people who ... [are] supporting you, and they feelin' you, and it's just good to have that. And, you know what, I love it because I notice a lot of times things that I go through in my life, I'm able to share that with them, and they relate to it, and it's the best feeling in the world when someone says: "Thank you for posting that. I really needed it." It's great. That's all I need.
What did you learn about yourself through this journey that you maybe weren't expecting to?
TF: I learned that when under pressure and it's something that I really want, Tregaye [is going to] make sure she gets what she wants, and that's what I learned. Like, I always knew that about me, but this, like, really put it into me, because it's hard. You really have to push yourself, and there's days where you think you did great, and you really didn't, and that's a blow. So, you kind of have to get through that. So, I feel like I've just learned to endure a little better.
What were your most favorite and least favorite challenges?
TF: Least favorite was that mac 'n' cheese with the octopus. I'm done. Listen, it was so disgusting. Did you see the lid? He pulls the lid up and it's stuck to the — I can't take it. It's ... no. And the best ... they were all the best. I loved doing all of 'em. Oh, you know what, the hotel party. The hotel one. That was good. I thought that was awesome.
How would you explain to fans who are watching at home — and perhaps thinking "I can do that" — what this process is really like?
TF: If you're at home and you're thinking that it's not that bad, it is that bad. If you're at home and you're thinking "OK, I can do this," OK, well, I would love for you to apply for the show and try it out. Because I thought the same thing, and it's like with the minute, it's a science, and it's really like this is the academy, and they're teaching you, and you're going through school, and ... I made it to graduation.
How would you and your fellow finalists spend your downtime on set? Any fun behind-the-scenes stories that you can share?
TF: Oh, my gosh. Yes. First of all, you know Yaku has to rap behind the scenes. He [has] got to get his rap on, and [not] even just rap, he sings. He will give you a little Jodeci. I'm just saying. Damiano with his "Dominick the Donkey" Italian song. That's a behind-the-scenes thing you guys will never know, but he sings this song, "Dominick the Donkey." It's hilarious and annoying at the same time. We have fun. We crack jokes with each other. You have to do a lot to bide the time around here.