Exclusive Interview with the Winner of Food Network Star, Season 13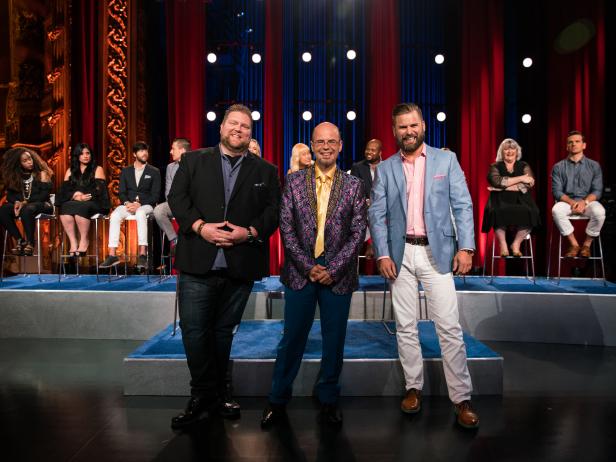 Eliminated contestants (back row left) Toya Boudy, Suzanne Lossia, Trace Barnett, Matthew Grunwald, Amy Pottinger, Coadan Tran, David Rose, Addie Gundy, Nancy Manlove and Blake Baldwin (back row right) and Finalists (front row left) Rusty Hamlin, Jason Smith and Cory Bahr (front row right) pose for the camera at the Finale, as seen on Food Network Star, Season 13., as seen on Food Network Star, Season 13.
After 10 weeks of intense challenges both in the kitchen and on camera, a new Star was born tonight when Bobby Flay and Giada De Laurentiis announced the newest member of the Food Network family. Cory Bahr, Jason Smith and Rusty Hamlin joined their fellow finalists in New York City for an epic finale, but only one of those guys become Food Network's next Star. We were on set and caught up with the winner just moments after he claimed the coveted title. Read on below to meet your new Star and hear from him in his first interview.
Congratulations, Jason! What's going through your mind? How would you describe what you're feeling right now?
Jason Smith: Gosh. For once in my life, I'm speechless. I'm very honored. I'm very humbled by being named the next Food Network Star. I'm very excited. It's just one of those things that's hard for me to even put into words. I feel like I have made an accomplishment beyond accomplishments that I've ever set for myself. Or it still hasn't sunk in. I don't know what to say.
How did you feel coming out of the pilot taping with Guy? Did you think you had a shot to win?
JS: After filming the pilot with Guy, I felt like, at least it's one in three. But I actually felt pretty good. I felt like my pilot went very smoothly. It didn't take us forever to try to get down what I needed to say, to get my point across. Guy was very good to work with, gave me great advice, and it all worked out. It was great. I felt good about it.
You seemed to coast through most of the challenges this season; we rarely saw you struggle or make mistakes. To what do you credit your success on Food Network Star?
JS: I guess being on Holiday Baking helped me with that a little bit, because by the time I got done with that, I wasn't worried about the cameras, and I knew they were there. So, I could focus a little bit more on my food and always being true to myself and bringing that Kentucky Jason that everybody knows. I'm not going to be fake at any time. I'm going to be myself, I'm going to say whatever, and hopefully it's laughter instead of, "Well, what in the world has he just said?" I'm a planner. That helps as well. I like to plan things way in advance, and with this competition, you can't do that, but still in your head you know how to plan, so you can plan things very quickly, and I think that helped me a lot.
Talk to me about your sayings, because they're amazing and people love them.
JS: That's all real. That's all me. It's born and bred in me. A lot of this is stuff that my grandparents, aunts and uncles have said as we were growing up as kids. It's repetitive, so you just pick it up as well. Now, some of them are kind of new that I've kind of learned over the years on my own, but most of it is stuff that I've heard all my life.
What do you think the kids at the school where you work are going to say when they find out you won?
JS: Lord, honey, I believe they will just jump over the tables and stuff. I mean, they're going to be cray-z. They're going to be crazier than then I won Holiday Baking. It is going to be a nut house. I can see it now.
What do you want to say to your fans who've followed you since your Holiday Baking days?
JS: If I could say one thing to my fans who have followed me from the very first time I stepped on the stage on Holiday Baking to now, it is thank you so much for being supportive. I not only look at you as fans, but you are my family, and without you, I wouldn't be where I am today. Just keep following me, Keep looking out for that Jason, and honey, I'll try to treat you right, and we'll have another big journey on our hands.
Aside from today's win, what was your proudest moment of this entire experience?
JS: I can say from the very first day that my feet hit that stage to today, the whole competition has been one proud moment for me.
What do you know now, 11 weeks after this all started, that you wish you could tell yourself back on day 1? What do you wish that person knew?
JS: It's going to be okay. Stop freaking out in your mind. It's going to be okay. It'll all be fine.
What piece of advice from Bobby, Giada or the guests resonated with you in particular, something that you still remember today?
JS: Something that struck a chord that I've heard Bobby, Giada and a lot of the other guests tell me a few times is, "We really like him, because he is comfortable in his skin, he is true to himself, he is true to where he comes from." And Bobby and Giada have told me: "Never lose that. Always tell those stories of Kentucky. Always be yourself, and you will be fine." That's something that I will always hold near and dear to my heart, because I am myself. I am just Jason. I'm not going to be anything else but what I am.
How would you explain what this whole process is really like?
JS: It's like a fart in a whirlwind. There's no way of planning for this. There's no way of knowing what you're going to do next. There's no use of worrying about what's coming next. Worry about the here and now, and that's all you can do for this one. There's just nothing you can do.
What do you want to say to Bobby and Giada after all this?
JS: One thing I'd like to say to Bobby and Giada is thank you a million times over, because they are the nicest people. They're not here to see us fail; they're here to help us, and they helped me every step of the way. I always try and take their criticism and turn it into a positive. They're just so down to earth. I mean, I feel like they're a part of my family now. I want to thank them a thousand, million times for everything they do, because they are masters at what they do and they're very good people.