The Secret to Making Dinner in 20 Minutes
Number 2 is a total game changer.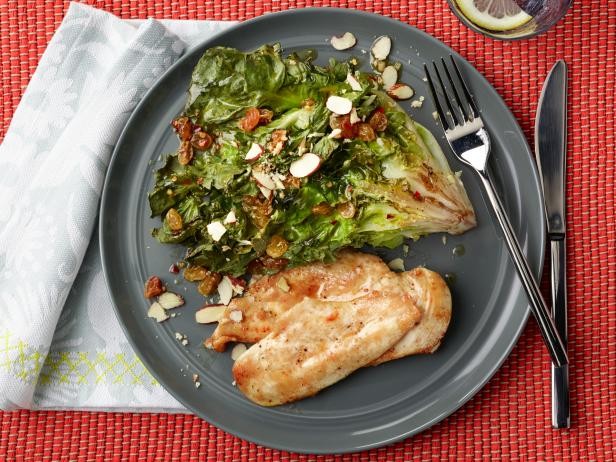 FNK_20_MinuteChickenCutletsWithCharredEscaroleSalad_H
Chef Name: Food Network Kitchen Full Recipe Name: 20-Minute Chicken Cutlets with Charred Escarole Salad Talent Recipe: FNK Recipe: Food Networks Kitchen's 20-Minute Chicken Cutlets with Charred Escarole Salad, as seen on Foodnetwork.com Project: Foodnetwork.com, Beat the Clock Dinners / Thanksgiving Show Name: Food Network / Cooking Channel: Food Network
Renee Comet, 2013, Television Food Network, G.P. All Rights Reserved
When it comes to making dinner in under 20 minutes, pasta is a no-brainer. But sometimes a hurried bowl of noodles isn't completely satisfying and we crave something more.
Thankfully, there are loads of delicious ideas on the Food Network Kitchen app for planning meals that taste like they took hours to cook, but really are ready in only 20 minutes or less. Here are three game-changing secrets to getting dinner on the table in under 20 minutes.
1. Put the broiler to work.
Often forgotten, misunderstood or hard to find (is it on top of or below the oven?), the broiler has been relegated to giving a last-minute char to food in many homes—if it's put to use at all. But here's the thing: we can cook a whole meal under our broiler in under 20 minutes. Case in point: Sarah Holden's Chicken Cutlets with Charred Escarole Salad class.
Frozen pizza and burritos aren't the only foods that can go straight from the freezer to the oven. Many kinds of seafood, from shrimp to salmon, don't need to be thawed out for hours before cooking and are a huge time saver. Nikki Scott shows us just how easy it is in her Pan-Fried Honey-Garlic Frozen Salmon class.
3. Choose ingredients that are already packed with flavor.
Don't underestimate the power of humble store-bought chicken sausages. The pre-cooked links are flavor powerhouses thanks to additions like garlic, green chiles and jalapenos. Use them to get dinner on the table quickly and add a little heat, like Gabriela Rodiles does in her Sausage Fajitas class.