The Secret to Homemade Iced Coffee in 10 Minutes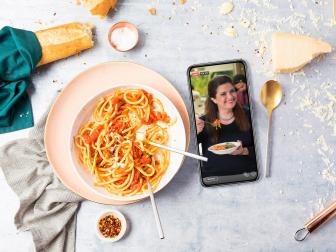 Download Food Network Kitchen to sign up and get access to live and on-demand cooking classes, in-app grocery ordering, meal planning, an organized place to save all your recipes and much more.
If you're anything like me, when you wake up you need a cup of coffee now. Not in an hour. Not tomorrow. Now.
In the colder months, it's easy to have a hot cup of coffee ready in 10 minutes max. Just press a button and wait — or better yet, program the machine the night before. When the temperature rises, though, it seems like your chances of getting a refreshing cup of cold coffee stat diminish greatly as it takes longer to make iced or chilled beverages. Most iced coffee is made by chilling a fresh-brewed pot in the fridge, and then pouring it over ice once it's completely cool. (Impatience leads to lukewarm coffee). Cold brew, touted for its less acidic flavor, is made by allowing grounds to steep in the fridge overnight. Both options require adequate planning and if you didn't think ahead, chances are you're giving up, resorting to a cup of hot coffee or hitting up the nearest Dunkin'.
Enter, Justin Warner and his brilliant technique for quickly chilling the coffee as it brews.
Yes, as it brews...meaning you can have a cup of iced coffee ready in the same amount of time it takes to brew a hot one. Justin demonstrates the full how-to in his Iced Coffee class, available on the Food Network Kitchen app. Watch the class for all the nitty gritty details about how much ice, coffee and water to use (and set yourself up for success!), but here's the short version: Fill your coffee pot halfway with ice, so the coffee will immediately cool down as it fills the pot. Then, you have a pot filled with lukewarm coffee that won't melt the ice in your cup. That's it!
As someone who forgets to set up the cold brew far too often and needs some caffeine to start her day, this technique has been lifechanging. Not a fan of iced coffee? Check out the rest of Justin Warner's Coffee 101 course and learn a variety of other coffee-brewing methods — traditional drip, AeroPress, pour over, espresso, you name it.