Calling All Girl Scout Cookie Enthusiasts
Alyson Hannigan will host a brand-new baking competition featuring your favorite Girl Scout Cookies.
What's better than Girl Scout Cookie season? An entire baking competition dedicated to the perennial sweet treat! Early next year, Alyson Hannigan will host a competition where some of the country's best bakers will turn their favorite Girl Scout cookies into decadent and delicious dessert creations.
The Kitchen's Katie Lee and Spring Baking champion Nacho Aguirre will judge each episode, alongside a rotating guest judge, including former Girl Scout Carla Hall.
The series will also shine a light on the work that the organization does outside of cookie-selling season. Fans will gain insight into all the amazing things Girl Scouts do: having adventurous outdoor experiences and creating positive change in the world.
We can't wait to see what the bakers dream up!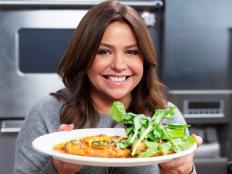 The queen of 30-minute meals is BACK with brand-new episodes this fall.